Here's What Pitbull Really Looks Like With Hair
Gerardo Mora/Getty Images
Everyone who's ever been to a party or nightclub has probably heard Pitbull's music before. According to Showbiz Cheat Sheet, Armando Christian Pérez, who goes by the stage names Pitbull, Mr. Worldwide, and Mr. 305, is a successful rapper who has released popular albums with instantly recognizable songs. He has also collaborated with the likes of Jennifer Lopez and has a friendship with Becky G.
Not only is the bald rapper beloved for his musical talent, but he is also seen as a sex symbol, as many of his song lyrics and music videos are undeniably sexy. For example, his "Timber" lyrics — for example, "swing your partner round and round, end of the night it's going down" — are quite provocative.
When scrolling through Pitbull's Instagram, you'll see plenty of pictures of him rocking the bald look, as he's had a bald head for as long as we can remember. But believe it or not, some fans think the rapper is even more attractive with hair.
Pitbull looks like a model with luxurious hair
A TikTok video with over 33 thousand likes by @fluentlyforward displays a picture of Pitbull with a full head of dark, flowing hair, along with some facial hair, and he looked quite different. While we still love bald Pitbull, his flowing locks made him look like he just walked off a runway or magazine cover.
Judging by the comments, TikTok seems amazed by the image. One TikTok user wrote, "Omg! He looks so much better with hair!" Another commented, "He looks 10x better!" A few people even compared him to the famous heartthrob Zac Efron. (Can you believe he hated his role in "High School Musical"?) As noted by Pedestrian, fans loved the look so much that one TikToker went as far as to say, "Ain't Mr. Worldwide anymore. That's Mr. Universal." His music is beloved by the world, so who's to stop him from reaching for the stars?
Another TikTok video by @kidseatoast also expressed amazement by Pitbull's long-haired look, as a TikToker in the video said that "he is dashing" and a "beautiful looking beast." TikTok just can't get enough of the rapper's former hair, and, honestly, neither can we.
Pitbull likes being bald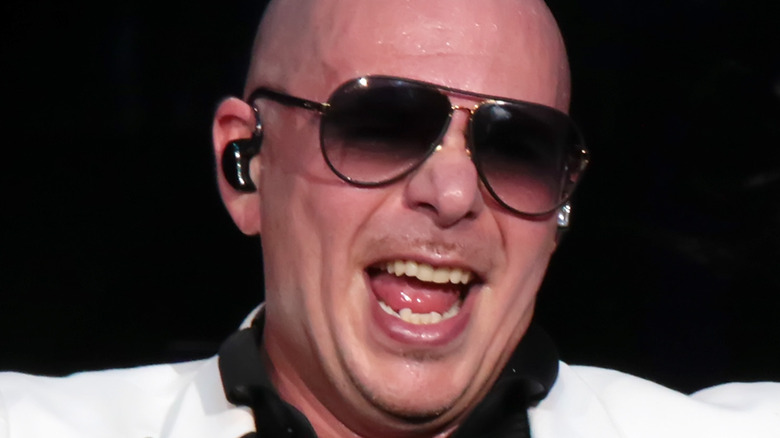 Donald Kravitz/Getty Images
Although TikTok seems to miss Pitbull's long hair, don't expect to see it again, as the rapper seems to enjoy being bald. The rapper even admitted in an interview on "The Tonight Show with Jimmy Fallon" that he helped the one and only John Travolta decide to shave his head. Apparently, Travolta complimented Pitbull's bald look and facial hair, and asked Mr. Worldwide if he would be cool with him rocking the same look. Of course, Pitbull said yes.
Pitbull looks effortlessly cool whether he's got flowing brown locks or a bald head. Judging by his music videos, he also has a sleek style and seems to enjoy wearing suits and sunglasses. For instance, in his "International Love" music video, you'll see him wearing a monochromatic black suit with aviator-style sunglasses, as well as a traditional black and white suit. Furthermore, in his "Give Me Everything" music video, he rocks a dashing gray and white suit with a bold red tie and shades.
While we all loved seeing what Mr. 305 looks like with hair, we admire how he stands by his signature look of a bald head, suits, and sunglasses.