The Real Reason Lindsay Lohan Didn't Play Regina George In Mean Girls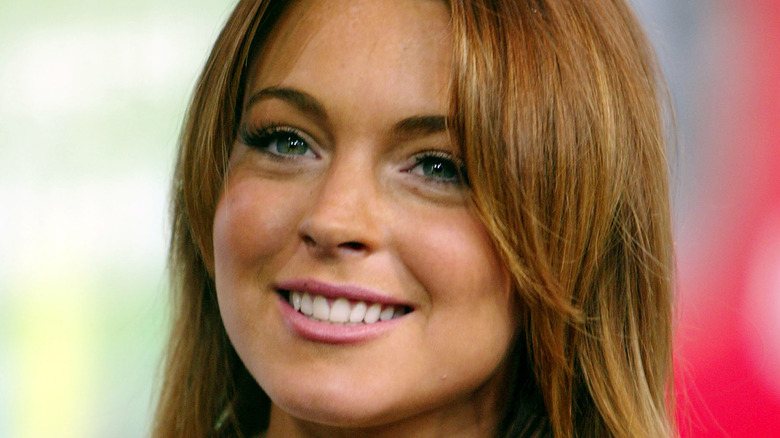 Scott Gries/Getty Images
"Mean Girls" has gone down in history as one of the defining teen movies of the early aughts. The 2004 classic resonated with a generation of viewers who are still talking about and oftentimes referencing it to this day. Some fans want to replicate Lindsay Lohan's frosted pink lip from the flick. Others are trying to make "fetch" happen in 2022. We can't blame them!
It doesn't hurt that the film's talent also seems to remember "Mean Girls" fondly. The stars have grown up and changed a lot since the movie premiered on the big screen, but they seem to recognize its importance to this day. Lacey Chabert, who played Gretchen Wieners, is reportedly even down for a sequel if her co-stars Lohan, Rachel McAdams, and Amanda Seyfried are game (via OK! Magazine).
Interestingly, although each of the leads killed it in their roles, many of them initially tried out for different parts. Seyfried, who became the lovably dense Karen Smith, tried out for Regina George (via Glamour). McAdams wound up bringing the ultimate queen bee to life, but she told Entertainment Weekly she wanted to be Cady Heron. As we all know, Cady went to Lohan, who, believe it or not, originally wanted Regina.
"I was still 17 years old and I wanted to be the cool girl on set," she told the publication. Looking back now, we all know how it went down. However, Lohan recently shared a bit more insight into the casting decisions.
Lindsay Lohan said Tina Fey wanted her as Cady Heron
Lindsay Lohan wanted to play Regina George. Unfortunately for her, the director Mark Waters saw her as Cady Heron (via Entertainment Weekly). Clearly he had a vision, and it's safe to say that it worked out. Lohan picked up the MTV Movie Award for best female performance for Cady (via IMDb), and her performance was even dubbed one of the best of the century by The New Yorker.
During an interview with Vogue, Lohan shared more about the casting process and why she wanted Regina so badly. "I had just come off of 'Freaky Friday,' and I really wanted to play a pretty, normal girl," she said. In comparison Cady had a harder backstory. The actress revealed that Tina Fey and Waters both championed her as Cady. "They were like, 'No, no, no, you're the lovable one. You have to play Cady.'"
Obviously, Lohan finally agreed. There was a catch: "I was so eager to get into the transitional part of 'Okay, let's get to the pretty part of Cady,'" she joked. Lohan also reflected on her wardrobe, which she wound up enjoying. "I felt really relieved when I played Cady just coming fresh out of Africa," she revealed. "I got to chill and be more relaxed, and everyone was kind of jealous that I was wearing sneakers, and they couldn't every day."
It sounds like everything worked out the way it was supposed to after all.