The Actual Lip Color Lindsay Lohan Wore As Cady In Mean Girls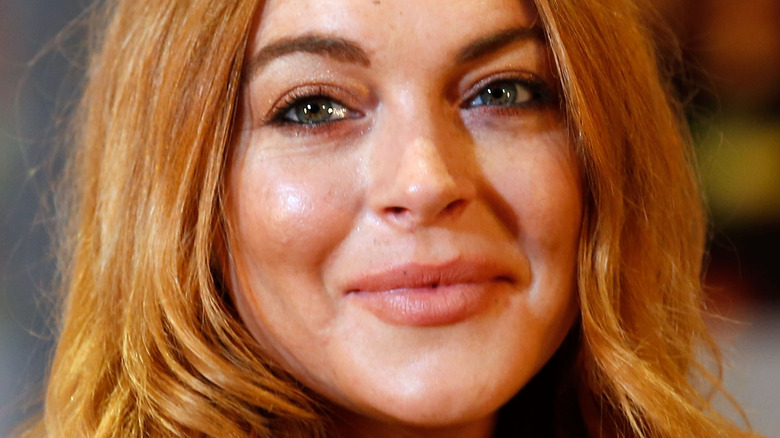 Tim P. Whitby/Getty Images
"Mean Girls" is widely considered one of the greatest teen movies of all time, with The Guardian even going as far as calling it "the perfect teen movie." The beloved film, scripted by legendary comedian and "SNL" alum Tina Fey, per IMDb, even achieved an 84% rating on reviews aggregator Rotten Tomatoes, which is especially impressive considering "Mean Girls" wasn't exactly bothering The Academy back in 2004, when it was first released. As the The Telegraph so succinctly put it, the movie "fizzes with peculiarly feminine evil, of the kind that comes dripping through a pillowy smirk garnished with baby-pink lip gloss." 
This apt description also hits on something else that makes "Mean Girls" an all-timer. Aside from being funny and endlessly quotable, the early 2000s style is incredible. Outlets as far-ranging as Vanity Fair and Business Insider have ranked the outfits worn in the film, while Buzzfeed was brave enough to point out most of this stuff wouldn't work nowadays (and arguably didn't really work back then, either). 
The beauty looks are similarly both timeless and stuck in a moment, but you can't go wrong with a frosted pink lip, regardless of whether or not you graduated high school 10 years ago. So, how did Cady Heron rock hers? This is the exact lipstick Lindsay Lohan rocked in the iconic film. 
Cady favored a super girly frosted pink lip
According to TikTok user and professional makeup artist Brittany Cale, when it came to playing good girl-turned-plastic Cady in "Mean Girls," Lindsay Lohan's lips were kept looking perfectly pink using MAC lipstick in the color "Pink Freeze." That particular variety has been discontinued, but as Cale points out, "Pink Freeze" was a lipstick with a frosty outcome, so a similar lipstick should have the same effect. She recommended the color "Angel," which is described as a "soft pink" on the MAC website. It retails for $19. Elsewhere, Nylon suggests Buxom Full-On™ Plumping Lip Polish Gloss ($21 from Sephora) for a super-glossed look — the kind Cady favored once she went full-on plastic. 
Although Lohan doesn't act much anymore, having turned her attention elsewhere, in a 2020 interview with fellow actor David Spade, she admitted to being really interested in taking part in a "Mean Girls" reunion. As the former child star explained, "I kind of wanted to come back with like a 'Mean Girls 2,' with the same cast and work with Tina [Fey] and the whole crew again and [director] Mark Waters." Lohan enthused that she was "really excited" to do it, but also acknowledged, "that's all in their hands, really." Suffice to say, the door hasn't been closed for her just yet, so we may see Lohan rocking the frosted pink lipstick again in a sequel, if we're lucky.