Will Smith Responds To His 10-Year Ban From The Oscars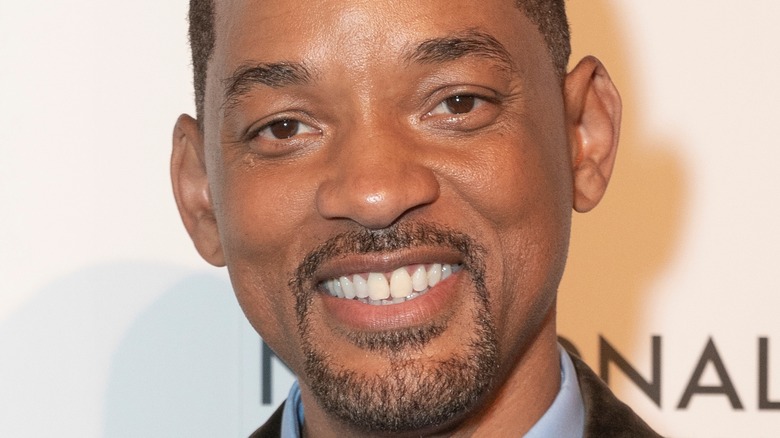 lev radin/Shutterstock
Following his now-legendary slap of Chris Rock at the 2022 Oscars ceremony, Will Smith has presented a much more subdued face to the public. Shortly after his shocking outburst, the "King Richard" star issued an apology via Instagram that included a personal nod to Rock. "I was out of line and I was wrong," Smith wrote in part. "I am embarrassed and my actions were not indicative of the man I want to be. There is no place for violence in a world of love and kindness." He also resigned from the Academy of Motion Picture Arts and Sciences (AMPAS), even as its Board of Governors debated an appropriate consequence.
Now the world knows what the punishment is. On April 8, AMPAS' president announced that Smith, "shall not be permitted to attend any Academy events or programs, in person or virtually, including but not limited to the Academy Awards," according to CNN. The announcement went on to explain that Smith's slap not only went against the ceremony's rules of conduct, it also took away the joy of the night and the achievements of the winners. 
Once again, the actor was chastened as he made a brief official statement. "I accept and respect the Academy's decision," Smith said in a statement released to People and other news outlets. At the time of this writing, neither Rock nor Smith's wife, Jada Pinkett Smith, have commented on Smith's Oscar ban.
Twitter thinks someone else deserves a harsher punishment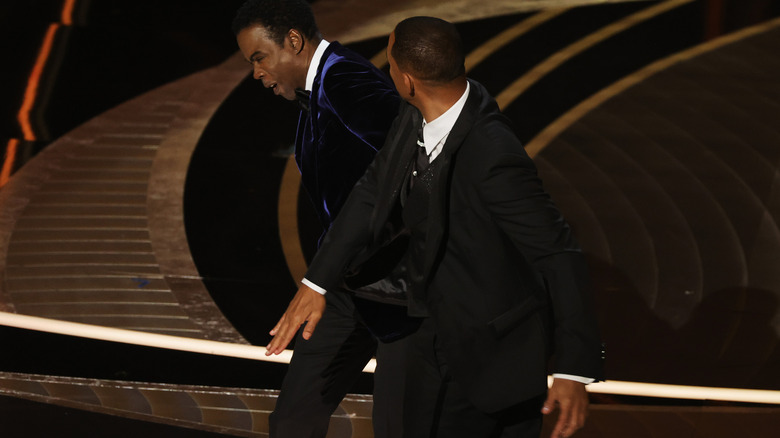 Neilson Barnard/Getty Images
Reaction to Will Smith's 10-year ban from the Oscars has been mixed. New York Post columnist Johnny Oleksinski scoffed at the punishment, comparing it to a child's time out and opining that if Smith were in any other line of work, an assault would have resulted in an arrest or firing. On Twitter, there was outrage that Smith was penalized more severely than other scandal-plagued figures, including Roman Polanski and Woody Allen.
But a news story that broke at virtually the same time stole much of the attention away from Smith and his reaction to the Academy's decision. CNN reported on texts from Donald Trump Jr. just before Election Day 2020, in which the then-president's son seemed to suggest strategies for ensuring that his father would be named to a second term. This, the Twitterverse felt, deserved more outrage and punishment. Wrote one follower: "Will Smith has been banned from the Oscars for 10 years... can we punish those who plotted to overthrow the government next?" Another said, "If Will Smith can be banned from the Oscars for 10 years, can't we at least ban Donald Trump from the Capitol for 10 years? In both cases, the scene of the crime, as it were."