Gwyneth Paltrow Pens A Heartwarming Message On Son Moses' 16th Birthday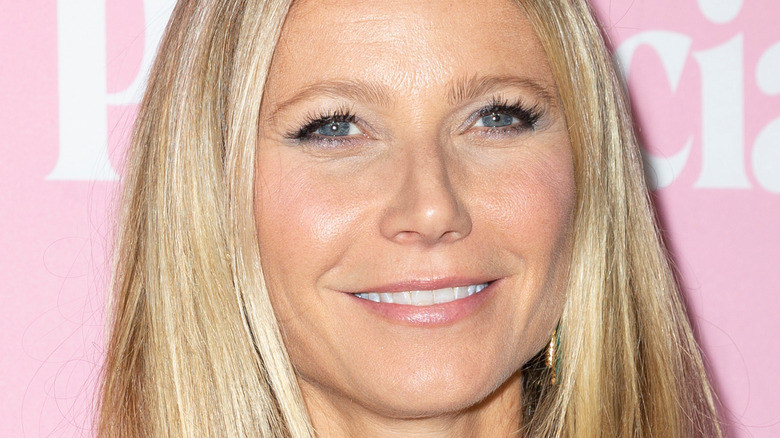 lev radin/Shutterstock
She's consciously amazed by how fast time has flown by. Gwyneth Paltrow can't believe her son with ex-husband Chris Martin is so grown up. Taking to Instagram Friday, the Oscar winner gushed about Moses on his sixteenth birthday.
"You are 16 today," the actress and Goop founder wrote as a caption to a photo of her teenager underneath a ceiling of balloons. "I'm not sure how I'm writing that number," Paltrow continued. "Since you came into the world on that perfectly New York spring morning, you have made the world a better place."
Moses Martin is the second child for the actress and Coldplay frontman, who welcomed their first child, Apple, in 2004 (via Us Weekly). The teen often stays out of the spotlight, but sometimes decides to surprise fans with a quick cameo, like when he popped by during a 2020 virtual interview his famous mom was giving to Jimmy Fallon (via Today). 
Moses also shows up every once in a while on Paltrow's Instagram. Last year the Academy Award winner also paid tribute to her lookalike son on his birthday, writing, "You are the dreamiest, sweetest, most brilliant guy ever. I love you so much, you can't fathom it."
This year, Paltrow had even more sweet words for her second born.
Gwyneth Paltrow shares so much about her son Moses
On the occasion of Moses' birthday, his A-list mom wanted him to know how wonderful she thinks he is. Continuing her Instagram tribute for him, Gwyneth Paltrow enthused, "With every thought, action and intuition you have, you make people feel seen, heard and valued. You are deeply special to all who know you. I am so lucky to be your mama."
With famous friends from trainer-to-the-stars Tracey Anderson to wedding dress designer Monique Lhuillier peppering the comments section of the post with their own birthday wishes for Moses, Paltrow wasn't even done honoring her son on his special day. "I'm savoring every minute as you grow and change into this amazing man," she continued, adding, "What a true blessing to have you, your wisdom, your kindness, and your beautiful singing voice ringing through our halls."
Could Moses be taking after his dad, Chris Martin, with his budding musical talent? Of course, Paltrow and Martin famously split in 2014, but it seems the actress and her family have healed from the divorce (via Glamour). As the "Shakespeare in Love" star recently shared during an Instagram Live session when asked if she'd moved on, "Oh, absolutely. It's a great opportunity to get ruthless with the truth of who you really are, what you want, and what you deserve."
Moses Martin had a tough few years but things are looking up
Gwyneth Paltrow went on to marry Brad Falchuk, a producer, in 2018. Her Coldplay singer ex has been in a relationship with Dakota Johnson since 2017. And all seems well in their blended family, with Paltrow telling Drew Barrymore in 2020 that her relationship with her ex is now better than their marriage (via YouTube).
Still, the 49-year-old admitted there are challenges co-parenting with Chris Martin. That said, she also told fans on her recent Instagram Live that she loves Johnson (via Glamour).
In the end, according to his star mom's birthday tribute, it seems Moses is flourishing and has so many talents and gifts. Sadly, in 2021, the actress noted he was the one struggling the most in their family during pandemic restrictions (via YouTube).
A year later, with things opening up, Paltrow ended her Instagram post by wishing her son a happy birthday and declaring to him, "You mean the world to me, my boy."