This Simple Hack For Hair Masks Will Make Your Locks Even Softer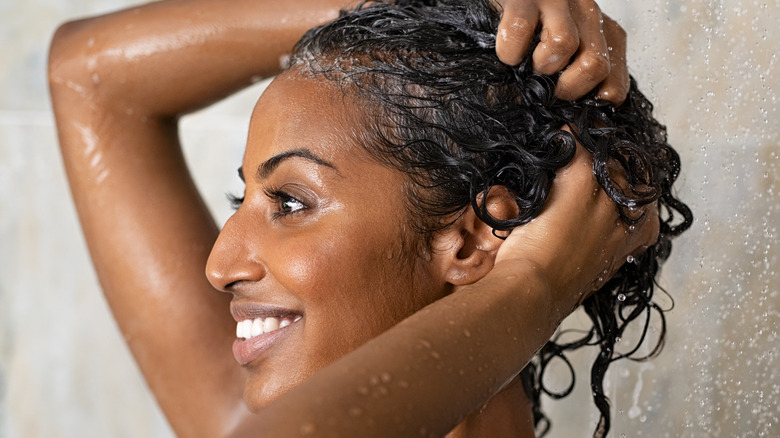 Rido/Shutterstock
As Seventeen explains, soft, silky, scrumptiously smooth hair is the epitome of hair luxury. However, thanks to excessive heat tool use (straighteners and curling irons, we're looking at you), it can feel impossible to achieve.
Hair masks can be one of the best ways to revive your hair, giving it a power boost of hydration and adding volume. Still, one serious downside that can make you avoid using hair masks is the time it takes to do one. Usually, once you apply a hair mask, you have to wait for a minimum of 10 to 15 minutes if your hair is going to reap the product's full benefits. The issue is that waiting in the shower or stewing in the bath for this period can feel like a waste of time.
Luckily, MBG Lifestyle has shared a handy hack to make using hair masks less time-consuming and even more effective. The hack in question comes from trichologist Bridgette Hill, who shared the game-changer on an episode of Clean Beauty School.
What is the hack and how does it work?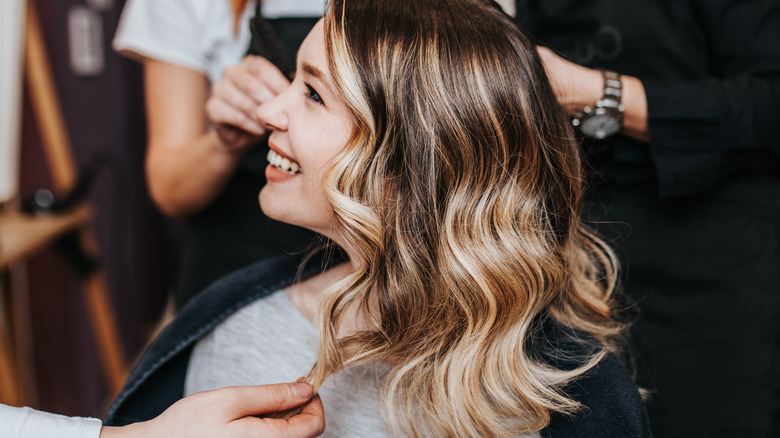 hedgehog94/Shutterstock
According to MBG Lifestyle, the idea is to "marinate" your hair. This is, of course, akin to marinating meat before you cook it, giving it plenty of time to soak in everything it needs. How you choose to go about "marinating" your hair with your go-to hair mask is up to you, and will probably depend on how often you need to use a hair mask.
Hill advises that the best way to make applying hair masks less time-consuming is to apply the product before going about the rest of the day, leaving it on for a longer period of time. But, unless you're a lover of the gelled back hair look for social events, she advises choosing a time where you won't be out and about.
"On days when you don't really care how you present yourself, you know that's a [hair mask] day," she explains. Moreover, she adds that you should apply your mask when you know you'll be showering later, such as before working out.
Hill also shared a pro tip. If you're doing an activity in a heated space, such as hot yoga, apply your mask beforehand and allow the heat to open up the hair cuticles and penetrate your hair at an even deeper level. Seventeen also advises using heat to get more out of your hair mask, further explaining that using a conditioning cap can help to further encourage hair to soak in all of the nourishment that the mask offers. Some hair masks are even best for summer, when it's naturally hotter.
How can you make applying your hair mask before your shower easier?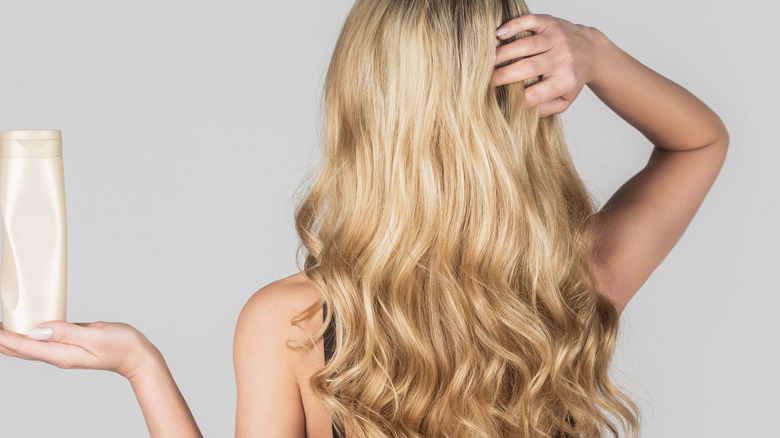 Body Stock/Shutterstock
According to MBG Lifestyle, if you're going to use this method, it's worth thinking about the kind of hair mask you're using, as well as its consistency.
Hill recommends using a lightweight mask that has the ability to absorb into hair more easily, rather than a thicker, buttery mask that won't easily melt into your hair. After all, you don't want to be working out with a hair mask dripping down your face, do you?
Admittedly, thicker hair masks tend to be super hydrating for hair, but if you want the mask to stay in place and nourish your hair over a period of time while you get on with other things, a lighter mask that actually grips the hair is a better choice.
Still, some simply may not be keen on applying a mask to their hair while going about their day. Instead, you can opt for a hydrating hair oil, such as argan oil, which is lightweight and wonderfully nourishing for your hair (via Healthline).