The Latest Celebrity Nail Trend Taking Over Red Carpets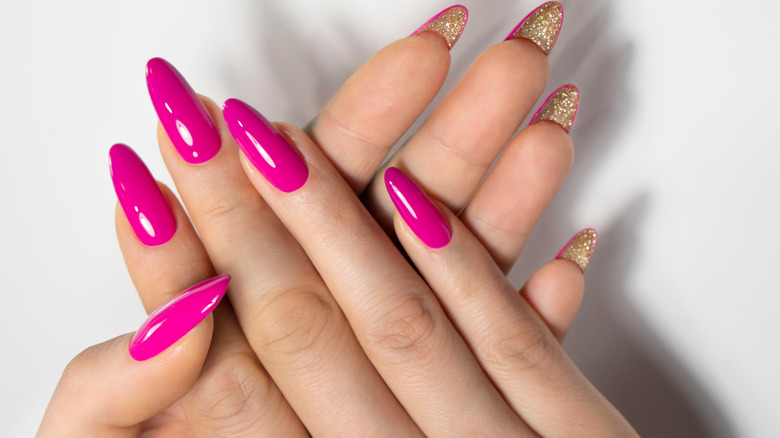 Elena Grama/Shutterstock
We may receive a commission on purchases made from links.
Every time we see a new celebrity-approved nail trend dominating social media, we have to try it. We've also seen many outdated nail trends that we should bring back reappearing, and we're here for it. For instance, The Trend Spotter noted that classic animal print and pastel manicures have been on-trend, and we love both of these nail designs and their many variations. We can't wait to rock a bold zebra print or soft pastel pink nails for a girly look.
Furthermore, Byrdie explained that intentionally wearing the same fingernail and toenail designs or at least manicures and pedicures with similar color families isn't necessary, but it's another trend. We enjoy the cohesiveness of this look. If you're craving that cohesiveness with your nails but don't want a pedicure, you can try to match your nail polish with your outfits, purses, or shoes to look more put together. It just so happens that one of the most prominent celebrity nail trends is all about cohesion.
Celebrities have been coordinating their jewelry with their manicures
If you're the type who prefers matching instead of mixing when it comes to beauty and accessories, you'll love this nail and jewelry trend. According to PopSugar, many celebrities have intentionally been wearing jewelry in similar colors and styles to their manicures for a stylish, cohesive look. For example, celebrity nail artist Tom Bachik posted a picture of the beloved actress and pop star Selena Gomez wearing dark green nail polish and a matching massive green ring for an award show event. For anyone who has dark green jewelry and wants to recreate this look with their own spin on it, you can currently buy dark green nail polish on Amazon and at Walmart.
Furthermore, Thuy Nguyen, another celebrity nail artist, posted a picture of the stunning and talented Vanessa Hudgens on her birthday, and she rocked this trend as well. You can frequently catch Hudgens at red carpet events, and in the social media post, Hudgens had long nails with shiny gold details and wore some sparkly rings. One ring even seemed to match the hue of the nail polish. If you're feeling inspired by Hudgens' nails and want a manicure that will complement your gold jewelry, you can purchase gold nail polish on Amazon and at Target.
More celebrities have been rocking this trend
We love how Selena Gomez and Vanessa Hudgens have been rocking this nail trend, but we couldn't stop there. We adore the manicure that Rachel Zelger wore to the Grammys. Tom Bachik did her nails in a creamy neutral color with slight metallic details that complement her sparkly jewelry. Not only does this manicure coordinate with the actress' jewelry, but the color matches her neutral dress, too. Talk about a cohesive look. This would be a fun manicure to recreate with your own twist, as all you have to do is add a bit of sparkle over neutral nail polish.
On the other hand, Dojo Cat wore a bold manicure to the iHeartRadio Awards created by the talented nail artist Saccia. The musician rocked long, white nails with sparkly red and green jewels, complementing her sparkling rings and white dress with colorful graphics. Saccia noted that she used OPI's Over Spilled Milkshake nail polish and Prohealth Top Coat for this look. Amazon and Walmart are currently selling nail art rhinestones, which you can use over the nail polish for a manicure just like Dojo Cat's.
Lastly, we had to include a Met Gala look by Thuy Nguyen. According to Nguyen, TikToker Addison Rae wore shiny gel extensions which matched her even shinier rings, bracelets, and earrings. The manicure was complete with a slim red tip, matching her dress. This glamorous look is worth a trip to a salon for your next night out.