How Did Lisa Bonet And Lenny Kravitz Meet?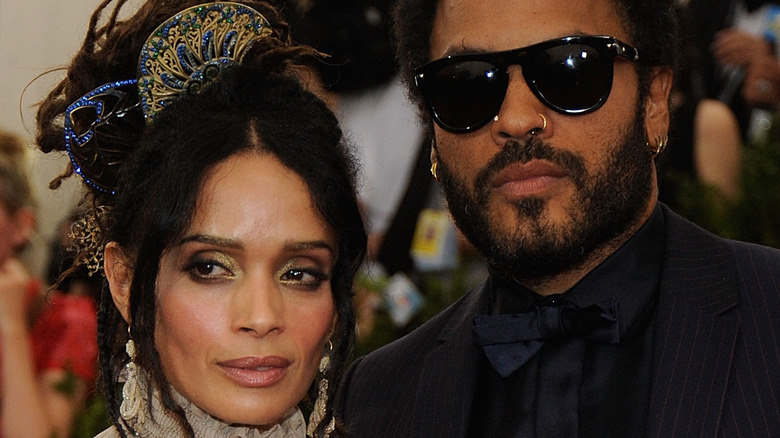 Rabbani And Solimene Photography/Getty Images
The role of Denise Huxtable on "The Cosby Show" and "A Different World" made Lisa Bonet one of the biggest stars of the 1980s. Before our eyes, Bonet transformed from a quirky teen dressed in offbeat fashions into a serious and confident actor.
In 1987, Bonet tied the knot with a struggling musician who went by the name of Romeo Blue. At the time of their elopement in Las Vegas, he was such a complete unknown that the media dubbed him "Mr. Bonet" (per Rolling Stone). That musician later dropped the Romeo Blue moniker and started going by the name you're probably familiar with, Lenny Kravitz.
In his 2020 memoir, "Let Love Rule," Kravitz recounted a moment from long before he actually met the woman who would become his wife: "I happened to glance at a cover of TV Guide featuring the cast of 'The Cosby Show.' I pointed to Lisa Bonet and calmly said, 'I'm going to marry that girl.'" 
Kravitz's friend just laughed at him. But he was smitten with the TV star. He wrote, "She had a come-hither magnetism that drove boys and men mad."
How did an unknown musician meet one of the world's biggest stars?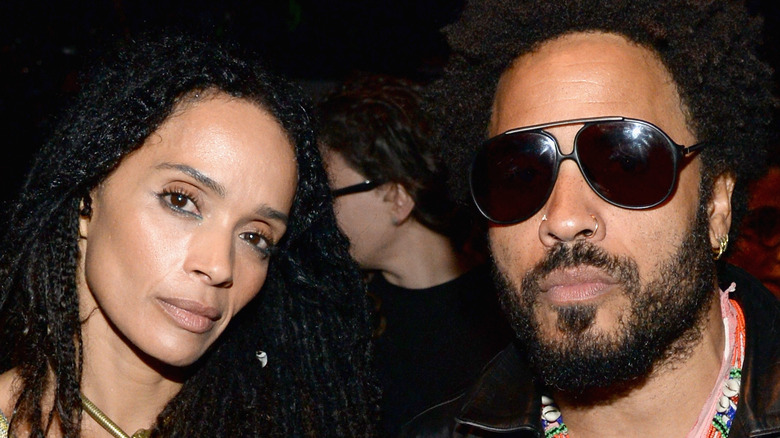 Kevin Mazur/Getty Images
Lenny Kravitz managed to score a backstage pass for a New Edition concert. Afterward, Lisa Bonet just happened to step into the private elevator with him. "My heart started racing. I didn't know what to say, but I had to say something. I knew this chance meeting was my only opportunity. I couldn't blow it," he wrote in "Let Love Rule."
A nervous Kravitz blurted out the first thing that popped into his head: "I like your hair." Then he silently berated himself: "It was a lame line, a stupid line, one of the worst lines in the history of bad lines. But I said it."
Fortunately, Bonet smiled at the musician and complimented his hair in return.
Later, in the dressing room, Kravitz worked up the courage to approach her again. This encounter went much better. He wrote in his memoir: "We vibed immediately. Time stood still. Without a lot being said, there was magnetism. I'd never had an encounter like it before. We were from the same tribe."
Kravitz was engaged to another woman at the time, but, soon, his burgeoning friendship with Bonet got in the way, and the engagement ended.
From marriage to divorce, Lisa Bonet and Lenny Kravitz are still family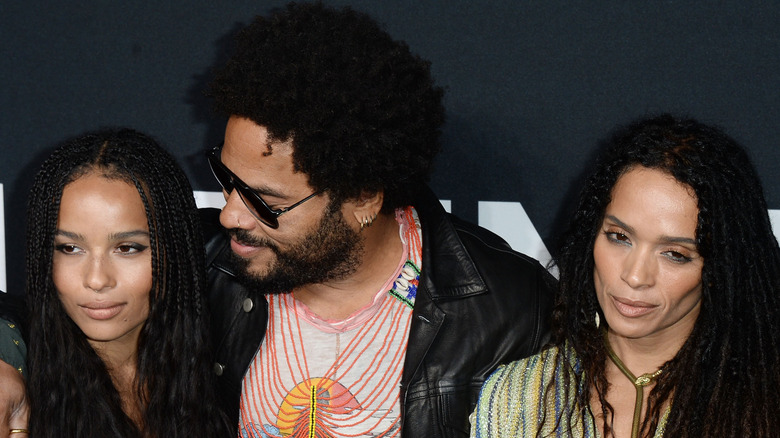 Matt Winkelmeyer/Getty Images
Though Lisa Bonet and Lenny Kravitz split up after six years of marriage, their bond lasts to this day. Part of that is due to the shared parenting of their daughter, actor Zoë Kravitz. 
But a larger reason seems to simply be that their connection has always run deep. "She was like a female version of me," Kravitz said in a 1995 interview in Rolling Stone. "We were complete mirror images of each other. It was unbelievable."
On Oprah's Master Class, Kravitz described his enduring connection to Bonet, even decades after the divorce: "Zoë's mom and I now are best friends. It's interesting because that's how the relationship started."
Kravitz also has a good relationship with actor Jason Momoa, the man Bonet was involved with from 2005 to 2022 and the father of her two younger children. Kravitz said on Oprah's Master Class, "We're all together, and we're one big happy family. It's beautiful, and it just shows you what can be done."