The Strange Way Kid Rock Included Donald Trump On His Tour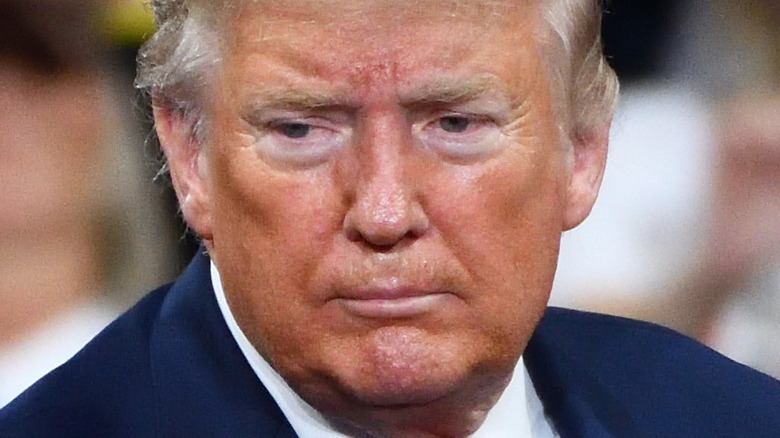 Evan El-Amin/Shutterstock
Donald Trump has plenty of celebrity fans, but Kid Rock has to be one of the strangest. The rapper — who courted controversy after claiming that Trump had asked for his advice on key political issues — also decried cancel culture during a March 2022 interview with Fox News host Tucker Carlson. In the interview, the "Bawitdaba" hitmaker revealed that Trump had once requested his advice on some tweets he was writing when Kid Rock visited the Oval Office. Allegedly, Trump even pointed to a map and asked Kid Rock what should be done about North Korea. In response, the rapper admitted, "I'm like, 'What? I don't think I'm qualified to answer this.'"
However, Trump's lack of experience in the political sphere has actually been touted as a major selling point by many of his fans — and it seems this is true of Kid Rock as well. As the musician told Carlson in the interview, he likes how Trump is less rehearsed than current commander-in-chief Joe Biden. "I understand what it's like, sometimes you get it wrong. But I would way rather hear somebody come from [the heart] and get it wrong once in a while," he said. Perhaps because he was so outspoken in his love for Trump, there were once calls for Kid Rock to run for Congress, according to Rolling Stone. That said, it doesn't seem like Kid Rock has any political aspirations beyond reaffirming his mutual love of Trump ... which he just did at one of his live shows.
Donald Trump praised Kid Rock in a prerecorded message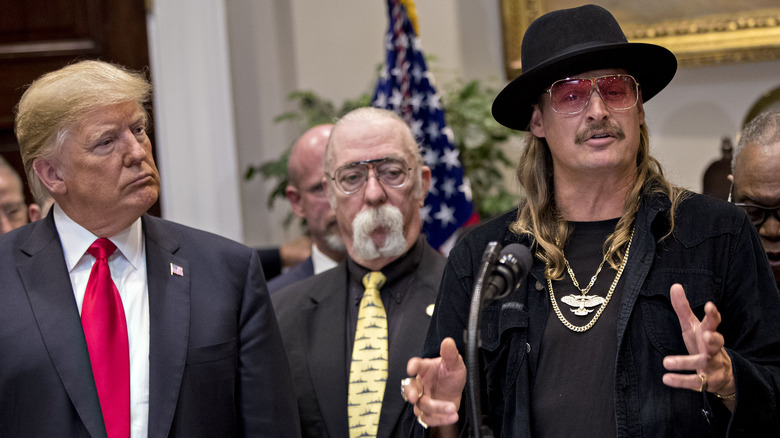 Bloomberg/Getty Images
Kid Rock's opener on his new nationwide tour is Donald Trump, according to TikTok. A clip on the social media platform shows the rapper kicking off his latest stop with a special video message from the ex-president. "I love you all," Trump said, via TikTok. "I know you're having a great time at the Kid Rock concert tonight. ...All of you in attendance are truly the backbone of our great country. Hard-working, God-fearing rock-and-roll patriots." The controversial politician went on to describe Rock as "one of the greatest entertainers of our time" and capped off his message (literally) by putting on a red hat emblazoned with the message: "Make America Rock Again." Per NME, Kid Rock has previously headlined for Donald Trump, so it seems only fair Trump return the favor ... right?
Per TikTok, Kid Rock opened the show decked out in red, white and blue, with his new song "We The People." Billboard reports that the track takes shots at President Biden and Dr. Anthony Fauci among others, and features the chorus line "Let's go Brandon," which is a coded way of saying "F*** Joe Biden," according to TODAY. Kid Rock stoked further controversy by cutting certain cities out of his tour after learning of strict vaccine and mask mandates, as he discussed in an expletive-filled Instagram video. It seems only fitting his cross-country jaunt is titled the "Bad Reputation" tour.