Is Free People Clothing Worth It?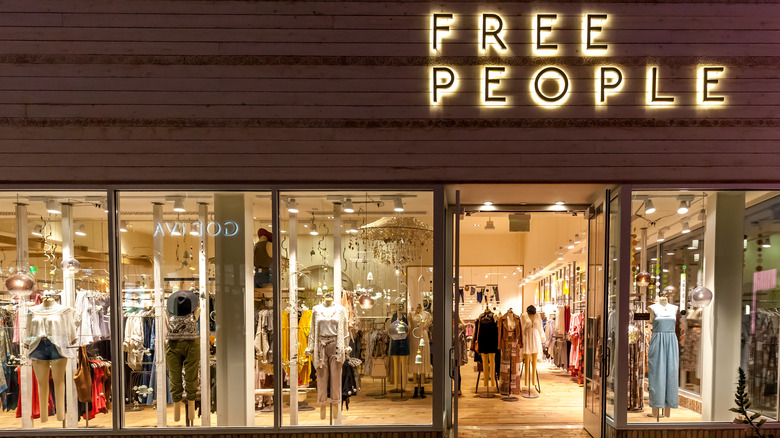 JHVEPhoto/Shutterstock
Everyone who enjoys bohemian-inspired fashion has worn or at least heard of Free People at some point. According to Free People's website, the brand originated back in the '70s with the goal of helping people find "freedom in the clothes they wore." Today, the brand caters to 20-something women who enjoy wearing fun colors and patterns. It is sold across 1,400+ retailers worldwide, in addition to its dedicated Free People stores. As Free People's website notes, it is one component of URBN, which consists of other like-minded brands such as Urban Outfitters and BHLDN.
Since the first store launch in 2002, Free People has exploded in popularity. As InStyle noted in 2021, beloved pop icon Taylor Swift was even seen rocking a cute sweater from the brand in a fall-inspired Instagram post! That said, Free People's quirky, colorful designs can come with a hefty price tag. In fact, the most expensive items you can get at Free People may have you questioning whether the clothes are worth their price tags. So, considering many of their items cost over $100, is Free People clothing really worth it?
These Free People pieces seem to be worth the price tag
Although Free People clothing can be quite expensive, many people believe that some of their pieces are worth the investment. Case in point: anyone looking for a trendy pair of jeans should check out their top-rated Osaka Relaxed Jeans. With 4.5 out of 5 stars, shoppers clearly believe that these jeans are worth their price tag of $128. Another option on Free People's top-rated section is the brand's Look Into The Sun Gown. With a perfect 5 star rating, the dress gives off major boho goddess vibes for just $200. Shoppers looking for more risqué items might try Night Owl Bodysuit — which is practically a steal for $68! On the other hand, the top-rated Pixie Sweatshirt can keep you warm (for $168) on chilly fall or winter days. Even better, the adorable sweatshirt has a glowing 4.5 star review.
Those looking for top-rated athleisure should check out the Keep Rolling Tank. With a 4.5 star rating, this sporty piece seems to be well worth its $30 price tag! Additionally, anyone on the hunt for some undergarments might find luck with the top-rated Entice Underwire Bra. Reviewers seem to agree that the provocative piece ($65) is as sexy as it sounds. Lastly, shoppers are fans of the versatile $68 Jayson Ringer Tee, which one reviewer praised as the "perfect casual top."
Other Free People pieces have mixed reviews
If we're going off of Free People's top-rated section, then plenty of shoppers believe the brand's boho-chic pieces are worth the price. However, there is a whole separate camp of consumers who don't think the store's clothes are worth it. Over on Influenster, Free People has 4+ out of 5 stars, with one reviewer on the site even sharing that Free People was "my favorite store literally ever! Over half of my clothes are from here and I get compliments on them every time I wear them!" Her review also stated that Free People products are high quality and long-lasting, as she's been wearing many of their pieces for around five years. Likewise, many YouTubers also seem to enjoy the brand and regularly post try-on hauls of Free People clothing on the platform.
On the other hand, a lengthy review by Honest Brand Reviews notes that many customers have been disappointed after shopping at Free People. A separate review by The Budget Babe explained that while they think Free People is unique and stylish, the clothes are too overpriced and impractical. Given these varied reviews, what is the bottom line? Free People seems to produce beautiful, boho-chic clothing that fits the bill for the occasional splurge. That said, the brand isn't the place for bargain-hunting shoppers.