The Ultimate Guide To Achieving A Trendy Bohemian Aesthetic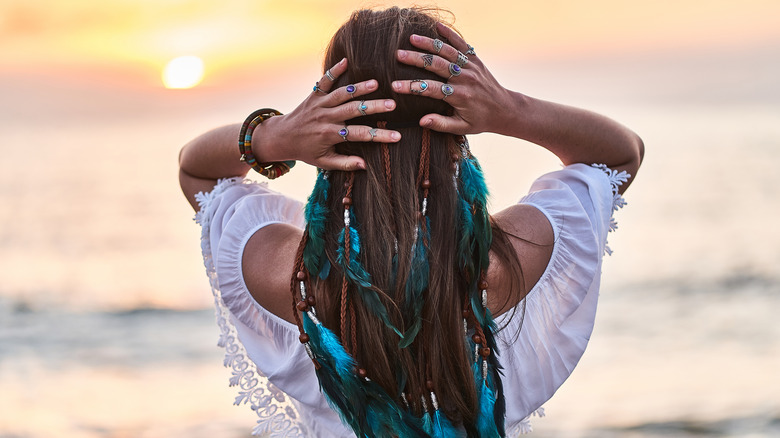 Shutterstock
From Penny Lane in "Almost Famous" to Kate Moss in the early aughts, boho style is still wildly popular for a reason. Representing free love, a fiercely authentic existence, and a creative, inspired perspective, the bohemian aesthetic is a lifestyle for many. As per Aesthetics of Design, this style dates back to 1800s France, beginning "as a counter-cultural movement after the French Revolution." Picture the poets, artists, and playwrights depicted in "Moulin Rouge" (hello, Ewan McGregor!) who "glorified their ruggedness and eccentric personality." Traveling through Europe as nomadic creatives, these people coined the bohemian way of life — an aesthetic that's still relevant today. So while the boho look seems all about embroidery, lace, and Coachella-ready florals, the meaning behind it is truly inspiring.
So how to go about emulating the rebellious French bohemians (or just Sienna Miller at Glastonbury)? The bohemian aesthetic is actually easy to pull off, making it very popular today. Why? According to Lua Maral Studio, the boho trend symbolizes "not caring about fashion" and "not caring about society." Ironically enough, it still is a form of fashion, and has since been adopted by "elite trend-setters" and "expensive high-end brands." In a way, the bohemian aesthetic is a high-low style that can be worn by everyone –- just pile on clothes and accessories you probably already have in your closet.
All about bohemian style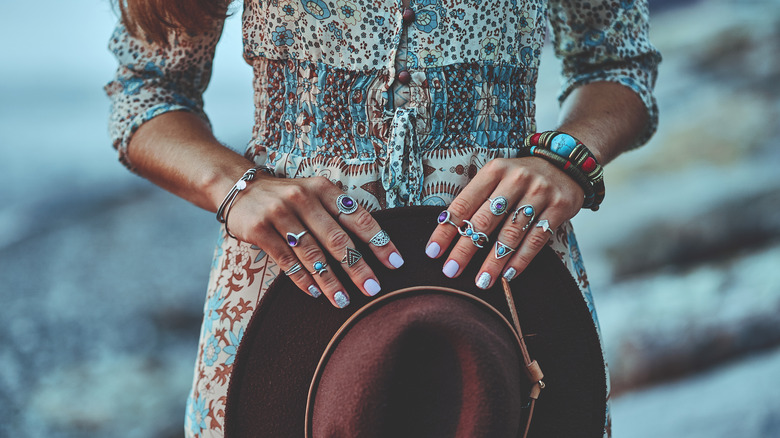 Shutterstock
When it comes to boho clothing, more is more. Don't be scared of mixing prints, and using volume and oversized shapes to your advantage. In fact, as per Lua Maral Studio, this style is all about "loose and fluid" silhouettes, with "nothing too tight, or too short." While frilly, lacy dresses are a boho staple, masculine pieces like big coats and trousers can be "adapted and reinvented." You'll nail bohemian style with fringe, "rag-style cutouts," maxi dresses, long skirts, bell-bottom pants, tunics as dresses or shirts, and anything with colorful embroidery.
How about your color palette? Bohemian style is constantly inspired by nature, so neutrals, earth-tones, and florals are a great bet, while white, tie-dye prints, and paisley are other go-to's. Try faux-fur, unexpected embellishments, or even prairie dresses and Western details for an unexpected take on boho (via Who What Wear). Kimonos and loose printed jumpsuits are comfy and hippie, while lace and ruffled collars give a romantic French twist to your bohemian look.
Accessories are paramount for your bohemian aesthetic, so pile on hats, stacked jewelry, turbans, headbands, flowers in your hair, crossbody bags, and all kinds of chunky boots and sandals (via Lua Maral Studio). For hair, your look should be all-natural: try some loose braids, a messy bun, or leave your locks loose and wavy, parted down the middle. Keep your makeup just as fresh, with a touch of sunkissed bronzer and gloss, or a bordeaux lip for nighttime.
The perfect boho décor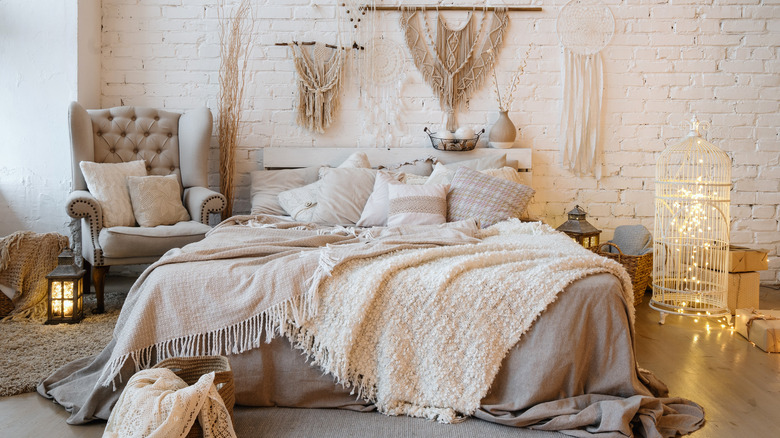 Shutterstock
So what to do for boho homewares? A bohemian aesthetic is lauded as one of the best décor styles for a reason: it promotes calm and just emanates good vibes. Even if you're unsure of boho fashion, there are tons of ways of incorporating hippie "free love" style into your space. Per The Spruce, bohemian decorating is "inspired by people who choose to lead an unconventional life such as constant travelers, actors, and writers," embracing "the unusual" and eclectic sensibilities. It incorporates objects, textures, and inspirations from all over the world, and will make for a completely unique home.
For bohemian home style, try earth tones, metallics, and jewel tones like deep brown and green, electric blue, and purple. Bring on the embroidery and embellishment, using rugs and hanging tapestries to make your space texturally interesting. A bookcase full of leather-bound books or objects from around the globe will give your space a worldly flair, as well as lanterns and tons of fresh plants.
French bohemians loved their intellectual get-togethers and salon parties, so a perfect boho home makes for fantastic entertaining. Fill your living room with tons of poufs, floor cushions, and blankets, making a coffee table spread of books, playing cards, and lots of candles. Scour vintage stores for antique furniture and décor items, and try out a wide range of materials like wood, linen, rattan, and velvet. Warm fairy lights and mismatched items will finish off your boho aesthetic in style.