How April's Attitude Changed Throughout The Ultimatum - Exclusive
Netflix recently released their latest reality dating show, "The Ultimatum: Marry or Move On." Just like in their series "Love Is Blind," the hosts, Nick and Vanessa Lachey, test the strength of couples' bonds in a relationship experiment of sorts. However, unlike "Love Is Blind," where new relationships are being formed, this show focuses on six committed couples who are on the verge of getting engaged. The catch is that while one of the partners is entirely ready for marriage, the other is less sure.
In "The Ultimatum," the original pairs split and find a new partner from the other couples. Then those rearranged matches live together as if they're married. The experience is meant to offer them a glimpse into what a future with another partner would look like and offer them clarity on their current relationship. At the end of the series, each participant has the opportunity to get engaged to their original partner, leave with their new partner, or leave single.
April Marie and her boyfriend, Jake Cunningham, were two of the participants in the first season. During an exclusive interview with The List, Marie shared what the experience was like for her. She revealed why "The Ultimatum" was not what she expected and how her attitude changed throughout the journey.
April was excited about going on The Ultimatum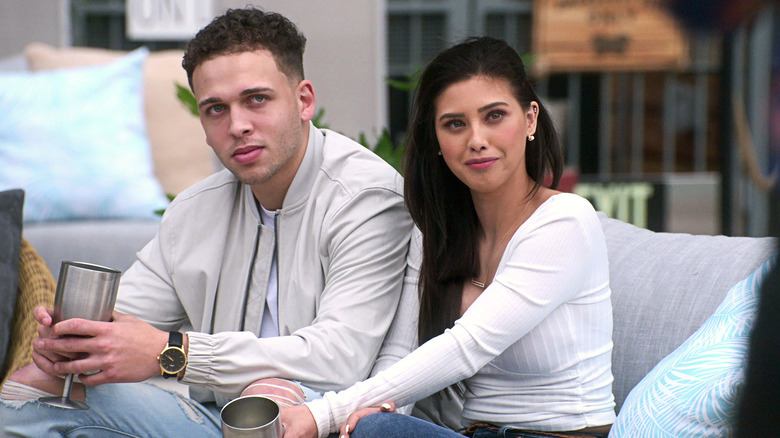 Netflix
The idea of going on a reality TV show where your significant other is partnered with somebody else may make a lot of people anxious. But April Marie jumped at the opportunity to do exactly that on Netflix's "The Ultimatum." She explained to The List that she'd been "hounding and nagging" her boyfriend, Jake Cunningham, about getting married. She'd had a 3-4 year relationship prior to her one with Cunningham that didn't end in marriage. After that disappointment, Marie didn't want to end up "wasting four or five years" committed to Cunningham if they were never getting married.
Marie felt that they were already living as a married couple and didn't see a point in putting off their engagement any longer. As she put it, "We finance each other's vehicles. I lived with you for a year and a half. I do your laundry. I cook. We wake up to each other every morning, go to bed together every night. What gives?" So when Netflix reached out about the pair of them going on this experience, Marie jumped at the opportunity. "I was like, 'God has answered my prayers.' And so, '[The] Ultimatum' it was," she said.
What changed throughout the experience?
April Marie went on "The Ultimatum" with a positive outlook and complete faith in her relationship, so she wasn't worried about what challenges might arise. "I was 100% confident that this is going to bring us together. It's going to bring us closer to realize, ultimately, what we have here and value it," Marie explained. On the other hand, her partner, Jake Cunningham, didn't even want to go on the show because he was scared it might be a bad idea. However, once the experience started, it seemed that their positions shifted. "We go on. I'm having the worst time of my life, and he is having a ball," Marie remembered.
Throughout the show, you can see what a difficult time Marie had. She was nervous for the series to come out because of how emotional she was. "I'm embarrassed at how much I cried. I'm so embarrassed. Every scene is like, I'm crying in a restaurant, I'm crying in the bathroom, in the bedroom, on the street," Marie said. "It was snot coming out of my nose, tears rolling, makeup on my chin. It is what it is. That was my personal journey, and the world can relate to seeing how many emotions that this experience actually brought."
Episodes 1-8 of "The Ultimatum" are now streaming on Netflix, with the finale and the reunion dropping April 13.