Jason Aldean Is Getting CMT Music Award Attention For All The Wrong Reasons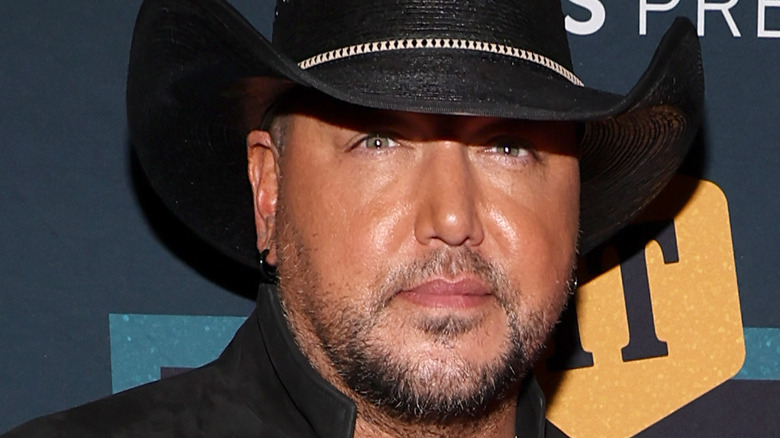 Jason Kempin/Getty Images
The 2022 CMT Music Awards weren't the first place music lovers got to hear country superstar Jason Aldean and 1980s Canadian-born pop sensation Bryan Adams sing the classic love ballad "Heaven" together. The pair performed it more than a dozen years ago in 2009 on CMT's "Crossroads" series. Aldean apparently loves the song so much that he features a cover of it on his "Macon, Georgia" double album (via The Tennessean).
"Heaven" was made famous by Bryan Adams on his 1985 album "Reckless" after it went nowhere as part of the soundtrack for the B-level movie "A Night In Heaven" — a film starring Lesley Ann Warren and Christopher Atkins (via Ultimate Classic Rock). However, in 1985, Adams included it on his LP and it became an '80s sensation Generation Xers will never forget. However, a performance of it at the CMT Music Awards with Aldean and Adams recreating their 2009 "Crossroads" appearance made some people wish they could forget it.
Jason Aldean's not-so-heavenly performance has Twitter talking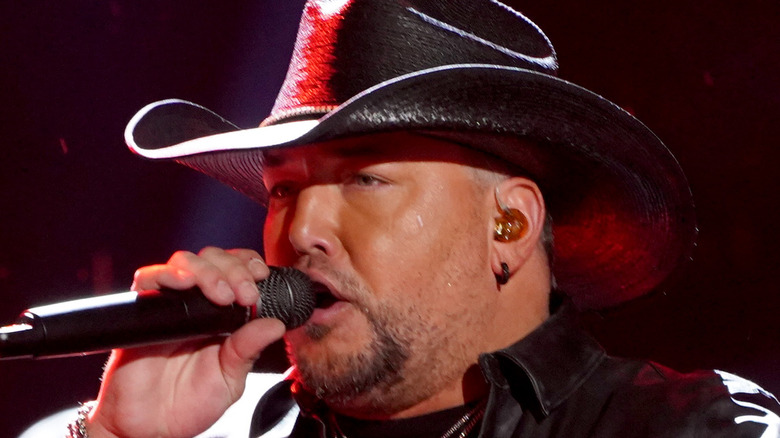 Erika Goldring/Getty Images
When Jason Aldean and Bryan Adams teamed up at the CMT Music Awards on April 11 as part of an all-star night of performers to sing Adams' 1980s hit "Heaven," some fans knew they'd heard enough right away.
"Jason Aldean singing 'Heaven' on #CMTAwards is brutal," one Twitter user wrote. Another music lover felt this classic tune didn't deserve to have Aldean singing it, saying, "Now why would they let Jason Aldean go and ruin this song?"
It's hard to sing a song with the person who made it famous, as one fan loved what Bryan Adams did with the tune, writing, "Brian Adams CMT Music Awards is my Hero!!! Sorry Jason Aldean. You don't hold a candle." Another Twitter user concurred that Adams did an amazing job but Aldean was a different story. "Y'all, [Bryan Adams] deserved better," the fan wrote. "They should have turned the mike [sic] off for #JasonAldean. Not his best by far but glad to see Bryan Adams!" Not everyone can be a fan, but it looked like Aldean and Adams had a good time on stage together.