Anthony Mackie's CMT Music Award Hosting Has Viewers Undecided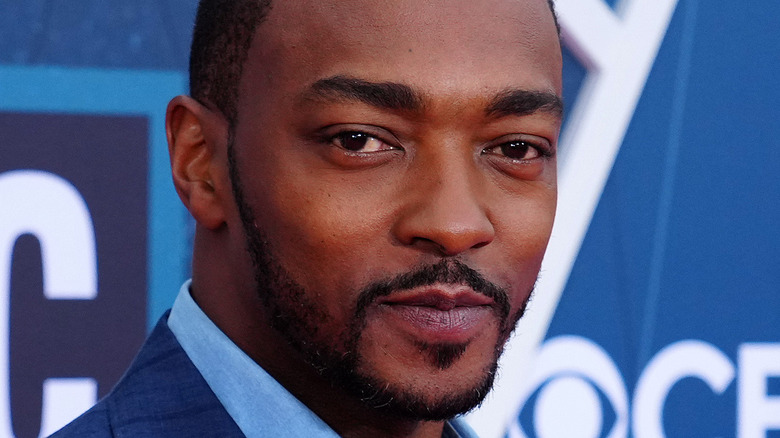 Jeff Kravitz/Getty Images
Anthony Mackie may be better known to fans of the Marvel Cinematic Universe as the Falcon, but for the 2022 Country Music Television (CMT) Awards, he's also a country fan and joke-cracking co-host. Moving away from the show's traditional format, the broadcast was aired on CBS this year with two hosts that were finalized as country celeb Kane Brown and country fan Mackie, per the Tennessean.
Commenting on the event, Mackie said, "There's so much diversity, people from different backgrounds — males and females ... it makes sense that the show should reflect what the music culture looks like now." Then, reflecting on the diversity of the audience for country music the actor says, "Now that it's Kane, we gonna put some salt and pepper in that gumbo. Get it poppin'."
Some Twitter fans were really feeling this vibe. "@AnthonyMackie is killing it as co-host of the #CMTMusicAwards ... this time simulcast on @CBS and after all these years still the most entertaining award show of all," one Twitter user wrote.
Others, however, just weren't feeling Mackie's jokes land.
Viewers are still figuring out Mackie's performance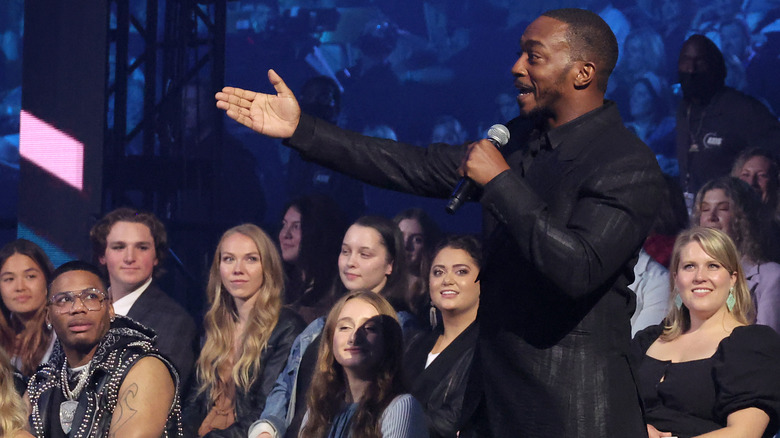 Mike Coppola/Getty Images
The 2022 CMTs serves some head-turning looks, but its comedy might've been lacking. Much like the visible images of live audience reactions, not all of Twitter is a fan of Anthony Mackie's hosting style. One watcher on Twitter wrote, "@AnthonyMackie stick to your day job you are a very annoying host!!" Another Twitter user said, "Why is Anthony Mackie hosting the CMT Music Awards? He is so damn annoying, myself and everyone I know have switched the channel #cbs."
For this second comment, we can add a little clarity via the Tennessean. Mackie told the publication about his early love for country music. "I was about 7 years old, Kenny Rogers did this movie where he was a race car driver," Mackie said. "It's Kenny Rogers. He had all this music in the movie, from that movie I became a big fan of Kenny Rogers." He continues to describe his love of the country music style of storytelling, sharing that his early favorites were Rogers, Dolly Parton, Willie Nelson.
And whether Mackie's presence can be understood or not, it seems Twitter is falling on the side of "not a fan" as yet another follower questioned, "Why do country music award shows seem to attract the worst hosts and writers? @AnthonyMackie is painful to watch as a host and the material is worse."
Either way, we sure loved his suit. Meanwhile, Taylor Lautner's CMTs fan cam had fans swooning.