A Throwback Clip Of Harry And William With Diana Makes Everyone Forget About Their Rift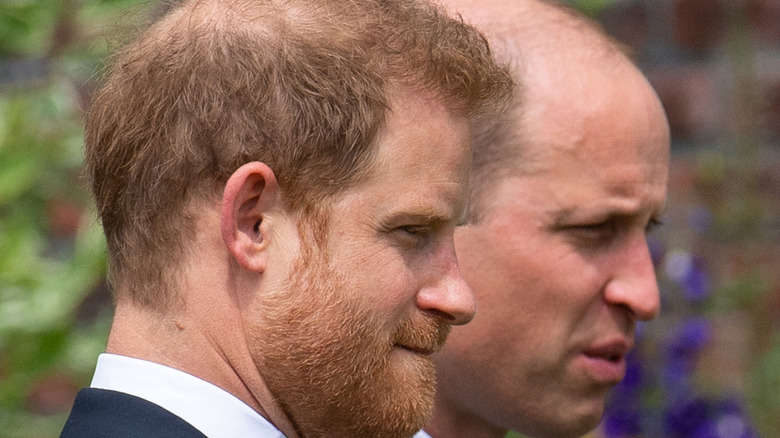 Wpa Pool/Getty Images
Currently, Prince Harry and Prince William's relationship is fractured, but an old video is reminding everyone of the bond these two once shared.
After Princess Diana and Prince Charles tied the knot in 1981, they welcomed their two sons into the world in 1982 and 1984, respectively. However, the royal couple shared that their marriage was over in 1992, and five years later, Diana lost her life after a fateful car crash in Paris.
About 2,000 people attended Diana's funeral, with another estimated 2.5 billion watching at home on their television sets. Harry discussed that tough day with Newsweek, saying, "My mother had just died, and I had to walk a long way behind her coffin, surrounded by thousands of people watching me, while millions more did on television. I don't think any child should be asked to do that, under any circumstances. I don't think it would happen today."
The video focuses on simpler times, before William and Harry's relationship got so complicated
After going through their parents' divorce and their mother's death together, more challenges hit Prince William and Prince Harry. This was especially true after Harry started dating Meghan Markle.
In 2020, the Duke and Duchess of Sussex stepped down from their royal duties and moved to America, and a year later, they gave their infamous interview with Oprah Winfrey. Neither of these moments helped the brothers' relationship, as pointed out by People Magazine.
The world has been reminded of simpler times, though, thanks to a certain TikTok. It shows Princess Diana trying to round up her sons for the nanny before she heads out on a helicopter ride. The clip shows the princess carrying Harry and shows William not following along, causing her to say, "Harry will have the fun then." That got the older child's attention, as he began to run after her, saying "no, no, no" over and over! It's an adorable reminder of an earlier, happier time.