What Are Elliot Page's Pronouns?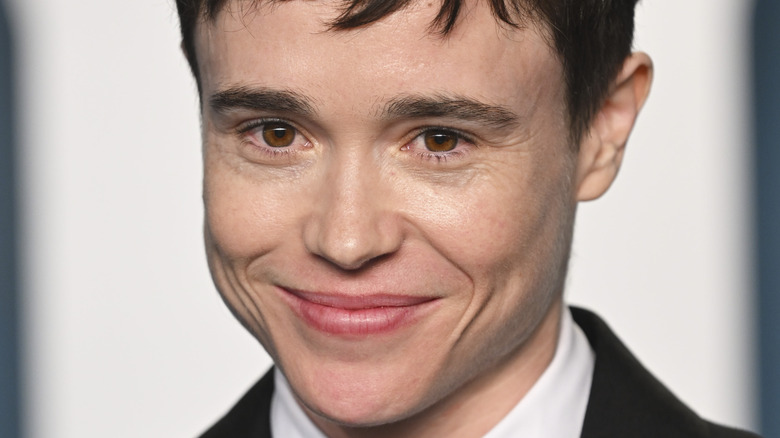 Karwai Tang/Getty Images
Elliot Page, best known for playing the film's title role in "Juno," has truly developed a successful acting career over the years. The Canadian actor first started working professionally at just 10 years old, starring as Maggie in the TV series "Pit Pony" (via IMDb). From there, Page's 2007 breakout role playing Juno MacGuff, a quirky teen who finds herself unexpectedly pregnant, became a true claim to fame. Securing an Oscar nomination for "Juno," the "Umbrella Academy" star continued on to become a household name.
Page has also been an inspiration for young audiences everywhere, even outside of all the actor's achievements. Speaking at a conference benefitting LGBTQ+ youth held by the Human Rights Campaign, Page came out as a lesbian in February 2014 (per The Hollywood Reporter). "I'm here today because I am gay, and because maybe I can make a difference, to help others have an easier and more hopeful time," the actor told the benefit's audience. Page remained as an "out" lesbian, until posting an announcement on Instagram in December 2020. In the touching statement, the actor officially came out as transgender. Page, formerly known as "Ellen," also wrote, "my name is Elliot." In the genuine, heartfelt social media post, Page also announced new pronouns for audiences to use when referring to the actor.
Elliot Page uses rolling pronouns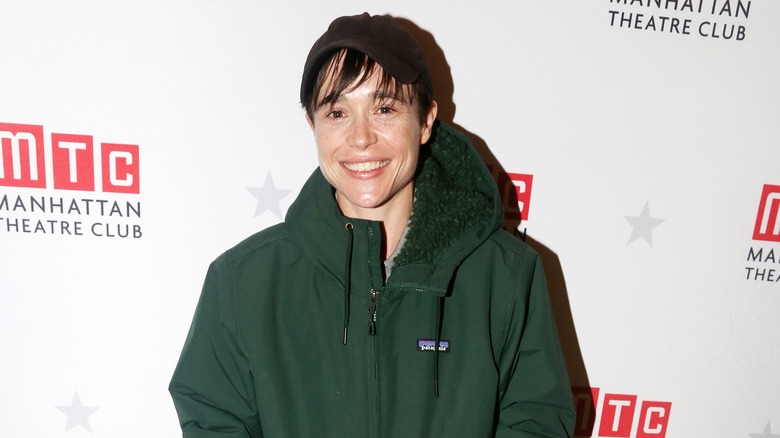 Bruce Glikas/Getty Images
Thanks to their Instagram announcement, we know that Elliot Page's pronouns are he/they. The Nova Scotia native also penned in the post, "I love that I am trans. And I love that I am queer. And the more I hold myself close and fully embrace who I am, the more I dream, the more my heart grows and the more I thrive." Using both "he" and "they," Page uses rolling pronouns — meaning that both pronouns can be used interchangeably, per Insider. Addressing the trans community in his letter, he also wrote, "I will offer whatever support I can and continue to strive for a more loving and equal society."
In their first interview after coming out as trans, Page told Time, "My privilege has allowed me to have resources to get through and to be where I am today, and of course, I want to use that privilege and platform to help in the ways I can." Since then, Page has been an outspoken advocate for the trans and LGBTQ+ communities at large, telling Oprah Winfrey in a televised interview, "With this platform I have, the privilege that I have and knowing the pain and the difficulties and the struggles that I faced in my life — let alone what so many other people are facing, it absolutely felt just crucial and important for me to share that," (via CBS News).
His Umbrella Academy character is following in his footsteps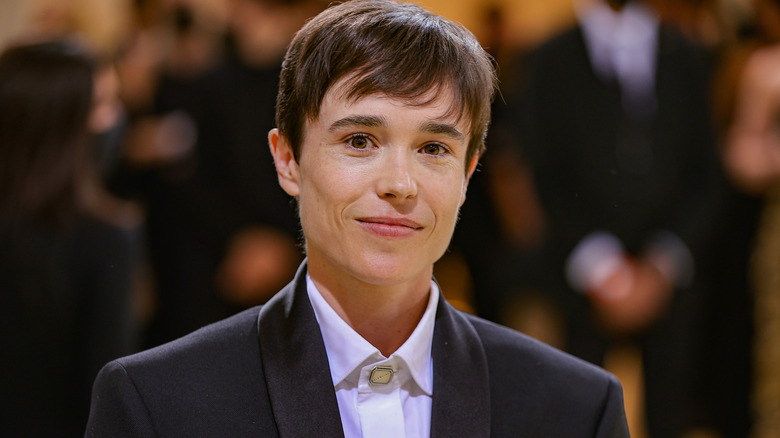 Theo Wargo/Getty Images
Not only has Elliot Page gone public with the fact that he is trans, but his character in the Netflix series "Umbrella Academy" is also experiencing a major change. Per AV Club, Page's character Vanya Hargreeves will now be known as Viktor Hargreeves, and he will come out as transgender in the show's upcoming third season. The actor himself posted the news on Instagram, with the caption "Meet Viktor Hargreeves."
After posting the introductory picture of his newly named character, Page was met with plenty of support from fans and fellow celebrities alike, per Newsweek. Emmy Raver Lampman, Page's "Umbrella Academy" co-star, commented "I love you" on the post. His new co-star, Justin Cornwell, who will be joining the show in the upcoming season, also commented "Yes, Viktor!" on Page's picture. Netflix seemed to be just as thrilled as the cast, tweeting from their dedicated LGBTQ+ account, "FEELS SO GOOD TO SAY THIS: Elliot Page stars as Viktor Hargreeves in Umbrella Academy S3!!!" Judging by all of the instant displays of celebration, season three of the show will likely be an exciting one.