Singer Luke Combs Drops Hints About His Future Baby's Name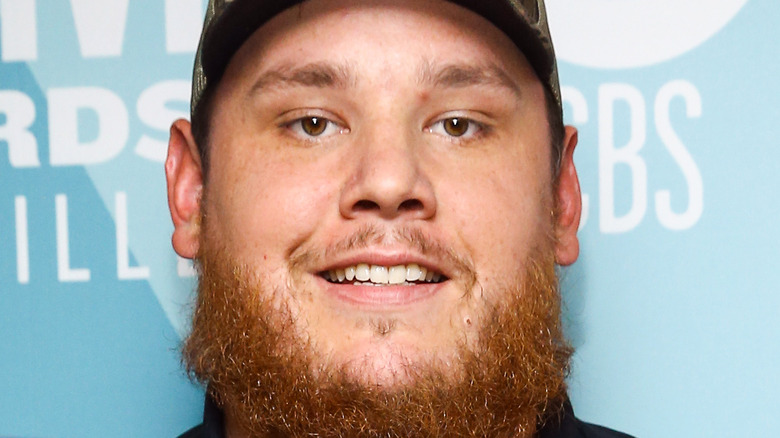 Terry Wyatt/acma2020/Getty Images
Luke Combs and wife Nicole Hocking kicked off the new year with wonderful news, as the happy couple confirmed they were expecting their first child. "Lil dude Combs is coming this Spring!" the country star wrote on Instagram alongside photos of him posing with Hocking, who had a visible baby bump, while they looked lovingly at an ultrasound photo. "It's gonna be a hell of a ride," he added. The couple tied the knot in 2020 at their Florida compound, with the singer-songwriter sharing stunning shots of their big day to Twitter and gushing, "Yesterday was the best day of my life. I got to marry my best friend." 
Combs and Hocking began seeing each other in 2016, and got engaged in 2018. His hit song "Beautiful Crazy" is about her. And, during an appearance on podcast "The Artist and The Athlete," via People, Combs acknowledged it was his all-time favorite track he'd ever penned. "I wrote that song about my wife before we were even dating [and it ended up being] the first dance at our wedding," Combs explained. "There's no way that any other song will top that as far as sentimental value for me." 
With their son due later this spring, Combs and Hocking are in full preparation mode. And now, the country star is teasing fans about possible baby names.
Luke Combs has an interesting rhyming technique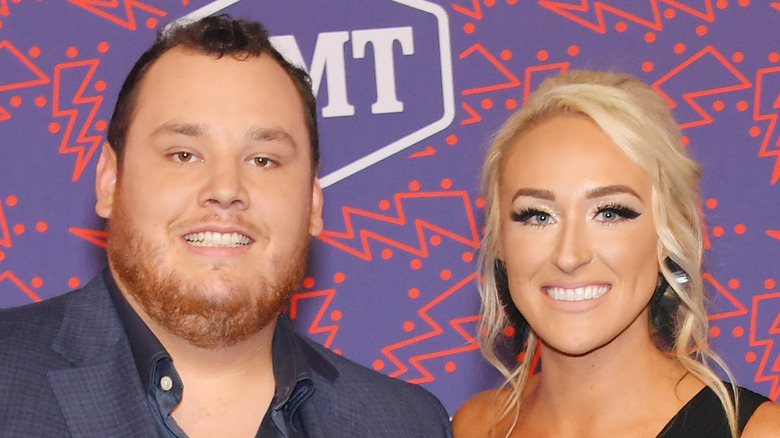 Mike Coppola/Getty Images
During a recent chat with Audacy, country star Luke Combs spilled the beans about what kind of name he and wife Nicole Hocking are planning for their baby boy. Although he was initially hesitant to give anything away, the "Doin' This" hit-maker eventually acquiesced, teasing that the couple's chosen name rhymes with "orange" and "purple." All joking aside, hopefully it won't later be among the celebrity baby names parents will regret giving their kids in 10 years time.
Regardless, Combs clarified the name isn't important. "If a damn alligator can come out, it wouldn't matter to me as long as it's healthy... I would teach him to sing, teach him how to eat a cheeseburger, [and] I could afford a good coach," he argued, with Combs even admitting he plans to be running the Nashville-area Little League within a few years. Hocking, meanwhile, is doing well according to her doting hubby, who was fully prepared for her to unleash the beast after hearing horror stories from friends.
"Everyone wants you to have some awful experience that they had, and they're like, 'You just wait until she wakes you up and wants a biscuit at 2:00 in the morning.' I want a biscuit early in the morning," he quipped. According to People, during a recent appearance at the legendary Grand Ole Opry, the musician admitted he had a long way to go before welcoming their son since Combs is concerned about doing everything right.