Pamela Anderson Answers The Question We've All Been Asking About Her Broadway Debut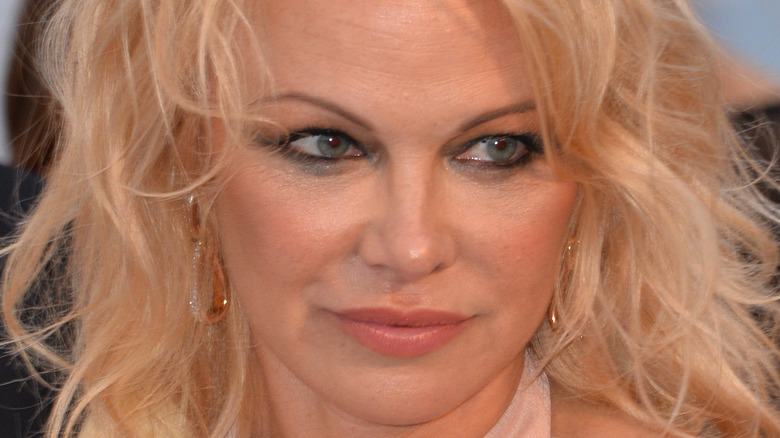 Featureflash Photo Agency/Shutterstock
Pamela Anderson is a woman of many talents. She's proven her acting ability plenty of times, whether she's saving the day as lifeguard C.J. Parker on "Baywatch" or showing off her comedy chops as bookstore owner Skyler Dayton on "Stacked." But starring in a Broadway musical requires more than just acting — it calls for acting while performing choreography and belting out songs. So when Anderson announced that she would be playing murderous minx Roxie Hart in "Chicago" on Broadway, fans were curious how she'd fare during her eight week run.
Anderson wasn't nervous for her turn as Roxie Hart; she was excited for the challenge. "I'm so curious to see what I'm made of," she told People Magazine in an exclusive interview. "Each day, my voice is getting stronger. The choreography is settling in. We're doing the original choreography — they're not holding back with me — and I'm just loving it. I'm just eating it up. I'm like, 'Oh my God, I should have been doing this longer!'"
So when she finally took to the stage, how did she do?
Pamela Anderson killed it as murderess Roxie Hart
According to a reviewer from Page Six, vibes were positive in the Ambassador Theatre on Pamela Anderson's opening night in "Chicago." Not only were fans buzzing, but Anderson's sons, Dylan and Brandon, had seats in the audience to watch their Mom's big night. Expectations were high as the show started, and by the time Anderson took her final bow, the crowd was roaring.
Anderson was a hit. Page Six's review notes that while her vocals might not match a professional Broadway singer's, she could still sing extremely well and exuded an emotional vulnerability. She also nailed the choreography and hit especially hard when delivering jokes and performing comic songs. An attendee told People that "the audience went insane" for her performance. One fan tweeted, "To anyone who wants to see Pamela Anderson in Chicago on Broadway: she's ICONIC."
Some audience members didn't even realize that Anderson was making her Broadway review. "She had so much energy and was so sprightly on stage," an impressed fan told NBC News.