Lizzo Lets Fans In On Her Skincare Secret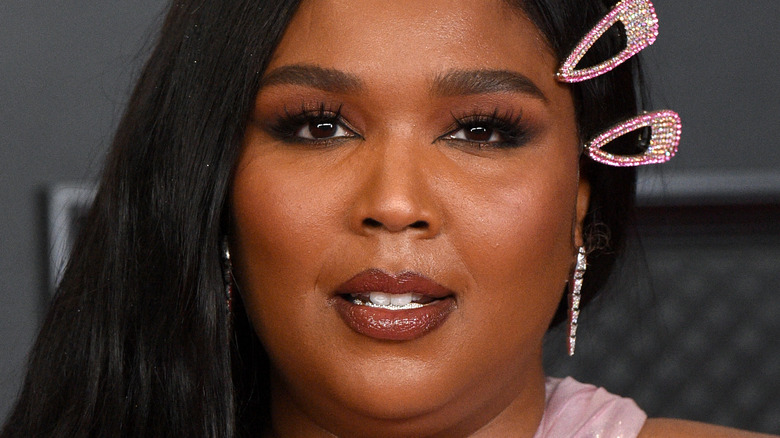 Kevin Mazur/Getty Images
There was once always a shroud of mystery surrounding celebrity beauty routines, but not anymore. If fans desperately wonder what exact products their favorite glowing star is using, there's a good chance they'll find that she's decided to pop into the Vogue Beauty Secrets bathroom and give them the full breakdown. Things get even more candid over on social media, where sometimes your favorite celeb will have decided to drop her whole routine on an Instagram Story, or share a revealing shelfie. 
Lizzo's stunning transformation has always included glowy skin. Head to toe, she is always glowing with a beautiful sheen that catches every last ray of sunshine, per Women's Health. What's so amazing about the "Good As Hell" singer is she keeps it candidly real at all times, and her beauty secrets are no exception. Lizzo has always been the first to give fans the full scoop on every product she's been loving, and how you can get the exact same results. 
What everyone really wants to know is the secret behind how buttery and hydrated her body looks at all times. No matter what incredible look she's serving, it always stands out. Well, the Grammy Award-winning singer has finally dropped the deets on her body care routine, and it's a lot simpler and cheaper than you'd think.
Lizzo loves to dish about her beauty routine
While many celebrities have dipped their toes into TikTok, Lizzo is undeniably the leader of the pack. From funny videos to dance routines, and even testing out strange snack combos, Lizzo has done it all, and breaks records while doing it, per BuzzFeed. But the best part is how real she keeps it, often feeling a lot less like a hit platinum musician and more like just another person that's bored on TikTok. 
Well, luckily for beauty fans, she always uses the platform to keep it real about her beauty routine, and she even dropped an in depth step-by-step skincare routine, per TikTok. In fact, Lizzo revealed that her wide range of go-to products vary in price ranges, from a $125 toothpaste to a $19 hair butter, per Nylon.
When the "Rumors" singer dropped her full morning routine, fans couldn't help but notice her lather up her body in a product that instantly left her glowing, per TikTok. With it being the one product that wasn't clearly shown, fans were left dying to know which product on the vast beauty market is the secret to her buttery skin.
Lizzo keeps it simple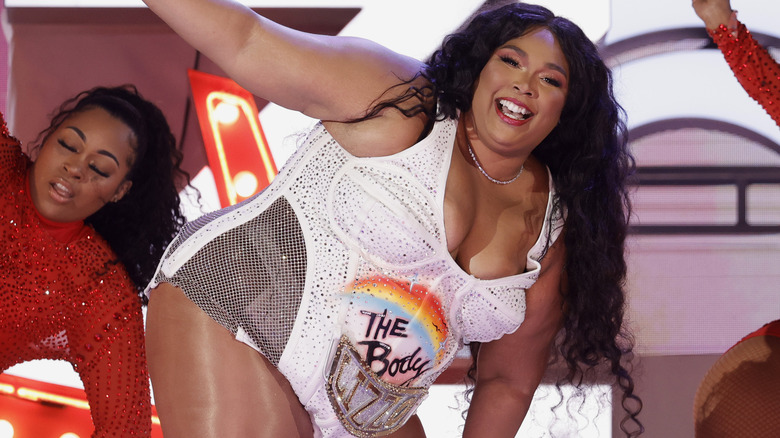 Frazer Harrison/Getty Images
Lizzo recently announced the launch of her brand new shape wear line, Yitty, in collaboration with Fabletics, per The Hollywood Reporter. With the promo for the brand came a bunch of iconic Lizzo shots that featured her stunning body glowing more than ever. While fans were certainly interested in the shape wear itself, it was her body that left them impressed. 
One fan couldn't help but ask, taking to Twitter to say, "All I wanna is @lizzo what lotion you be using because your body stay moisturized and glistening CeraVe does not have me glowing like this." Now, with celebrities we have a tendency of assuming that the answer will either be some unattainable Hollywood beauty treatment or a product that's way above our price range. Well, don't you worry: Lizzo has you covered with the simplest of secrets. She responded with a simple tweet, "Coconut oil and Shea butter! Mix em."
Coconut oil and shea butter are simple ingredients that can be found in most body care products, but the best part is that if you buy them in their purest form, they're definitely not going to cost you much. Shea butter contains fatty acids that work to deeply hydrate your skin while also plumping it up and helping with any discoloration, per Byrdie, while coconut oil is a fan-favorite product for how it works to nourish your skin and retain moisture, per Allure. You can't go wrong with these age-old staple ingredients. Thanks, Lizzo!