How Being A 'Bonus Mom' Changed Heather Rae Young's Perception Of Motherhood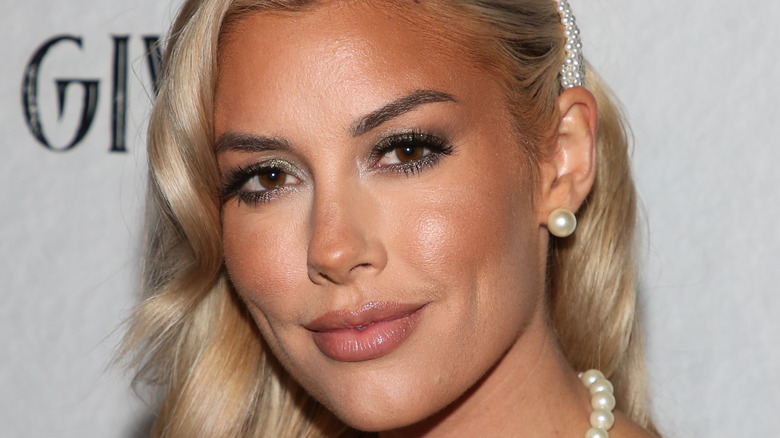 Paul Archuleta/Getty Images
Heather Rae Young is changing her stance on motherhood. The "Selling Sunset" star was once sure that she didn't want to have children with her husband, HGTV's Tarek El Moussa. The couple wed in October 2021, making Young a "bonus mom" to El Moussa's kids — daughter Taylor and son Brayden — whom he shares with his ex-wife Christina Haack.
"I'm raising Tarek's babies, and we have them 50% of the time. I am such a good bonus mommy. I adore those kids. I raise them like they're mine. I wouldn't be able to do it any other way," Young told People before the wedding. However, she added that there were not immediate plans to expand the family. "Right now, our household is freakin' crazy. I'm filming TV shows, I'm raising kids, I'm building businesses," she explained.
Just in case she changed her mind, Young decided to freeze her eggs. She has been candid about her fertility journey and revealed on her Instagram Stories (via People) that while she has five follicles growing, "one of them looks like it's not going to be mature enough to extract." Young confirmed that the other four appeared to be healthy.
Although it wasn't the news she wanted, she remained optimistic — especially since her relationship with Taylor and Brayden helped her change her mind about having her own kids.
Heather Rae Young's bond with her bonus kids showed her she can be a great mom
Heather Rae Young wasn't sure she wanted to have children of her own — until she became a "bonus mom" to husband Tarek El Moussa's children. "Ever since I started sharing my fertility journey with you guys, Probably one of the #1 questions I get asked is 'what made you change your mind about having your own kids?'" she wrote on Instagram. "Well... my love for Taylor and Brayden is almost indescribable, it helped me realize that I am capable of being an incredible mom and that I can really do this!"
Seeing her husband with his children also helped convince Young to one day expand their family. "Tarek will move mountains to do everything in his power to be at every school event, every game, he shows up for me when I need help with the kids even after a long day of work and filming and stress, he never questions anything, will drop everything for me and them," Young explained.
In fact, El Moussa hinted at some big future plans when he recently unveiled his new tattoo. Clearly, it seems as though the family is planning on expanding at some point, and it sounds like they have Taylor and Brayden to thank for it.