The Surprising Thing Coronation Street Extra Matthew Davidge Was Fired For Doing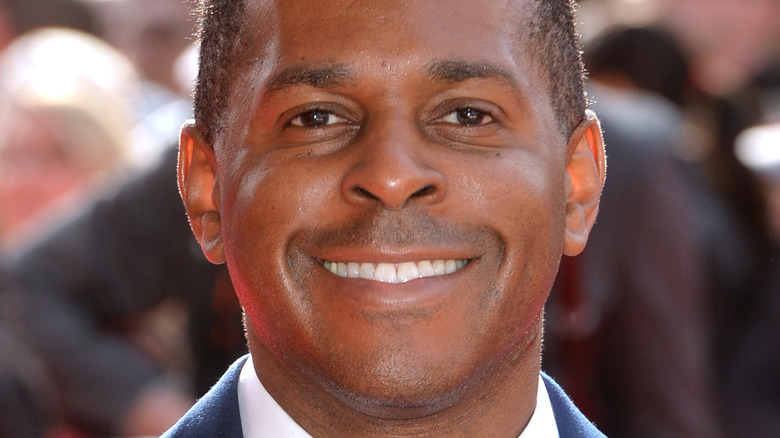 Anthony Harvey/Getty Images
The British favorite "Coronation Street" is, as explained by IMDb, the oldest and longest-airing soap opera in the world, but it's currently in the headlines not for interesting new relationship developments or fun storylines but rather for the firing of Matthew Davidge. However, Davidge isn't the only "Coronation Street"-affiliated individual to be in hot water recently. "Coronation Street" star Simon Gregson was questioned in a police van this week following an incident outside of a pub, and a week prior, Gregson was forced to exit a work-related event after exhibiting inappropriate behavior (via Metro).
"Coronation Street" has been on British airwaves since 1960, with Queen Elizabeth II even visiting its set to celebrate its 60th year of bringing smiles and entertainment to the masses, per Vanity Fair. There, she may have just compared life to a soap opera. With modern day politics, this may not be far off.
Now, there is ample upset at Davidge's firing, including from himself, who has deemed his termination unjust. But just why was he fired?
Davidge was 'speechless' after his Coronation Street termination
The mysterious case of Matthew Davidge's firing was first reported by The Sun, who explained that the 54-year-old actor was ultimately fired for using his cell phone to take a picture with "Good Morning Britain" host Andi Peters. The "Coronation Street" set has reportedly always banned cell phone use, but Davidge, who's been an extra on the show for countless years, told The Sun that the rule has never been followed. 
Davidge saw Peters when he excused himself from set to use the restroom but ultimately saw Peters working on a "Good Morning Britain" bit. A member of Peters' team snapped the photo of the extra and the host, but when Davidge's agency, Industry Model Management, heard about it, it chose to terminate him (via the Daily Mail). 
"I'm speechless. I've worked on the set of 'Corrie' on and off since 1986," Davidge told The Sun. "I've never had a complaint and I've loved every minute of it. Now, it's all over." On his phone usage, he continued, "You're not supposed to have your phone out on set but everyone does. It's a rule that's never really been enforced."
According to the Daily Mail, Peters never know of the complaint, which, as described by Davidge, "took less than a minute." Now, he's left wondering how he'll live, when, as an extra, he was already underpaid. The Sun reports that Davidge made £180 a week from the show.