Prince William Makes A Surprise Appearance On A Hollywood A-Lister's Podcast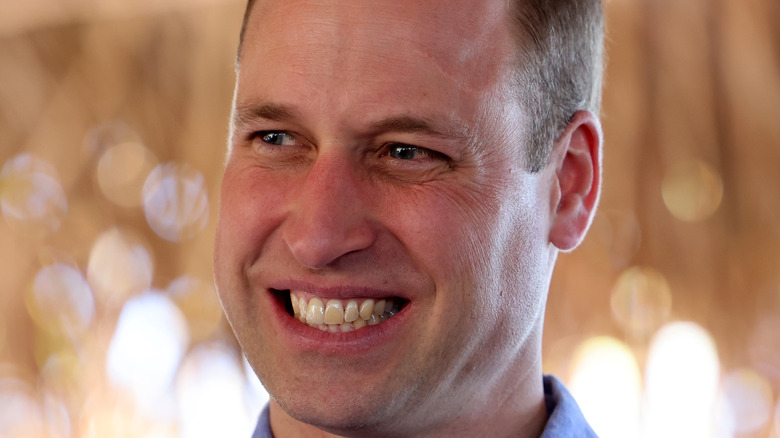 Chris Jackson/Getty Images
It's no secret that Prince William is taking climate change seriously. In 2020, he launched an inspiring new project called the "Earthshot Prize," which is designed to "incentivize change and help to repair our planet over the next ten years," per the organization's website. Over the next decade, five prizes of £1 million will be handed out each year, "providing at least 50 solutions to the world's greatest environmental problems by 2030." The inaugural awards ceremony was held in London in October 2021, and there are rumors William is looking to bring the 2022 Earthshot awards to America.
William also visited the UN's climate change summit, COP26, in Glasgow, where he was joined by the 15 Earthshot finalists. While there, the Duke of Cambridge made an emotional speech to world leaders, urging them "to look without fear or despair at the challenges ahead in this crucial decade, and to believe that we humans have the ingenuity to make the seemingly impossible, possible," per People.
His words on climate change had Twitter divided, with some praising William for "not just spouting 'something must be done' but actually doing things," (via Twitter). Others, however, felt his speech was hypocritical given that the royal family has several homes and a "massive carbon footprint."
The criticism hasn't stopped Prince William, who recently sat down to talk to a Hollywood A-lister about the climate change crisis.
Prince William was the first guest on Cate Blanchett's podcast about climate change
Prince William recently showed up on Cate Blanchett's new podcast, "Climate of Change with Cate Blanchett and Danny Kennedy," which records in London in a solar-powered studio (per People). The six-part series will reportedly explore various environmental issues with "visionaries and trendsetters who are making innovative strides to turn the tide on climate change" (via The Earthshot Prize).
Blanchett and Kennedy's first episode featured the Duke of Cambridge, where he quoted Christiana Figueres, chair of Earthshot's trustees, calling himself a "stubborn optimist" (via YouTube). "She's given me a lot of hope that this can happen, and I believe I'm seeing it with my own eyes — it's really inspiring, it's really hopeful," William explained. His father, Prince Charles, is also a fierce advocate for the environment, and William credited him — as well as Prince Phillip — for encouraging his love for the great outdoors. 
"I think my grandfather and my father both kind of having a deep passion and interest in this area for many years has sort of piqued my interest and my curiosity," William stated. "So growing up, I was surrounded by kind of this adventure and this idea of exploring and being out in the garden. I used to spend hours climbing trees, digging ditches and all sorts of things, hiding in dens and all sorts from the garden, so I used to love being out in the wild and the wet.