Colby Shares Why He Thought Going On The Ultimatum Was A Good Idea - Exclusive
"The Ultimatum: Marry or Move On" is Netflix's latest binge-worthy reality dating show. The series follows six couples who have come to a pivotal point in their relationship: While one person wants to get engaged, their partner has cold feet about making such a big commitment. Throughout the season, the original couples are separated and choose a new partner from the other couples. Then, the newly formed pairs live together as if they're engaged. The hope is that by living with another person, they'll gain more clarity on whether they want to commit to their original relationship or find they could be happier with someone else.
Colby Kissinger and his girlfriend, Madlyn Ballatori, were one of the couples to take on "The Ultimatum" experience. Kissinger issued an ultimatum to Ballatori to either commit to marriage or end the relationship. During an exclusive interview with The List, he shared why he thought going on the show would be good for their relationship and if his view on that changed at all during the experience.
Colby thought The Ultimatum would get them on the same page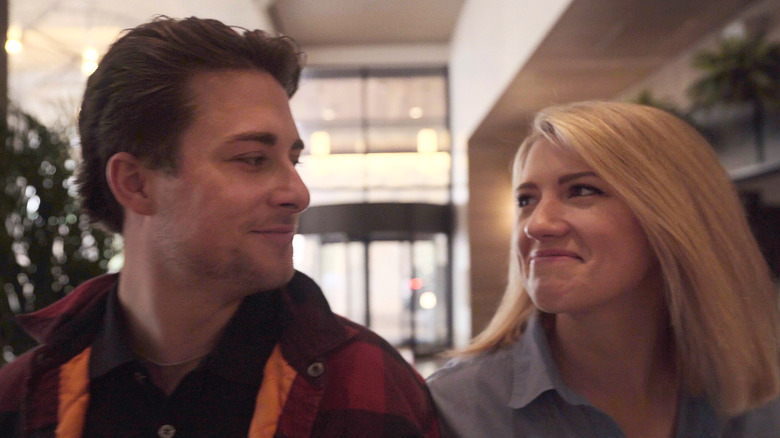 Netflix
The concept of going onto a show where you and your partner will date other people may scare a lot of people off, but Colby Kissinger was ready to take the challenge head-on. He and Madlyn Ballatori met at a bar in college and had been dating for a year and a half. "I knew within the first few months that she was the one. Shoot, I knew as soon as she walked through the double doors, she was the one, but you got to give that time to reassure those feelings and make sure you can handle the craziness behind those feelings. She was incredible from day one, and I chased her," Kissinger said.
Unfortunately, Ballatori wasn't as sure or as ready to take that step into marriage. Kissinger saw going on "The Ultimatum" as a way to get her on the same page with him. He'd felt certain of Ballatori from the beginning, and his feelings didn't change much throughout the process. He was hopeful that by the end of "The Ultimatum," her feelings could match his. "Knowing that you're all in, that's all I needed to know. Really I just needed to see where she stood," Kissinger said.
Does Colby have any regrets about going on The Ultimatum?
Although many couples may face similar disagreements about the speed at which their relationship should progress, many would advise against giving an ultimatum to your partner. Taking it a step further and going on a reality TV show about that decision is likely something even fewer people would do. But in hindsight, Colby Kissinger felt confident with his decision to go on the show.
He did share that he initially grappled with the choice to go on "The Ultimatum." "Overall, it was a hard choice to do it. I knew where my feelings were at, and they were very strong. In order to make a decision like that, you have to really think those things through and make sure you're prepared," Kissinger said. 
But looking back at the experience, he was happy they'd done it and didn't feel that his perspective on things had changed. "It really hasn't changed our path too much. I know hers [Madlyn Ballatori] has drastically changed, but my path is still kind of on the same one I started on before the show. It just kind of got sped up," he said. "Nothing's really changed drastically, but I'm excited to see what comes our way after this."
All episodes of "The Ultimatum: Marry or Move On" are now available on Netflix.