Jacob Bertrand Discusses Champion's New Cobra Kai Collection - Exclusive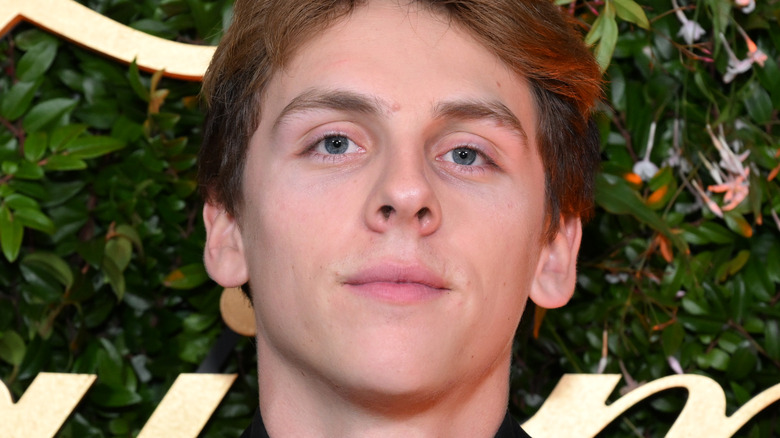 Michael Kovac/Getty Images
Jacob Bertrand is no stranger to fans of the Netflix hit "Cobra Kai," thanks to his role as Eli "Hawk" Moskowitz. Bertrand has played the part since the very first season of the series, which continues the martial arts rivalry between Danny Russo (Ralph Macchio) and Johnny Lawrence (William Zabka) that began when they were teenagers in the 1984 big-screen blockbuster "The Karate Kid." More than 30 years later, "Cobra Kai" focuses on Johnny's journey as he reopens the long-dormant Cobra Kai dojo, rekindling his rivalry with "Daniel-san" while introducing a new crop of teenage martial arts enthusiasts into what show creator Josh Heald calls "the Miyagi-verse" (via Den of Geek). 
Bertrand is expanding his association with the show by promoting Champion's new "Cobra Kai" collection, and in an exclusive interview with The List, he shared how he came to be involved with Champion and how fans have reacted when they see him wearing items from the new collection out in public.
Jacob Bertrand loves Champion's new Cobra Kai collection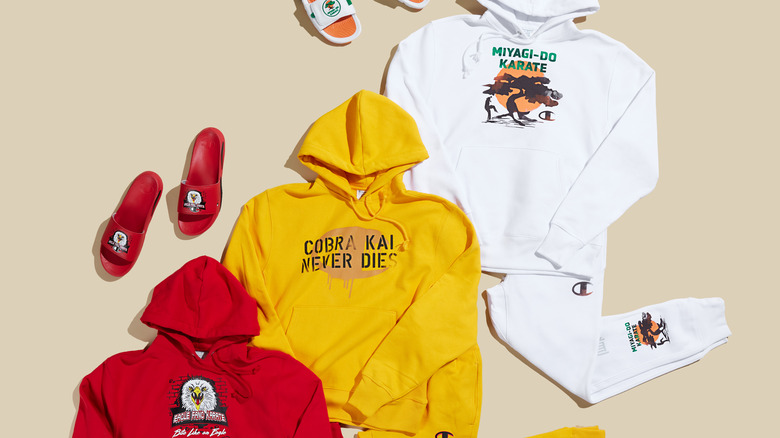 Champion
Jacob Bertrand has partnered with sportswear giant Champion for the new "Cobra Kai" collection, which features a variety of branded hoodies, joggers, and sandals tied to the show. Asked how he became involved with Champion, Bertrand joked, "I'm the best fighter on the show, so they wanted me. No, no, they kind of just approached me and they had this really cool collab idea with 'Cobra Kai,' and they wanted to give people the ability to dress like they're their own All-Valley champ. And I thought it was super cool."
For Bertrand, that was enough to get him excited about the collaboration. "I really loved all the Miyagi-Do stuff. I like wearing all white. I think it was pretty sick. The Cobra Kai joggers are pretty sweet. They came to me and were like, 'Hey, we'd love to partner with you for this, and you could do some cool videos.' I was like, 'Yeah. This is awesome.' I love Champion stuff. It was pretty fun," he said.
And while Bertrand loves all the pieces in the collection, he has already gravitated toward his favorites. "I have to pick and choose because I like the Miyagi-Do hoodie the most, but I really like the Cobra Kai joggers from the Cobra Kai side ... I probably wouldn't wear them together, but I'd mix and match."
Jacob Bertrand has been recognized by fans while wearing Champion's Cobra Kai gear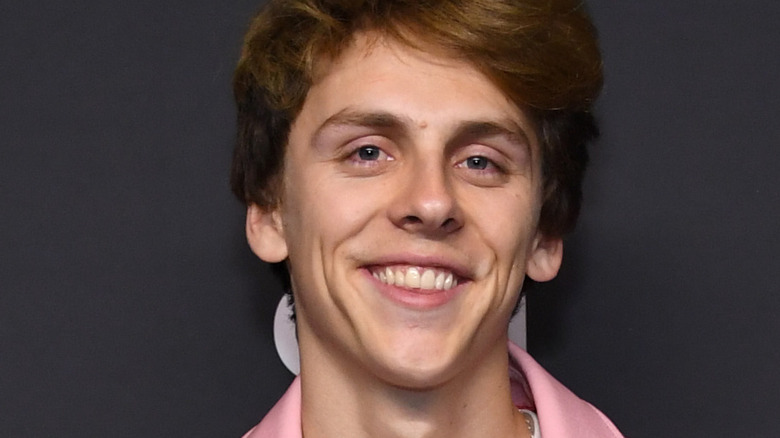 Jon Kopaloff/Getty Images
Jacob Bertrand has already started wearing items from Champion's Cobra Kai collection when he goes out. "I've worn the hoodie out in public," he said, recalling a memorable fan encounter while wearing it. "I was out at lunch and I had this guy come up to me and he was like, 'Oh dude, that's a really cool hoodie.' He looked up [at] my face and was like, 'Wait. What?' I kind of laughed and I was like, 'Oh yeah. What's up, man?'" he recalled. 
"[The fan] was like, 'Oh crap. That's crazy. Oh my God,'" Bertrand said. "He actually asked, 'Dude, I want this hoodie. Where can I get it?' I was like, 'Oh, I need you to go Champion.com. I think it's up right now.' He was like, 'That's awesome.' It was pretty funny."
The fifth season of "Cobra Kai" is scheduled to debut in fall 2022; more information about Champion's full collection of custom athleticwear inspired by season four of "Cobra Kai" can be found right here.