Here's What Helena Bonham Carter Looks Like Going Makeup-Free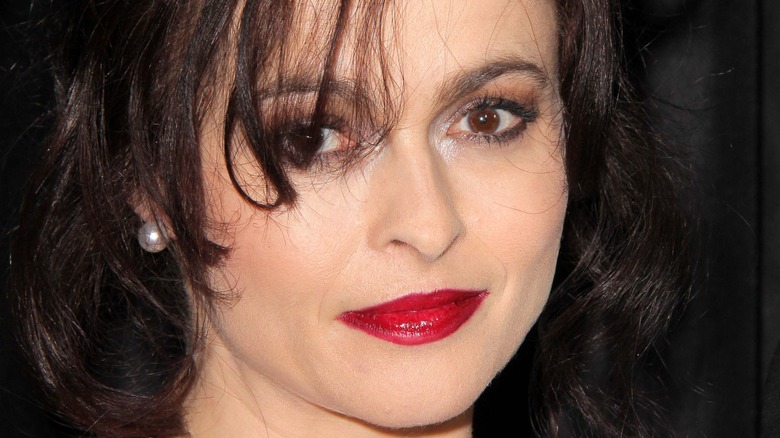 s_bukley/Shutterstock
Helena Bonham Carter is one of the most talented actresses we've seen on-screen — she never fails to captivate us with her enticing vibe and stellar acting chops. The unique movie star even experienced a ghostly encounter that helped her with a role! We'd be a bit surprised if we heard the strange story from most other celebrities, but we embrace this eccentric behavior from Bonham Carter with no questions asked!
It's no surprise that Bonham Carter's stunning net worth is so high, as she's had prominent roles in countless iconic films, such as "Fight Club," "The King's Speech," the "Harry Potter" movies, and "Alice in Wonderland" (via IMDb). Whether she's playing a queen or a troubled young woman, Bonham Carter always manages to steal the scene and keep viewers invested in all her movies.
Not only do we adore Bonham Carter for her talent and success in the acting world, but we also can't get enough of her quirky, edgy style. According to W Magazine, the actress has a dauntless approach to fashion, as she's not afraid to rock whimsical, unconventional outfits through dark colors, wild patterns and textures, and various silhouettes. Between her movie star status and outlandish approach to fashion, we wondered what Bonham Carter looks like going makeup-free.
She looks like a normal lady when going makeup-free
To our surprise, Helena Bonham Carter looks like a regular woman when she walks around without any makeup on. Of course, she still rocks stylish dresses and accessories — we couldn't imagine her dressing down like the rest of us! Without makeup, though, Bonham Carter didn't have the head-turning, dramatic looks that we're used to seeing her with on-screen. She's naturally pretty with her deep brown eyes, unbelievably smooth skin, near-perfect eyebrows, and killer bone structure. 
However, she doesn't have head-turning lashes, vibrant lips, or the luxurious curls that we typically see her adorned with in the movies. We admire the actress for being comfortable enough to walk around without layers of makeup in her daily life. Her fresh-faced moment reminded us that without makeup, even the most beautiful movie stars often have normal looks and imperfect hair days.
Although we love seeing Bonham Carter with a makeup-free face, she's had so many stunning beauty moments over the years that we have to discuss some of our favorites. InStyle rounded up some of her most incredible looks, and one of her most breathtaking makeup moments consisted of glittery green eyeshadow, red details defining her brows, striking black eyeliner, and accentuated lips. Bonham Carter also looks beautiful in a more traditional red lipstick look, and no one else pulls off a light purple eyeshadow quite as well as she does.
Her views on beauty may surprise you
Featureflash Photo Agency/Shutterstock
Since Helena Bonham Carter is naturally attractive and doesn't seem to have an issue with gracing the public with her makeup-free face, we were curious about her feelings toward beauty. In an interview with InStyle in 2020, the actress explained that she doesn't feel any desire to look flawless, "I've always thought imperfect makeup is the best, which is why I smudge everything." 
While Bonham Carter doesn't aim to look flaw-free, she shared that she does like flaunting dramatic looks, saying, "I enjoy beauty looks that are transformative." The movie star also believes that getting plenty of sleep is crucial for keeping up her looks. "People say I look really good, and it's because I sleep a lot, which is the biggest collagen booster ever ... I snooze during the day and eight or nine hours at night to help collagen production," she said. If getting more sleep is the secret to obtaining gorgeous looks like Bonham Carter's, we'll happily start taking more naps and snoozing our alarms every morning!
Although Bonham Carter is known for distinct, stunning looks, we were shocked to discover that she wasn't always confident in her appearance. In an interview with Town & Country, she revealed, "I remember having such a complex because I thought I'd never work in Hollywood because I've got fat legs." Hearing that one of our favorite celebrities has struggled with body image issues reminds us that most people don't feel perfect, and we should stop comparing ourselves to movie stars.