Meghan Markle Stuns In An All-White Ensemble At The Invictus Games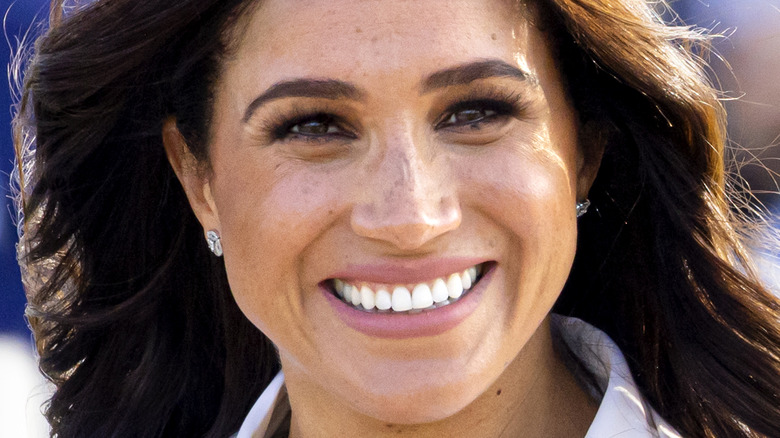 Patrick Van Katwijk/Getty Images
There is truly nothing better than royal fashion. Meghan Markle is without a doubt a fashion icon — with or without the title. Since moving to Los Angeles, the Duchess of Sussex has been laying low. Both Prince Harry and Markle made a rare public appearance at the Invictus Games, and their outfits definitely did not disappoint. From her high-end outfit to her perfectly picked jewelry, Markle's Invictus Games outfit will definitely inspire your spring wardrobe. 
For those of you that aren't familiar with the royal schedule of events, here's a breakdown of the important event. The Invictus Games is a sporting event for "wounded, injured and sick Servicemen and women." While the games are incredible on their own, it's a particularly important event for the royals. According to the Invictus Games website, Prince Harry founded the Invictus Games after visiting the Warrior Games in America in 2013. 
The event is also an important marker in the Duke and Duchess of Sussex's relationship. The games marked the couples first public appearance in 2017, which was a major moment for the world. Not to mention Markle made her mark in the fashion world with her casual white tee and ripped jeans outfit. If you thought that year's fashion was good, just wait until you see what she wore at this year's event.
Meghan Markle wore a Valentino suit to the Invictus Games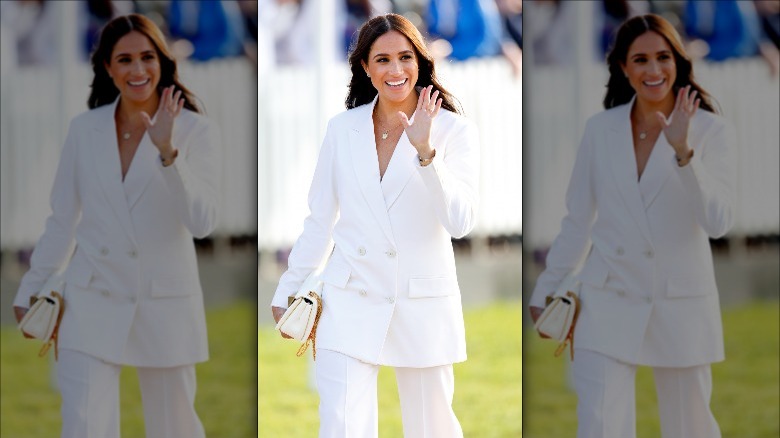 Max Mumby/indigo
Forget everything you know about putting together an outfit for a sporting event, because this royal is here to rewrite the rules. Meghan Markle wore an oversized blazer and wide-leg tailored pants from Valentino to the Invictus Games. She finished off the look with a matching all-white handbag from the designer. Because nothing says "I'm here to watch a sporting event" like an all-white designer suit. All jokes aside, the Duchess of Sussex looked absolutely gorgeous at the event.
If you're looking to purchase the items for you own closet, there's good news and bad news. The good news is that all of the Valentino items are currently in stock. The bad news is that the three items will set you back $8,500. As Town & Country found, the oversized jacket is currently $3,400, the pants are $1,900, and the bag rings in at $3,200. Looks like the Duke and Duchess of Sussex are doing just fine without the royal payroll. 
Markle's outfit included meaningful jewelry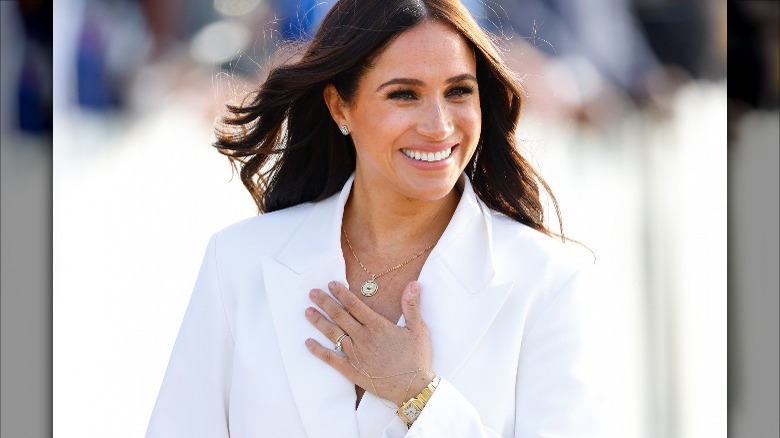 Max Mumby/indigo
You didn't think that the royal outfit stopped at the clothing, did you? If there's one thing Meghan Markle is known for, it's her ability to add meaning to every single outfit. Her Invictus Games outfit was no different.
Markle completed her look with some seriously stunning gold pieces of jewelry. She wore stud earrings, a gorgeous gold watch, and a pendant around her neck. Each item is packed with its own special meaning, too. As the Daily Mail found, Markle's Invictus Games earrings are the same ones that she wore on her wedding day in May 2018. On top of that, the gorgeous gold watch is actually a hand-me-down from Princess Diana.
As if all of that wasn't enough, the pendant, as Town & Country found, the pendant that Markle wore was created by Sophie Lis and was inspired by a 19th century love poem by Rosemonde Gerard called "The Eternal Song." Cute, right? Well, the meaning goes even deeper. Each necklace also comes with a donation to the Wild at Heart Foundation, which funds animal welfare projects. 
Markle topped it all off with an unexpected finger-wrap hand bracelet that was enough to get us online shopping again. Leave it to Markle to get us ready for spring fashion!