Here's What Jennifer Lawrence Looks Like Going Makeup-Free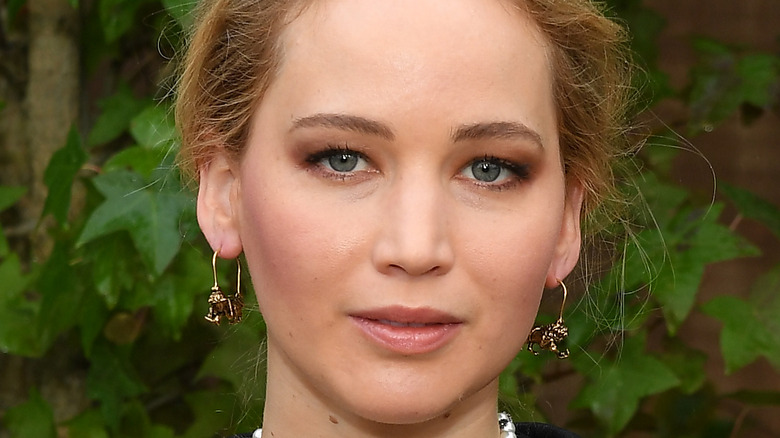 Pascal Le Segretain/Getty Images
As a regular on just about every red carpet, Jennifer Lawrence often rocks up wearing some of the fashion world's most sought-after designers. From her sparkly Dior gown at the premiere of "Red Sparrow" to her hand woven Versace gown for the London premiere of "Mother!," per Glamour, the actress knows exactly how to accentuate her classy style.
This is especially the case when it comes to her makeup. Lawrence almost always opts for a look that compliments her outfits, whether that be a bright red lip to contrast her silver Dior gown for the "X Men Apocalypse" red carpet, per Cosmopolitan, or a pinkish-nude shade to compliment a coral pink Altuzarra Clemmie dress during a press conference for the film in London.
But Lawrence would be the first to tell you that she hasn't got the faintest idea where to start when it comes to an actual makeup routine.
Jennifer Lawrence prefers not to wear much make-up when she's not on the red carpet
Speaking to Harper's Bazaar, Jennifer Lawrence explained that she prefers to go makeup-free when she doesn't have an event coming up. "Since I often get it done professionally, I'm probably better off staying away from my face," she said. "I have learned nothing from the pros -– ha!" And while she does have somewhat of a skincare routine, she doesn't rely on using the same products all the time. "I exfoliate every night, and it really doesn't matter what I use," Lawrence explained. "You can kind of use anything grainy, so I change it up."
But there is one product she sticks to –- retinol. Often used as an umbrella term for products that include vitamin A, it works "by increasing collagen production as well as increasing the rate of skin cell turnover," New York dermatologist Shari Marchbein, M.D. told Glamour. Retinol can "also help treat acne, blackheads, and clogged pores by reducing the stickiness of the cells that clog pores, as well as speeding up the rate at which the skin turns over and regenerates."
For Lawrence, she uses it at a specific point in her routine. "I do use retinol under my night cream every night," she told Harper's Bazaar. "It says not to use it every night, but I always say, 'F**k it'".
The actress believes that you should do whatever makes you feel beautiful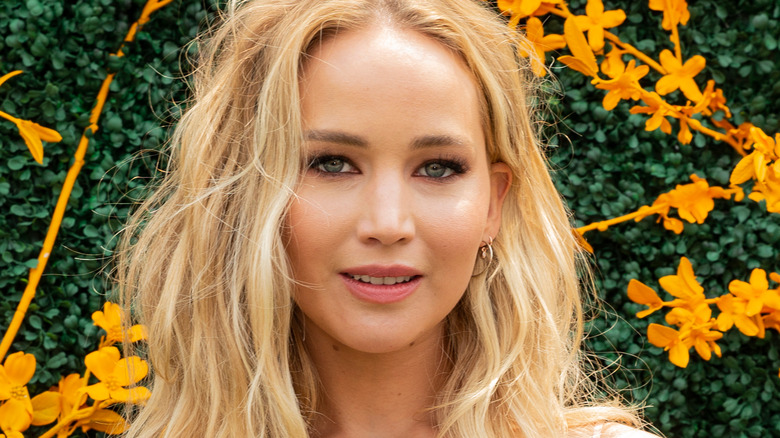 Lev Radin/Shutterstock
In general, Jennifer Lawrence rarely ever feels bothered about her appearance. In an interview with InStyle, she explained how grateful she was that she went through "a lot of my life without being too concerned about my appearance", even if her brothers would tell her she was "ugly" on occasion. "Butt-ugly, to be exact," she told InStyle. "One time I went into the kitchen and said, 'Mom, am I pretty?' And she said, 'It doesn't matter.'"
Lawrence has carried that mindset into her life as an actress, choosing her makeup and styles to suit her rather than a beauty standard. "You just have to keep it personal," the actress told InStyle. "If you want to feel beautiful, whether that means extending your eyelashes or bringing out your natural lip color or whatever it is, then you should.
"There's nothing wrong with that," she added. "It's only a problem when you're doing it for someone else."