The Real Reason Krista Allen Isn't In The Bold And The Beautiful's Opening Credits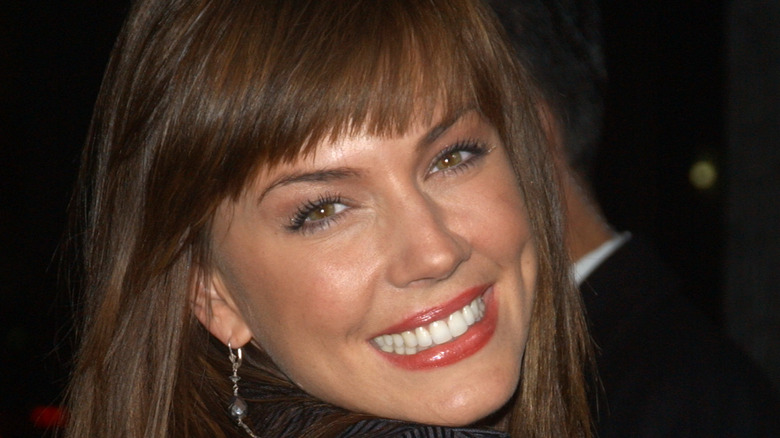 Featureflash Photo Agency/Shutterstock
Krista Allen made a well-publicized debut as iconic "The Bold and the Beautiful" character Dr. Taylor Hayes back in December 2021, per Entertainment Tonight, quickly catching on with fans and becoming a missing piece of the puzzle on the show's canvas. After all, Taylor's daughter Steffy Forrester (Jacqueline MacInnes Wood) went through several life events, including a drug addiction, a pregnancy and birth, and a wedding, in that order, per Soaps In Depth. Furthermore, her son, Thomas Forrester, had brain surgery, according to Soaps.com. Fans wondered why their mother couldn't make it back to the soap's fictional version of Los Angeles for these things.
Finally, Taylor returned in time for Christmas with Allen playing her rather than Hunter Tylo, the actress who brought the character to life off and on from 1990-2019. According to Entertainment Weekly, the show approached Tylo but she declined to return, so Allen, who had not been seen on a soap since 1999 when she played Billie Reed on "Days of Our Lives," per IMDb. However, in April 2022, Allen's Taylor has yet to have her photo displayed on the show's opening credits.
Fans feared Taylor would be killed and never make it to the credits
On the April 12, 2022, episode of "The Bold and the Beautiful," Taylor Hayes was left in a precarious situation after trying to talk Sheila Carter (Kimberlin Brown) out of jumping off the hospital roof. Sheila, an unhinged character since she made her CBS soap debut in 1990, per Soaps In Depth, had just accidentally killed her son, John 'Finn' Finnegan (Tanner Novlan), when aiming for Steffy.
As of this writing, Taylor does not know who the shooter was so she was genuinely concerned for Sheila. As she tried to grab her, Taylor went tumbling instead and Sheila caught her with one hand but struggled to pull her up, per Soaps.com. It was as close to a literal cliffhanger as you could get and had fans talking on social media. In fact, the entire scenario caused one fan to wonder if Taylor might fall to her death and ask if this is why Krista Allen had not yet made the opening credits.
Krista Allen explains why she's still not in the B&B credits
Taylor Hayes put her life on the line to save Sheila Carter, a woman who once shot her and left her for dead, and fans couldn't stop talking after seeing Steffy's devoted mom look down at Los Angeles and wonder if her life was over.
"I hope this isn't why Krista hasn't been added to the opening credits yet," one Twitter user wrote. "From the promo it looks like Taylor and Ridge are both there when Steffy wakes up. So, I again ask why hasn't @KristaAllenXO been added to the opening credits?!"
Krista Allen spotted that tweet and had a reasonable explanation.
"This seems to be asked a lot so I'm gonna make a proper tweet!" Allen tweeted. "We had a tech issue on our last shoot and the whole thing was unusable. We have to reshoot. But we have to find the time! First shoot was sheepdog wig, second was a bust ... Third times a charm!"
By "sheepdog wig," Allen is referring to the wig she wore when she first joined the show as she waited for her hair to grow out, per Soap Opera Digest. The actress had cut her hair soon before she got the call to audition. So she wore a wig to the audition and for her first few months on the show. As for Taylor, Sheila did manage to pull her up and her life was saved, per Soap Hub.