Here's What HoYeon Jung Looks Like Going Make-Up Free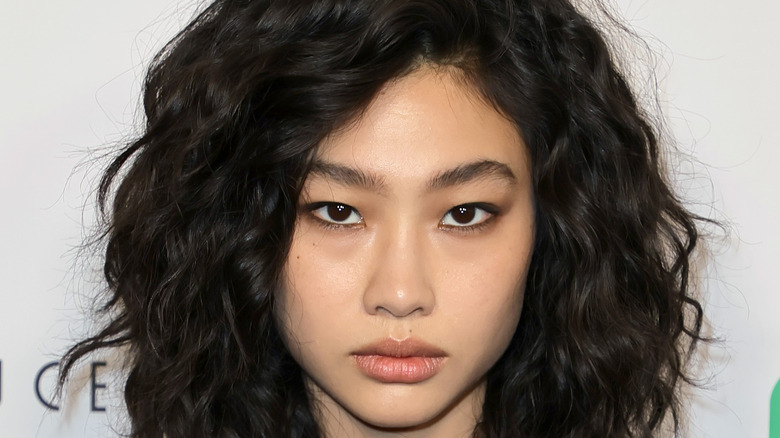 Kevin Winter/Getty Images
2022 is set to be a big year for South Korean star HoYeon Jung. Making her debut as an actress in the phenomenon that became "Squid Game," she's now set to star alongside Cate Blanchett and Sacha Baron Cohen in the Apple TV series "Disclaimer." Directed by Alfonso Curaón, the thriller sees Jung play Kim, the "ambitious, hardworking, and eager-to-please" assistant to Blanchett's Catherine Ravenscroft, per W Magazine.
"Disclaimer" will mark the first project outside of South Korea for Jung, which has always been a goal for the actress. "I have always wanted to go to Hollywood and act in America," she told Vogue. "But Squid Game changed my mindset. It doesn't have to be an American movie or a European movie, it's the story and message that are more important."
Jung certainly has a natural ability to harness the story and message of a project, which translates directly into the characters she plays. This was certainly the case in "Squid Game," which inevitably made her character Kang Sae-byeok a favorite among viewers. Another aspect of the character that stood out was her overall look. Described by Nylon as "alluring and understated," HoYeon Jung's lack of makeup started a trend on social media -– especially TikTok -– to emulate her freckles and bare-faced look.
HoYeon Jung maintains a skincare routine focused on hydration
As Nylon notes, mimicking HoYeon Jung's look in "Squid Game" requires faux freckles, defining under eyes and eyebrows, as well as a "flushed, chapped lip look." Obviously, Jung's makeup on the show isn't the healthiest of looks. Seeing as Kang Sae-byeok is being subjected to torturous games that she can't escape, chapped lips and under-eye bags are a given in that environment.
In contrast, Jung's actual bare-faced look is a lot dewier. But the actress still keeps to a minimalist makeup routine, mainly accentuating certain features like her lips and eyebrows. But above all else, the actress is dedicated to maintaining a healthy skin routine. "'Skin first, makeup second!' is what my mom always told me," Jung told Vogue, explaining that she focuses on hydration above all else. "I stick to basic (moisturizing) and only use a cleanser when I wear makeup, otherwise I'll just use water." When her skin is especially irritated, she opts for "an aloe mask pack for its soothing effects."
When Jung does wear make-up, she keeps it to a minimum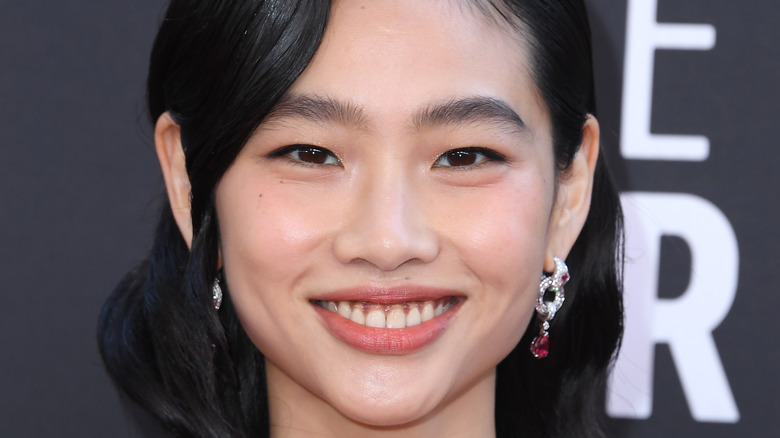 Steve Granitz/Getty Images
Sticking to the hydration theme, HoYeon Jung recommends keeping on top of how much water you're drinking in the day to maintain healthy-looking skin. "Drinking two liters of water a day, washing your face only with water in the morning, don't touch your face often with your hands, and make sure you wear sunscreen!" she told W Magazine. "I try not to give my skin a strong stimulation and I try to protect the fluids and oils that come from my body as much as possible."
When she does wear makeup, HoYeon Jung maintains her healthy skin balance by opting for light coverage. As she showcased in a video for Vogue, once her skin is prepped, she uses a two-tone concealer under her eyes to brighten them up. She follows that up by brushing her eyebrows and eyelashes without product, the latter she also curls. Then she completes the look with a two-tone lipstick, by putting brown on first then adding a splash of red in the middle.