The Truth About Jenny Slate's Haunted House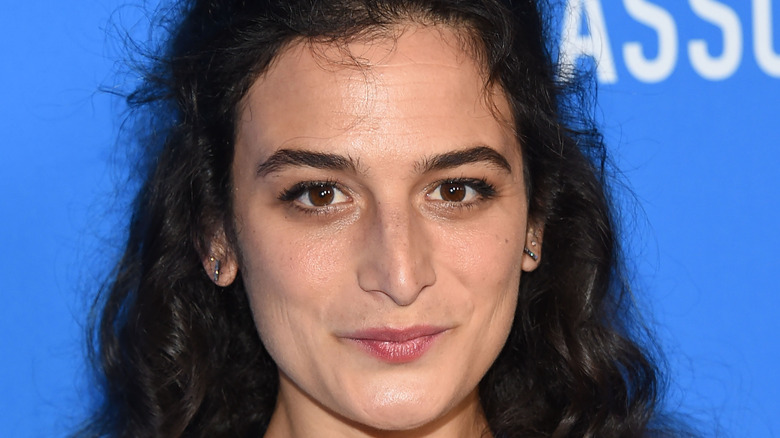 DFree/Shutterstock
Jenny Slate is a comedian in her own league, lending her acting talents to "Parks and Recreation," "Obvious Child," and "I Want You Back" to name a few (via IMDb). Slate also boasts an impressive breadth of voice acting credits, including "Big Mouth" — which she quit due to a desire for more inclusivity in casting — and the upcoming "Marcel the Shell" movie. The film is based on Slate's iconic character of the same name, and she teased the feature on Instagram when the first poster was released in March 2021.
In addition to sharing her professional projects, Slate uses her Instagram to provide updates on her personal life, though she refrained from announcing her big family news on the platform. For those unfamiliar with her work, Slate showcased her super silly voices, huge personality, and infectious laugh in her 2019 Netflix special, "Stage Fright." Nominated for Best Comedy Special at the 2020 Critics' Choice Awards, "Stage Fright" is filled with horror-film-worthy screams, jokes about death, and documentary home footage. 
Slate said at the beginning of the special, "I have decided to make a film in our childhood home that is my dream and everybody else's nightmare." This is because Slate's childhood home is allegedly haunted. Though she isn't the only celebrity with a spooky past, she shared the story in her usual hilarious style. "I don't know if you can tell by my personality," Slate says before making shrieking noises, "but I was raised in a haunted house" (via Netflix). 
Jenny Slate's father found their house's secret history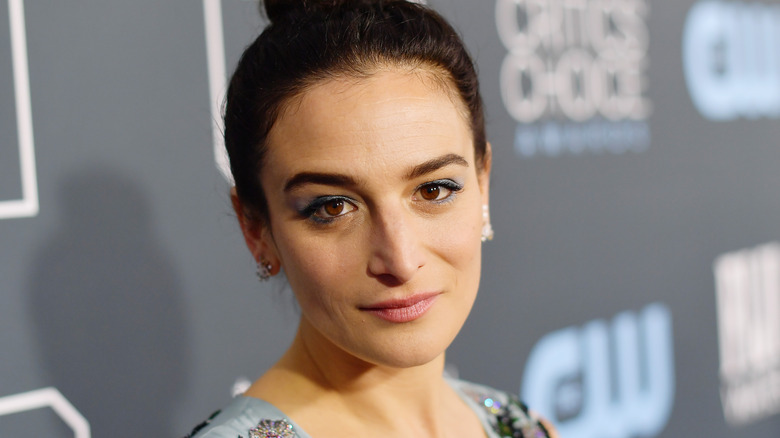 Matt Winkelmeyer/Getty Images
In a 2014 appearance on "The Ellen DeGeneres Show," Jenny Slate spoke about her early experiences with otherworldly beings (via YouTube). Slate's proclivity for all things spooky started during her childhood when her family moved into an old Massachusetts home. "I grew up in a genuine haunted house. ... I knew it was haunted. My parents, when they moved in, they bought it with all the furniture in it, the people had died," Slate said. 
She elaborated on this in her stand-up special, "Stage Fright,"  where she jokingly said, "Layers of death is what the realtor was saying." Slate shared that when her mother decided to remove the dusty runner on the stairs, the family uncovered a stash of letters hidden underneath. The letters were apparently written by a sea captain to the former lady of the house. "They were like these romantic letters, and my dad is a poet, and he was like, 'Oh, I'm going to write a story ... I'm going to write poems about this,'" Slate said (per YouTube).
Her father brought the letters to his study which was positioned above the home's central staircase. When her mother awoke one night shortly after and smelled pipe tobacco burning, she yelled to Slate's father thinking he was smoking in the other room. As it turns out, he was fast asleep next to her, and when he woke up, he said he hadn't lit a pipe that night. Fearing a fire, Slate's mom sent her husband to scope things out.
Almost everyone in Jenny Slate's family has seen a ghost
Jenny Slate recounted further details of her father's ghostly interaction during her interview with Ellen DeGeneres. She said he went to check out the mysterious source of the pipe smoke smell in their old Massachusetts home, and what he found was certainly a shock. "He saw it but he kind of didn't see it," Slate said. "There was this sea captain who was just like looking at him and kind of pleading" (via YouTube).
Of course, her dad was terrified and began looking for solutions to the apparent haunting. Her mom Nancy said at the time, "We can't bring up our daughters in this crazy haunted house." A spiritually-inclined friend of the family advised them to burn the letters, so they did. " ... the ghost, went away, as far as I know," Slate recalled in an essay excerpted by the Boston Globe. She went to say, though, that her mother and sisters saw other ghosts in the house after this encounter.
In an interview featured in Slate's stand-up special, her sisters talked about their memories of the house. "It's completely haunted," one said. "We're not the only ones that live here," her other sister confirmed. Slate even joked, "They've just seen so many ghosts ... I feel like the ghosts are waiting since I'm the only one that hasn't seen one."