Ben And Cristi Dozier Of "Building Roots" Detail Working With Clients On Camera - Exclusive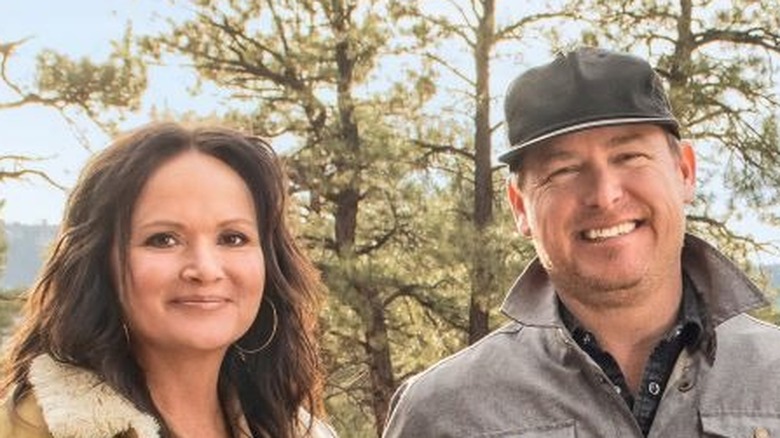 HGTV
Some people are born dreaming of careers on stage and screen. They're the ones who eagerly audition for every possible production from childhood onward and move to New York or Los Angeles in pursuit of their big break as soon as they reach legal age. And some people find their way to stardom by accident — through a lucky meeting or a chance discovery by the right person.
Ben and Cristi Dozier, the stars of the HGTV show "Building Roots," fall squarely into the latter category. Designers and entrepreneurs by profession, they were always more interested in creating quality homes for their clients than in becoming TV celebrities. But when presented with the opportunity to star in "Building Roots" — a show following them as they design and build clients' dream homes in the mountains of Colorado — they decided to take the leap.
They also knew this meant their clients would be taking the leap with them: Discussing project details with clients is one thing, but doing it on camera for the world to see is another. In an exclusive interview, the Doziers shared what it's like holding client meetings while cameras are rolling.
The Doziers tend to have personal ties to their clients
Ben and Cristi Dozier consider themselves lucky to get almost all of their business through word of mouth. "We don't do much marketing or advertise or anything like that," Ben said. "It's all relationships. Someone knows someone and again, it often starts with a conversation over coffee, but they all reach out to us some way, somehow through a referral, a friend, a family. We're thankful for that."
It's not only a testament to the quality of their work — after all, people don't refer friends to vendors who've disappointed them — but also a reflection of the importance of personal ties in every aspect of their projects. "Even before the TV show, we found ourselves only doing projects that have a story," Ben said. "If it was a flipped home or return on investment or if it was a quick thing, I did not do well at those. I was not interested. I lost all type of motivation and inspiration." 
Cristi agrees. "We seem to get more on board with those types of projects where the families are really passionate about their home and want to make it something special for themselves," she said.
Client conversations on camera are different — and more personal
Ben and Cristi Dozier agreed that client conversations on camera have a clearly different energy than their off-camera client meetings. "It definitely is a different conversation [with] a non-TV client versus a TV client," Ben said. "It became a lot of fun. There was a lot of cheerleading and a lot of pushing each other and challenging each other, but all for the sake of a good story." 
In short, everyone sensed these meetings weren't for long discussions of building codes or cost overruns. "It has become more about the story of the project than the actual project itself," Cristi said. "We wanted to build a good project, but it became so much more about the client and the story and their dream coming to reality."
She also gave their clients a lot of credit for joining their TV adventure with them. "We knew this was going to be a lot on us and definitely outside of our comfort zone in learning how to operate on camera, where to face and how to hold your hands and not be weird," she said. "Sometimes I would be like, 'Oh gosh, are they going to be okay doing this?' for our client. They would be so on board with it. They just as much wanted to tell a good story as we did."
"Building Roots" airs Sundays at 9/8c. Tune in to HGTV or stream episodes the same day on HGTV GO.