The Kardashians' Lavish Easter Celebration Has Fans In A Tizzy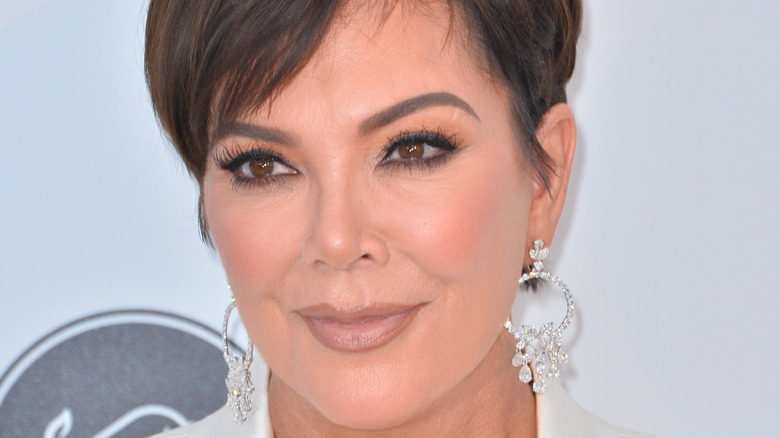 Featureflash Photo Agency/Shutterstock
From giant gumball machines personalized with each of the Kardashian and Jenner kids' names on them, a photo of which Khloé shared on her Instagram, to Easter bounty that looked more like it came from underneath a Christmas tree, the reality family behind the new Hulu show, "The Kardashians," enjoyed a very excessive holiday weekend and fans definitely had some opinions.
It was easy to find photos and video from the far-from-restrained Easter soiree. Every member of the family went to great lengths to document the affair, which took place at matriarch Kris Jenner's home (via Page Six). For instance, Kim's Instagram Story boasted pictures of the oversized chocolate eggs inscribed with each family member's name, along with matching mallets, presumably to smash open the eggs and reveal more treats.
Meanwhile, as evidenced in the star's posts, her mom's Easter table setting was enough to make Martha Stewart drool, complete with vases and vases of tulips, and decorated with colorful eggs and bunnies everywhere the eye could see. And behind each chair? Giant Easter baskets, with more baskets positioned off to the side — and were those mini beach cruiser bikes for each child?
The Kardashians' Easter party is more than over-the-top
In addition to her sisters' posts that proved Easter is a big deal in the Kardashian family, Kourtney's Instagram Story also showcased the eyebrow-raising display of treats and gifts as well as documenting an outdoor egg hunt and what appeared to be Easter-themed gingerbread houses. The mom of three also shared images of incredible-looking food from the brunch, including scrumptious-looking avocado toast adorned with tiny flowers.
Kylie Jenner's Instagram was also updated with jaw-dropping images of the multitude of personalized chocolate eggs big enough to feed an entire family, and the shockingly-luxe gumball machines made to order. Her Story further documented what looked like a cereal station for the kids and an egg decorating table set up with supplies for every child. Not to be outdone, Kris Jenner documented the overblown affair on her social media.
And boy, did fans have a few reactions to the opulent gathering.
Twitter has a lot to say about Kris Jenner's Easter party
Upon viewing the lavish details of the Kardashians' Easter celebration, featuring touches like brand new bikes for the kids and personalized gumball machines and gigantic chocolate eggs, Twitter had some thoughts.
"They brag too much," one person tweeted about the over-the-top celebration. But other social media users almost took offense to the affair. "How gauche ... people went without any food today and you talk about what the wealthy are having???" another observer chided People magazine for publishing a story about the Kardashians' sweets-and-presents-filled party.
Finally, a sentiment that was repeated often was that this family is going to regret these costly parties one day. "I'm sorry but the Kardashian's easter displays for their kids is ridiculous," moaned yet another nonplussed Twitter user, going on to declare, "Those kids are going to grow up being the most spoiled, obnoxious kids if that is what they expect on the regular."
Of course, on the ladies' Instagrams, followers were more complimentary, and seemingly enjoyed how many photos and videos had emerged from the reality family's Easter celebration.