Here's What Amber Rose Looks Like Going Makeup Free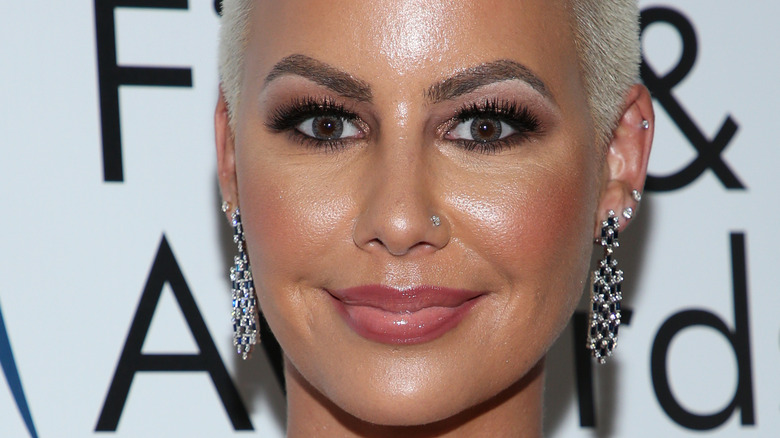 Phillip Faraone/Getty Images
While Amber Rose is most famous for her supermodel status, she has a lot of other accomplishments to her name, too. According to People, the former stripper has also done acting and fashion design, written a novel, and she's a mom. Rose is a firm believer in empowering women, and we believe there's nothing she can't do — while looking fabulous in the process.
Rose, whose real name is Amber Levonchuck, has worn a plethora of iconic looks that we don't think anyone else could pull off. Bustle rounded up some of her most outlandishly stunning outfits, such as an ultra-sexy chain-inspired dress, a skin-tight black lace gown, a neon blue off-the-shoulder mini-dress, an all-black suit with humongous black sunglasses, and a metallic black dress with shoulder cutouts and white shoes for contrast.
While many fashion icons rarely show their faces without makeup, Rose hasn't been afraid to show the world that she is still stunning with a bare face.
She's still gorgeous without any makeup
Amber Rose was not afraid to show viewers what she looks like without makeup in a YouTube video with Clevver Style. Even without cosmetics, the supermodel's still full lips, mesmerizing eyes, near-perfect skin, and unbelievable cheekbones turn heads. In the video, host Joslyn Davis expressed amazement at Rose's natural beauty, saying, "You have on no makeup right now, and you look ridiculously good." Rose laughed as she said, "Don't lie to me," proving that even our favorite supermodels can feel insecure without makeup at times.
Although we're blown away by Rose's natural face, we can't get enough of her various makeup looks and ever-changing hairstyles over the years, as she loves experimenting with beauty just like she does with fashion. Refinery29 rounded up some of her most intriguing looks, including a buzz cut and blue contacts enhanced with eyeliner and lengthy lashes, long, straight brown hair and winged eyeliner, luxurious eyelashes with bright pink lipstick, super-thin brows with shiny eyeshadow and dark green lips, and short platinum blond hair that made her vibrant red lipstick pop.
Amber Rose loves ink
While we know what Amber Rose looks like without makeup, her skin is never completely bare as she's quite the tattoo aficionado. In a 2021 Instagram post, the supermodel flaunted her sleeve tattoos. While some of the tattoos have words, such as one that reads "Hollywood," some are graphic. One of Rose's most eye-catching arm tattoos is a bright red tube of lipstick. 
Not only does the beauty icon have tattoos all over her arms, but she has a bold tattoo going across her forehead as well reading "Bash Slash" (via Instagram). The face tattoo was inspired by her two kids, Sebastian Taylor Thomaz (nicknamed "Bash") and Slash Electric Alexander Edwards (via Cosmopolitan).
When explaining why she got this tattoo in a 2020 interview with Fox Soul, Rose said it was the death of basketball superstar Kobe Bryant that was the trigger as it reminded her of her own mortality. "I thought about my dad, and my dad had cancer when he was 40, and he went through remission and he's good but he almost died," she said. "And I'm 36. And I was like, 'I've been wanting this tattoo for a long time,' and I was like 'you know what? Life is so short.'"