Angelica Hale Opens Up About The Accuracy Of American Reject - Exclusive
Many of us may have daydreamed about one day taking center stage in a TV singing competition. However, few of us have ever imagined what it's like having to adjust to life afterward.
The new movie "American Reject" tackles exactly that. Based on Kathleen Elizabeth Monteleone's real story, the movie follows an aspiring singer named Kay shortly after being voted off of a popular singing competition show. She returns to her hometown, moves back in with her mother, and is forced to figure out what to do next — all while being filmed for a segment of the competition called "After the Cut." Ashamed of where she finds herself in front of all of America, Kay decides to finally go after her singing dream in her own way after interacting with a fan named Anna.
"When I saw the script, it really reminded me of my time on '[America's Got Talent],'" actress Angelica Hale, who plays Anna, shared in an exclusive interview with The List. After landing the role, Hale even sat down with the writer herself to help develop her character.
In the end, watching "American Reject" play out on screen was almost like reliving her life as runner-up on "America's Got Talent." "The overall feeling like you had everything in your grasp, and you let that go, as per the premise of the movie, was very realistic to what I think the business is a lot like these days," Hale told us.
Both sadness and excitement come after a singing competition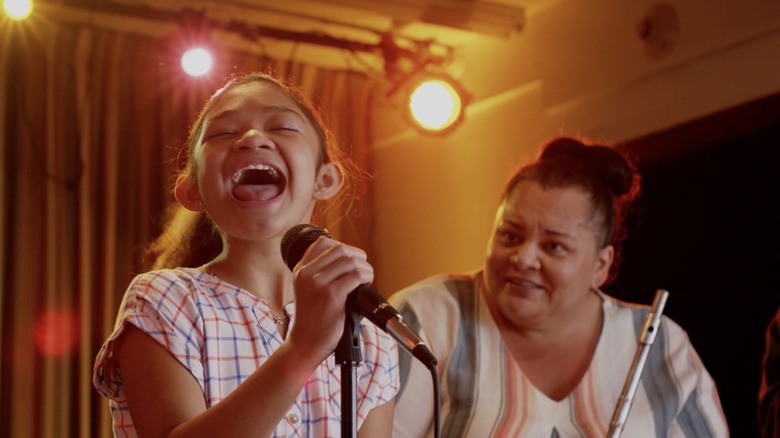 Full Armor Films
The aftermath of "America's Got Talent" was a big adjustment for Angelica Hale, who came in second place during Season 12. "After I went on 'AGT,' I was always bombarded with performance requests, and I was traveling left and right," Hale told The List. "And I had to adjust to that very quickly, and it's honestly been a rollercoaster."
Throughout "American Reject," viewers are taken on quite a ride, too. From laughing hysterically at the one-liners to wanting to cry alongside Kay as she navigates her new normal, the up and down emotions are extremely accurate, according to Hale. "'American Reject' does an amazing job of showing the harsh reality of it," she told us.
While shooting her final scene in the film, Hale even felt as though she was back on the stage of "America's Got Talent." "It felt like I was reliving that moment of being in the spotlight, of being on stage, and giving my heart and soul out," she explained. Yet her favorite part of the entire process was being able to relive that moment repeatedly throughout filming. "I could do it over and over again," she said.
"American Reject" is now available on demand and for digital rental and purchase. Click here for more information about the film.