The Fashion Item Meghan Markle Is Convincing Everyone To Add Back Into Their Closet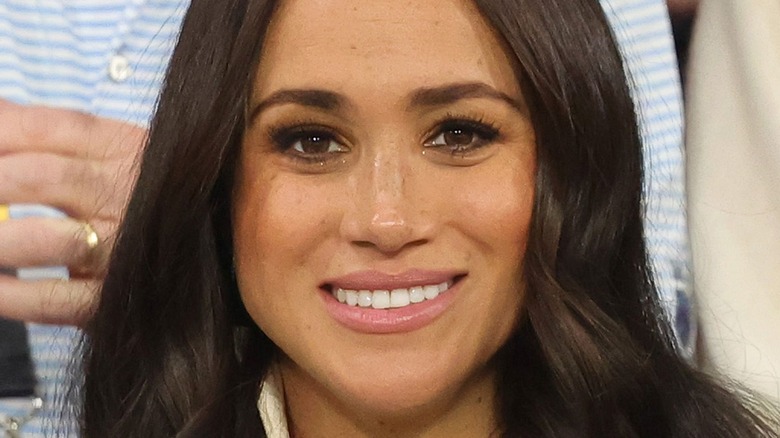 Chris Jackson/Getty Images
It's undeniable that Meghan Markle's fashion choices have been copied the world over from the moment she stepped onto the international stage. The Duchess of Sussex's favorite brands are shopped with dedication, from Staud, to J. Crew to Hunter. Entire articles are devoted to alerting royal fans when looks worn by the mom of two are on sale.
Although women worldwide emulate what Markle wears, she's her own worst critic, telling Glamour U.K. in 2017 about a style she regrets wearing, "I was going to this event and there was this DVF lace dress with a zipper up the back." The California native added, "It was too tight, and too short, and my hair was too polished, and everything about it was trying too hard."
Okay, so not every outfit she's ever worn is a winner, but it would be hard to criticize many of Markle's ensembles, including one she has donned more than once during her recent trip to the Netherlands for the Invictus Games.
Meghan Markle's look for this trip is all about the white blazer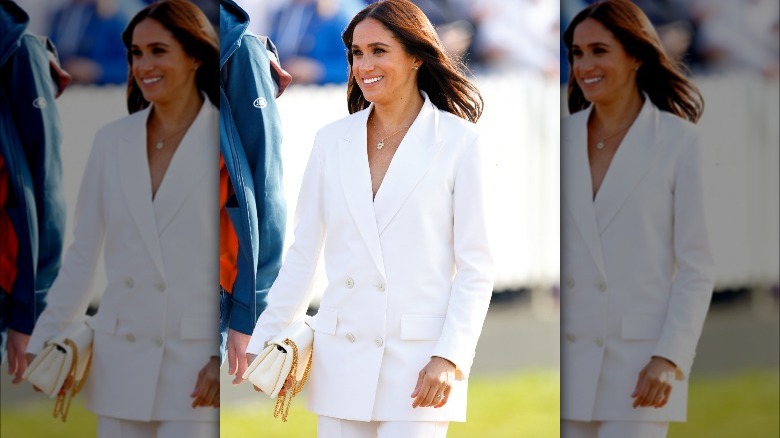 Max Mumby/indigo
Sadly, Meghan Markle's style choices are not always well-received. Case in point: In September of last year, a red blazer the author and activist wore to read her book, "The Bench," to a group of school children was widely ridiculed, with many critics saying her coat was a bad take on a look Michelle Obama perfected for President Joe Biden's inauguration.
Good thing the royal doesn't have blazer PTSD, since a collection of white jackets she has rocked while in Holland has largely inspired fans. As People notes, the former actress' very first look for the trip, an all-white suit, was a wow moment. The Valentino design will spawn countless imitations, no doubt, as will another white blazer the Duchess of Sussex wore just days later.
As People reports, this belted, Brandon Maxwell version of her new wardrobe staple was paired with jeans for a more casual look that has plenty of fans slack jawed with admiration.
Meghan Markle's white blazer moment creates controversy, unsurprisingly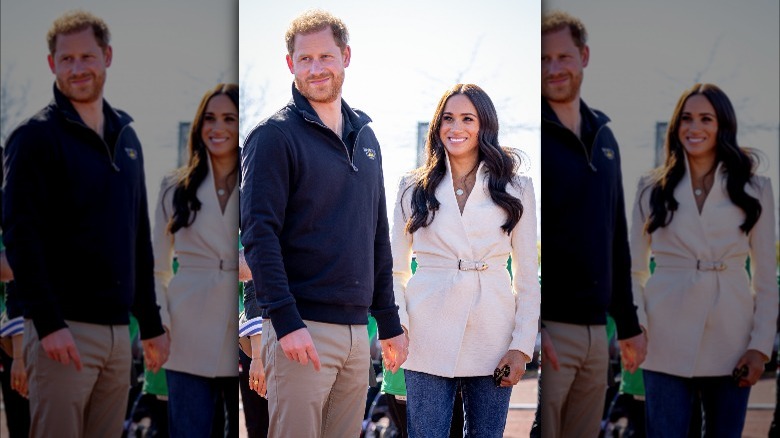 Patrick Van Katwijk/Getty Images
Of course, as several Twitter users pointed out, Kate Middleton has worn white blazers before, with one look she rocked in July of last year making headlines (via Hello!). "[She] set the trend," noted one fan of the mom of three. "Is that you, Kate?" asked another person, intimating that the newer royal wife was copying the Duchess of Cambridge.
But plenty of Meghan Markle fans were also on hand to compliment the white blazer fashion moment, calling it "chic" and "stunning." But as always, the "Suits" alum can't do anything without criticism, with other social media users blasting the suit for being ill-fitting.
No matter what your take on how the white blazer looks on Markle or who started the trend, one thing is for certain: Since the fashion icon stepped out at the Hague for the Invictus Games, everywhere you look online, folks are talking about where you too can get the perfect white blazer for your closet.