Why Jinger Duggar Vuolo Has Fans Worried About Her Well-Being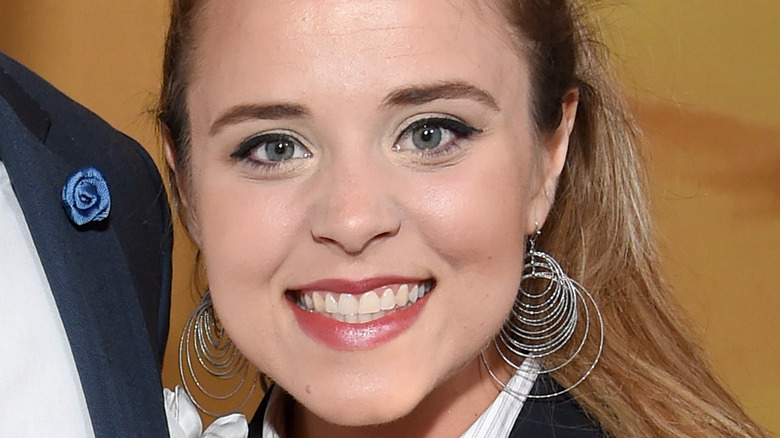 Michael Kovac/Getty Images
Followers of the "19 Kids & Counting" franchise are well aware that the Duggar family's happy, wholesome TV image wasn't all it appeared to be. Oldest son Josh Duggar is awaiting sentencing on his child pornography conviction; oldest daughter Jana pleaded guilty to child endangerment for a babysitting mishap (via People); and daughter Jill Duggar Dillard is estranged from her parents. But fans are now worried that yet another Duggar family member is struggling with a serious health issue.
Jinger Duggar Vuolo, the sixth Duggar child and fourth daughter, released a memoir in 2021, co-authored by her husband, Jeremy Vuolo. In it, she revealed some intimate details of her life growing up in a famous household. Among them was the revelation that she developed dangerous eating habits as a preteen. As reported by the Daily Mail, Jinger thought she was "fat" and "ugly," so she secretly ate just one meal a day in hopes of keeping her weight down. 
"It seemed reasonable at the time," she wrote."I didn't realize that my little weight-loss plan was teetering dangerously on the edge of an eating disorder." Fortunately, she sought help from her mother, Michelle, who herself had battled bulimia as a teen, and Jinger said she learned to eat more healthily and stopped comparing herself to other women.
But a recent picture on social media has some fans thinking Duggar Vuolo may be struggling with an eating disorder now. 
Fans wonder if Jinger Duggar Vuolo is healthy
On April 17, 2022, Jinger Duggar Vuolo posted a photo to Instagram showing herself and her husband, Jeremy, in front of their house of worship, Grace Community Church in Los Angeles. "Happy Resurrection Sunday!" she wrote. (The Duggars, who are evangelical Christians, prefer this alternate name for the Easter holiday.) Jinger looked lovely in a white pantsuit, but some fans noticed that she seemed much thinner than usual. 
On the Duggar Snark Reddit page, members seemed more concerned than snarky as they commented on the photo. "I worry about Jinger," said one. "She is getting painfully thin. Maybe she is just very small by nature... But I know she has a past with ED [eating disorder] and seeing her so very tiny worries me." 
Another agreed, saying, "It's her face that gives it away for me. The way she looks now reminds me of when I was at my worst ... I recently saw a pic of her on here before she was married, and while she was thin, her face had life, color, and health to it ... Please get help if you are suffering. Your worth and beauty aren't found in you disappearing."
Jinger's Instagram followers, on the other hand, assured her that she looks "lovely" and dismissed the rumors. "I can see your fans are off their nasty rockers!" declared one. "Definitely #NOTPAINFULLYTHIN...You look great. Jeez people stop."
In either case, it's never okay to comment on people's bodies, especially when you don't know them. 
If you are struggling with an eating disorder, or know someone who is, help is available. Visit the National Eating Disorders Association website or contact NEDA's Live Helpline at 1-800-931-2237. You can also receive 24/7 Crisis Support via text (send NEDA to 741-741).