Drake's Photo With Taylor Swift Has Everyone Saying The Same Thing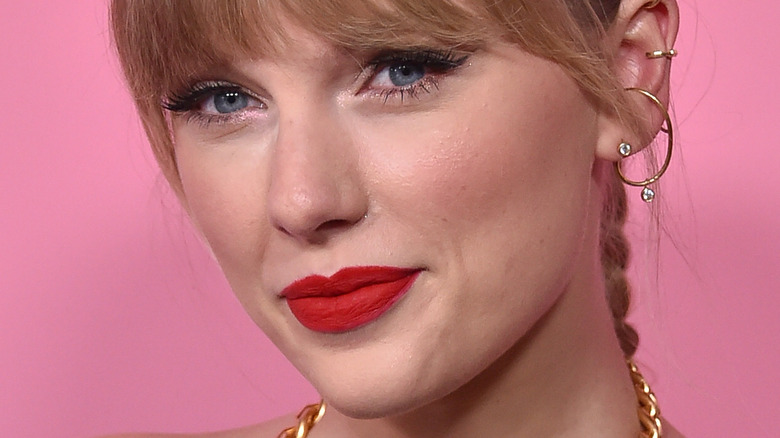 DFree/Shutterstock
Superstar singer Taylor Swift has collaborated with a range of artists, including Ed Sheerhan, country artist Chris Stapleton, rapper B.o.B, and pop-rock group Haim, per Bustle. This has included new versions of some songs for the "Taylor's Version" of the albums "Red" and "Fearless." In fact, this is because Swift is in the process of re-recording her first six albums so that she can own the rights to the songs she's written and recorded, all because these six masters were sold without her permission (via Variety). 
She's got two done, and fans don't know which "Taylor's Version" album will come next, though that doesn't stop them from speculating. Will it be "1989"? Or perhaps will it be her self-titled album? In either case, we've explained each of Swift's eras so that you're ready no matter which one she drops next.
Swift has often used social media to drop hints to her fans about what music will be coming out next. And fans seem to be split over whether she's dropped more Easter eggs for "1989" as the next re-recorded album or if she's hinted that her next album is going to be "Speak Now," according to PopSugar. There have also been hints that she might be planning a collaboration with the Jonas Brothers, according to another PopSugar piece.
Now, more fuel to the fire of Swiftie speculation on her next collab has come with an Instagram post by none other than Canadian rapper Drake.
Some Swifties are convinced Drake and Taylor Swift are collaborating
Taylor Swift's stunning transformation is ever-ongoing, with the artist reinventing herself with each era (and re-recording). Now, she may be up to something with Drake. This speculation began circling when the "Passionfruit" rapper posted a series of photos on Instagram with the caption, "They too soft to understand the meaning of hard work." 
One of the photos sees Drake hugging Taylor Swift, though it's unclear if the photo is new or not. Still, it was the fifth picture in the Instagram carousel, and some fans on Twitter think that's a clue that she's going to be collaborating with Drake on a song from the re-recording of her fifth studio album, "1989." One fan thinks Swift is definitely in on it, writing, "Taylor probably told Drake to post a random pic of her on the fifth slide 'cause Swifties will know what's up". Whether it's a really a sign of an upcoming Drake and Swift collaboration for "1989 (Taylor's Version)," we'll just have to wait and see.
Drake and Swift have previously collaborated in a way. They were both featured in Apple Music ads in 2018, with Swift listening to one of Drake's songs and falling off a treadmill, and Drake listening to Swift's "Bad Blood" and getting stuck while bench pressing, per GQ. Now, a song featuring two of the most popular artists in the world may be in the works.