Bethenny Frankel Takes An Embarrassing Tumble While Roller Skating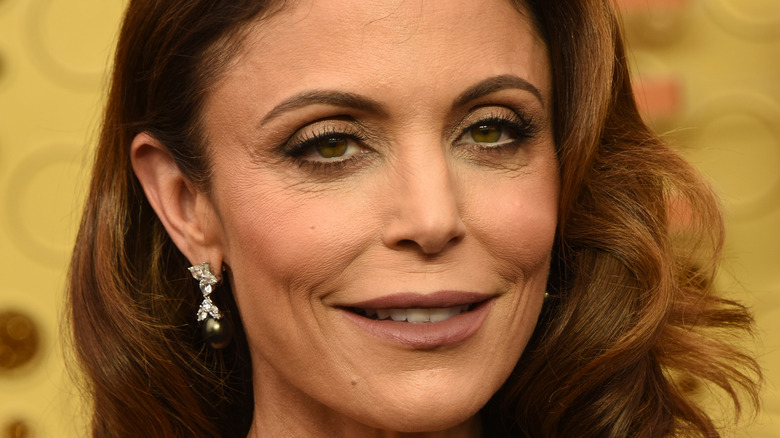 Kathy Hutchins/Shutterstock
Being one of Bravo's Real Housewives isn't always dignified. From throwing prosthetic legs to flipping tables, the ladies will always bring the drama, even if it's at the expense of their pride. Even the usually poised Bethenny Frankel isn't immune to the occasional misstep. Who can forget her screaming "Life is not a cabaret" at Luann de Lesseps? Of course, fans don't usually see Frankel flip out unless it's in front of the "RHONY" cameras, and since she left the show, she's largely been in control of her own narrative. However, a recent video has been circulating of Frankel taking a slightly embarrassing fall at a public event.
The most star-studded place in New York City on April 15 might just have been a roller rink. 30 Rockefeller Center recently turned its iconic ice skating rink into Flipper's Roller Boogie Palace. To celebrate the start of roller skating season, celebrities like Gayle King, Mary J. Blige, Dr. Dre, Usher, and more came out to skate, according to Page Six. Among the guests was Frankel — and you can probably guess what happened next.
Bethenny Frankel has some serious skating skills and spills
One of the celebrities who came out for the roller rink opening was New York City's own Bethenny Frankel. Unfortunately, she took a bit of a tumble on the rink. Video from TMZ shows the entrepreneur grooving to the music and applying lip gloss right before losing her footing and landing on her butt. Frankel quickly got to her feet and laughed off the fall. Despite the slip-up, Frankel looked like a natural on her skates — unsurprising, since she made it to the finale competing on the short-lived "Skating with the Stars" in 2010.
She later raved about her evening on Instagram, saying, "This is me in my element ... the roller rink was my babysitter & a place away from my crazy house. I'm literally the happiest when dancing on wheels ... so to be able to share that with my daughter in an iconic NY location with an old school disco group, was legendary ... truly."