Prince Harry Can't Stop Publicly Gushing Over Meghan Markle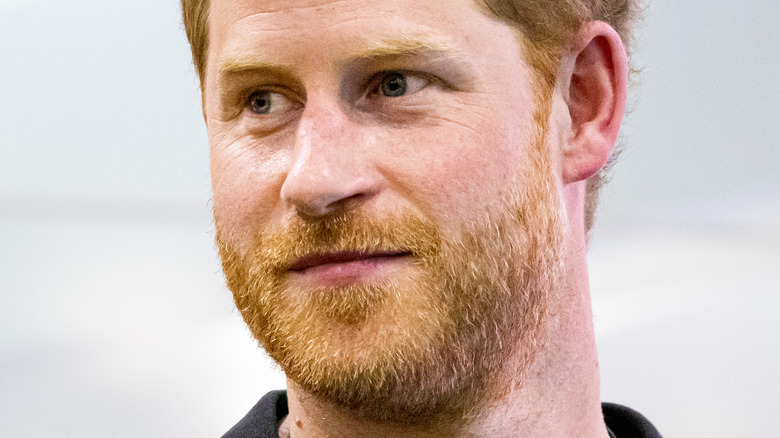 Patrick Van Katwijk/Getty Images
After Prince Harry and Meghan Markle's secret visit to see Queen Elizabeth, the couple went to The Hague in The Netherlands for the opening of the sixth annual Invictus Games. The Invictus Games is the brainchild of Prince Harry, and the international competition features wounded or sick servicemen and women competing in a series of athletic events. It was also at the 2017 Invictus Games in Toronto that Meghan first joined Prince Harry at a public event, according to Vanity Fair. She also joined him after they were married at the closing ceremony of the 2018 Invictus Games in Sydney, Australia, and thanked the competitors for welcoming her into the Invictus family, per Us Weekly.
At the 2022 Invictus Games opening ceremony, after a two-year delay due to the COVID-19 pandemic, Prince Harry was sweetly introduced by Meghan, who outlined how hard he'd worked on the event and said "I could not love and respect him more and I know that all of you feel the same," per Marie Claire. At the opening ceremony, the couple also confirmed their support for Ukraine, which is still dealing with the Russian invasion, and they recognized the courage of the Ukrainian competitors attending the competition. Furthermore, Harry got emotional over Ukraine at the Invictus Games, showing his soft side for a nation torn by war (via the BBC).
And for all of the lovely words Meghan had for Harry, he feels the same for her.
Prince Harry loves sharing important moments with Meghan Markle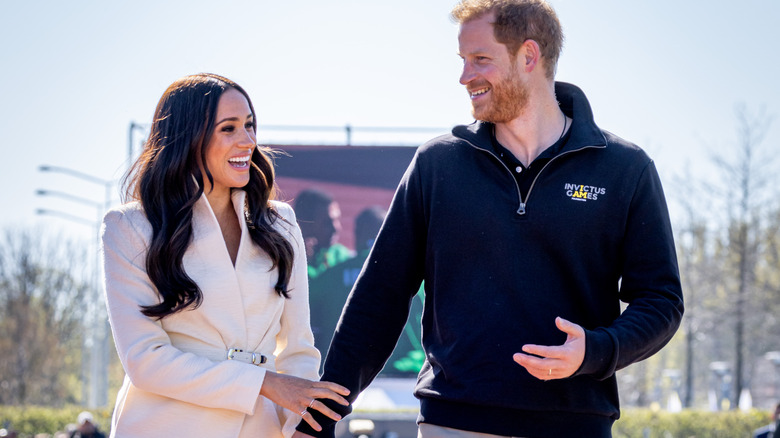 Patrick Van Katwijk/Getty Images
Prince Harry told People just how important it was to him to be at the Invictus Games with Meghan Markle, saying, "I had always wanted to share these incredible moments with someone special, and to have Meg by my side means everything." He also reflected upon how much has changed since the couple had made their Invictus Games debut back in Toronto; then they were dating, and now they're married with two kids and living in California.
Their body language while Meghan was there — she's since gone back to California — also confirmed the couple's strong bond. They shared smiles and a kiss at the opening ceremony, and they were frequently seen holding hands, according to Marie Claire.
And while the Invictus Games hold a special place in the hearts of the Duke and Duchess of Sussex, they are also important to the competitors. One American athlete who had been blinded on a training mission told People, "These games are what saved my life. I'm just so appreciative."