Kim Kardashian Reveals The Reason She Stopped Going Commando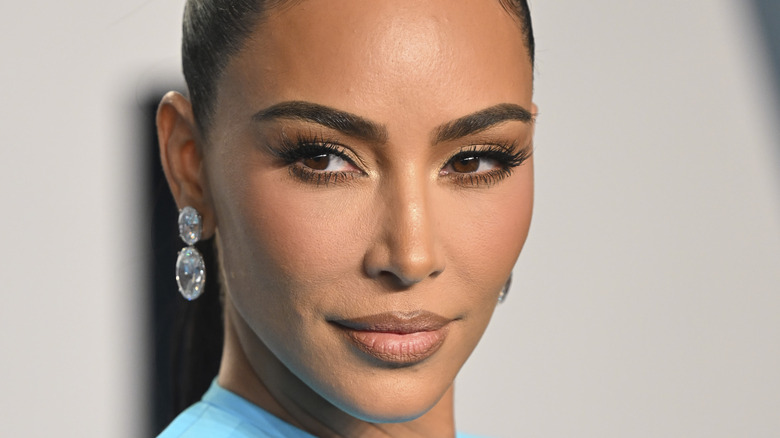 Karwai Tang/Getty Images
Kim Kardashian knows a thing or two about undergarments. After all, the reality TV star has built an empire around panties and bras, with her SKIMS brand valued at — wait for it — $3.2 billion (via SCMP).
Given Kardashian's dedication to providing women of all shapes and sizes the most flattering shapewear "solutions," you'd think the mom of four would have done her research by road testing all sorts of underwear before launching her company. Wrong! It turns out that the Hulu star actually helped create a thong that was good enough for her to grace her famous figure with — but didn't don underwear previously.
In an Instagram Story on the SKIMS page, Kardashian told the 3.9 million followers, "I never wore underwear until we invented this style" (via Page Six).
The 41-year-old was no stranger to shapewear before SKIMS, to be fair, telling Vogue Montenegro in 2021 about her inspiration for launching the company, ​​"I used to cut up and sew different styles of shapewear together to create the silhouette I wanted because I could never find the shape I was looking for. Other brands would either flatten my curves, pinch into my skin or roll down." The mogul added she would use tea bags to dye the fabric to match her skin tone as well.
But when it came to undies, well, Kardashian apparently skipped that step.
Kim Kardashian used to be annoyed by underwear
It's not exactly a new revelation that Kim Kardashian was a fan of going commando in the past. In fact, the star confessed this very fact to Cara Delevingne in 2015 for an interview with the Evening Standard. "I only just started wearing underwear a month ago, and I never wore underwear until then," the SKIMS founder said at the time.
Could the timing of Kardashian adopting a daily panty habit have had something to do with her lifestyle change? Consider that in 2015, the previously married mom welcomed her second child, Saint, with Kanye West (via Us Weekly). The star also said underwear "bothered" her — that is until she designed ones she loves and generously shared them with the world (via Page Six).
No matter the reasons, her dip-front thong is her "everyday underwear" according to the star, who demonstrated how "stretchy" the garment is in a recent TikTok. Meanwhile, the mega-influencer shared she wears SKIMS boy shorts to bed every night "with a little tank."