Silky Nutmeg Ganache Isn't Happy About This Emotional RPDR Reunion Moment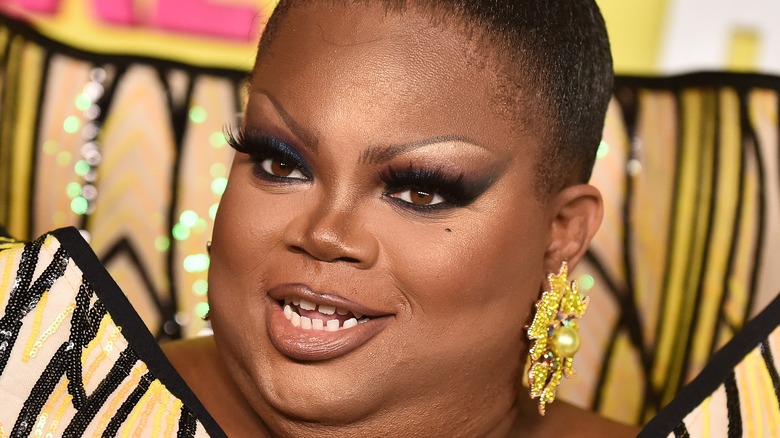 DFree/Shutterstock
Despite the fact that it began all the way back in January, somehow, the current season of "RuPaul's Drag Race" is still ongoing. Reliably, it's been a highly talked-about installment of the hit reality show, albeit typically for all the wrong reasons. 
Season 14's Snatch Game didn't sit right with fans, while frontrunner Bosco's looks on "RPDR" are raising eyebrows. It didn't help matters when, as EW reported at the time, the self-described demon queen of Seattle was also revealed to be holding the touted golden ticket. 
Maybe it's the length of this season, the lack of eliminations across the board, or the fact that, by all accounts, there's just way too much "Drag Race" to keep up with right now, but fans are burned out on Season 14. That doesn't mean we've stopped watching, of course, or discussing it online, either. 
Meanwhile, Silky Nutmeg Ganache, of Season 11 and "All Stars 6" fame, is always happy to wade into the discourse. Never one to shy away from a fight, the "Drag Race" alum has battled hard against various allegations.
As EW notes, Silky was accused of having a bad attitude after her first appearance on the show and has faced plenty of criticism from fans over the years. It's striking, then, that she's turned her attention to one of the current competitors. 
Daya Betty has received tons of hate from Drag Race fans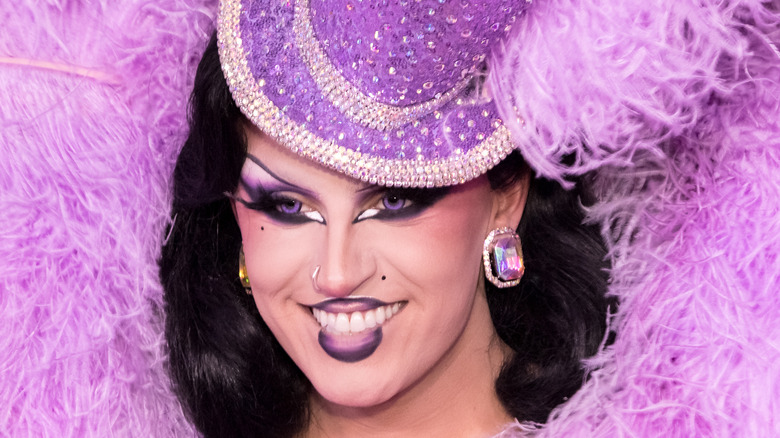 Greg Doherty/Getty Images
Daya Betty isn't sitting right with "Drag Race" fans, having come back from a shock elimination early on to make it all the way to the top five. However, Daya fought consistently with fellow contestant Jasmine Kennedie, leading fans to sour on her. 
Likewise, Crystal Methyd's drag daughter complained whenever she placed anywhere but in the top. In an interview with Nylon, Daya admitted to feeling pressured to live up to Crystal's reputation, since she was a fan favorite on Season 12. 
Fans are split on whether Daya's behavior is acceptable. The Tab argued that Season 14 needed a villain and Daya bravely stepped up to the plate, whether through shady editing or otherwise — without her feud with Jasmine, what would the big story of Season 14 even be? 
Regardless, the online vitriol clearly got to Daya, who made a desperate plea for kindness on Twitter. Over on Reddit, several commenters chastised fans for taking the show too seriously, reasoning it's just drag, after all. 
At the reunion, it all came to a head, and not everybody was impressed with what went down.
Silky wasn't impressed with how Daya behaved at the reunion
As EW notes, one of the biggest talking points of the Season 14 reunion was the highly anticipated showdown between frenemies Daya Betty and Jasmine Kennedie (via YouTube). 
Daya attempted to explain her behavior, but Jasmine wasn't having any of it, and their heart-to-heart quickly devolved into the two queens yelling at each other about who had and hadn't reached out since the show wrapped. 
Kerri Colby noted Daya had received "the most unfair amount of hate in terms of death threats and people wishing her not well" out of everybody, reasoning, "You have to cut her a little bit of slack, she did show redemption." 
TV Line confirms Daya actually got quite emotional at one stage after several other queens chimed in about how much of a pain she'd been all season. One person who wasn't buying what Daya was selling, though, was Silky Nutmeg Ganache, who took to Twitter to call her out. 
"Starting to cry after being a bitch makes you a Karen," Silky argued. "Cry and the white fans will forgive." Reddit commenters criticized Silky for her perceived hypocrisy, pointing out that someone who had received a deluge of hate after being on the show herself should have more empathy for what Daya's going through.
Moreover, once again, there were multiple calls to take "Drag Race" less seriously, since it's all supposed to be in good fun.