Kim Wolfe On Working With Her Husband On Why The Heck Did I Buy This House? - Exclusive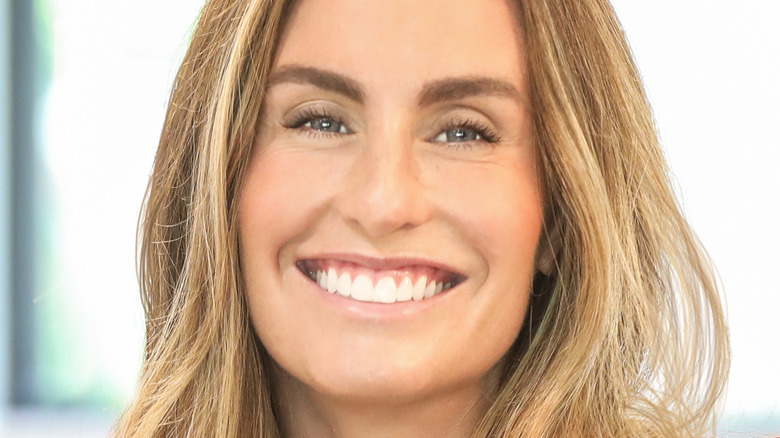 HGTV
Some couples couldn't stand the thought of working with their spouse. But interior designer and HGTV star Kim Wolfe loves every minute of working with her husband, Bryan. "We're having so much fun," she gushed during an exclusive interview with The List. "We are arguing non-stop, but I keep telling people it's productive pain, because we're working together for the first time, and it's really funny to work with your spouse."
Their professional partnership all began when Wolfe was first asked to host her HGTV show "Why the Heck Did I Buy This House?". "I was so overwhelmed," she admitted. "We had these seven projects going on for the show, and I needed help."
Though her husband has absolutely no experience in interior design, he was more than willing to put his career on hold and help his wife chase her dream. "He took a leave of absence for filming, and then it became a permanent situation," Wolfe told us. She also shared exactly what it's been like working with her spouse on screen.
Kim & Bryan Wolfe make the ultimate interior design team
Before Kim Wolfe's husband, Bryan, ever stepped foot on a TV set, he was working as an actuary and risk analyst. "So I don't know if you've ever seen 'Along Came Polly,' but Ben Stiller's character in that movie that's super careful and worries about everything," Wolfe laughed. "That is my husband's personality."
While Wolfe is busy perfecting designs for all the homeowners she works with, her husband is the one who is always focusing on the technical side of things. "He does all the things that I am not good at, but yet [he is] scared to climb a ladder," she said. "It's a really funny mix of our personalities coming together."
You know what they say: opposites attract. However, that isn't to say that their differences don't cause an argument here and there. "In a lot of ways, we're so great for each other, but also push all of each other's buttons," Wolfe added, but that isn't such a bad thing in the end.
When it comes down to it, the HGTV star is forever grateful to her husband for always being (and now working) by her side. "I need him so badly," Wolfe said. "He makes us a legitimate business."
New episodes of "Why the Heck Did I Buy This House?" air Wednesdays at 9 p.m. ET/PT on HGTV.