Why Did Meghan Markle Fly Home From The Netherlands Without Prince Harry?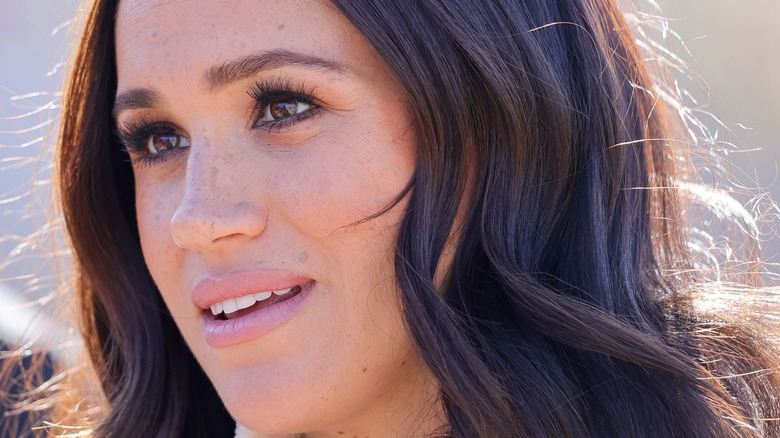 Chris Jackson/Getty Images
The Invictus Games are a pivotal event for Prince Harry, with a cause that's close to his heart. First held in London in 2014, active-duty and veteran servicemen and women compete in this international athletic event. "Invictus," meaning "unconquered," has a mission to utilize sports to "inspire recovery, support rehabilitation and generate a wider understanding and respect" for members of the armed forces.
Prince Harry is a veteran, having served in the army for 10 years, including tours of duty in Afghanistan and flying as a helicopter copilot (via Us Weekly). He's the founder and patron of the Invictus Games, per Washington Post.
The duke's attendance at the Invictus Games is also intertwined with his personal life. The 2017 Toronto Games marked his and Meghan's official announcement of their budding romance. The following year, Meghan gave a heartfelt speech at the 2018 Australia Games during the royal tour there. "On a very personal note, I just wanted to thank all of you for welcoming me into the Invictus family," she said (via Town & Country).
Of course, the Duke and Duchess now have a growing family of their own in California. According to the Daily Mail, this trip abroad was the longest they had been away from their two children. While the Invictus Games are scheduled to end on April 22, Meghan Markle had an important reason to fly home on April 18 while her husband remained.
Meghan Markle missed her children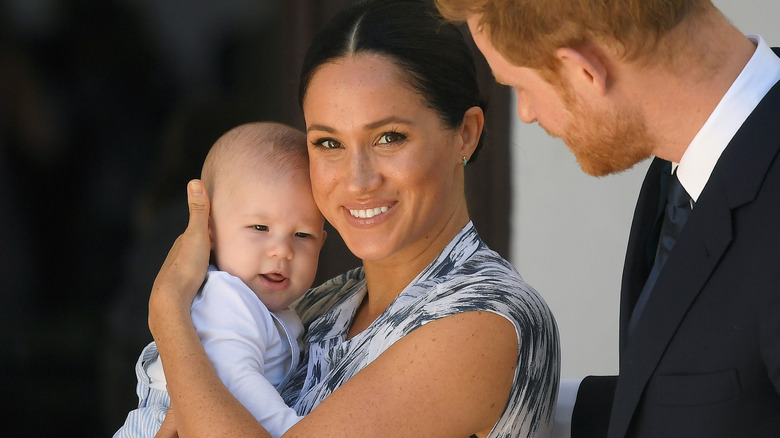 Pool/Getty Images
Meghan Markle flew home before the Invictus Games ended to be home with her children, Archie, 2, and Lilibet, 10 months. Throughout the separation, the Duchess of Sussex was thinking of her children.
On the second day of the games, Meghan joined a storytime event in the Zuiderpark. James Stride, a British army veteran, was reading "Hairy Maclary" to 12 children. "Meghan told me she was familiar with the book and one that she read to her own children," Stride told the Daily Mail. "She was very friendly." Being around children and hearing a familiar story made the duchess feel a bit homesick. "Meghan was quite chatty and told me she was missing her children," Stride added. After reading the story, Stride autographed the book and presented it to the duchess. He had met Harry when they both served in Afghanistan in 2007. 
The duchess also made a special connection with a child at the reading event. She was excited to meet a boy named Harrison — a name Meghan almost gave Archie. Harrison shared his drawings with the duchess, and he was delighted when she complimented his work, per People.
Meghan also showed motherly consideration for a mom with a newborn baby. When the weather turned chilly, the duchess gave the mom her long, soft brown coat to keep the baby warm. Omid Scobie, a journalist, shared a photo of the sweet gesture on Twitter, to the delight of royal fans.
Being a dad is a top priority for Harry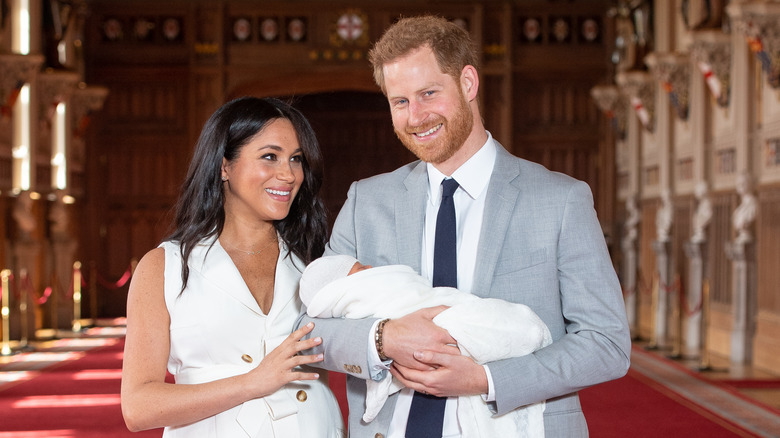 Wpa Pool/Getty Images
Like Meghan Markle, Prince Harry has spent his time at the Invictus Games thinking about Archie and Lilibet. Both he and the duchess participated as passengers in kiddie-cars for the "Jaguar Land Rover Driving Challenge," per People. In photos, Prince Harry raises his arms and cheers as the child driving his car finishes the race.
During interviews in the Netherlands, the Duke of Sussex shared updates on his children. Speaking of 10-month-old Lilibet, Harry told People, "She took her first step just a few days ago! Proud papa, here."
Harry was also interviewed by two child journalists for #Vteam. When asked about his hopes for his children's future, the duke answered that he wanted them "to grow up in a fairer world, a safer world, a more equal world. It's not gonna be easy, but I will never, ever, ever rest until I as a parent have at least tried to make the world a better place for them." He finished the interview by embracing the two children.
As Archie and Lilibet get older, Harry hopes to make the Invictus Games a family outing. The duke has already shown Archie a wheelchair basketball and rugby video from the Australia Games. "I showed him how some were missing legs and explained that some had invisible injuries, too," the prince told People. "Kids understand so much, and to see it through his eyes was amazing because it's so unfiltered and honest."