Sofia Richie Shares Happy Relationship News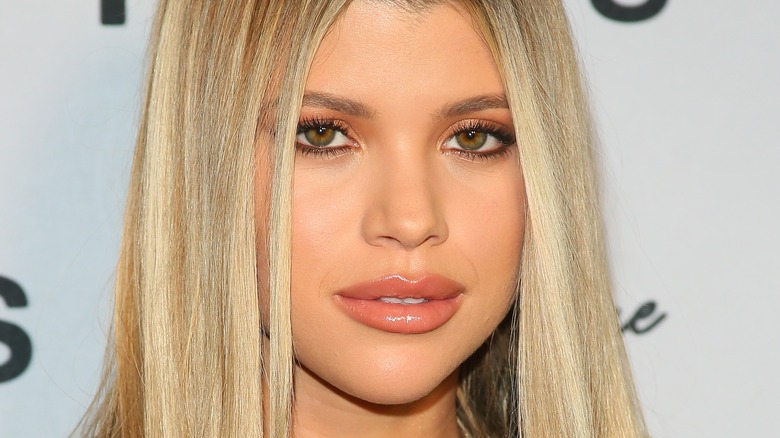 Jean Baptiste Lacroix/Getty Images
If you had only vaguely heard of Sofia Richie back in the day, well, "Keeping Up With the Kardashians" changed that pretty much overnight. The daughter of soul singer Lionel Richie made a name for herself on-screen and in the media spotlight when she started dating Scott Disick, Kourtney Kardashian's longtime love, ex, and father of her three children. We all sort of knew that Disick was never over Kardashian, and seemed to be biding his time until he could sweep the reality star off her feet once again – but against a lot of odds, he and Sofia remained steady for some time.
As per Cosmopolitan, Sofia and Disick sparked dating rumors back in 2017. The then-19 year old was spotted with the Talentless founder on a number of occasions, and a pic snapped in Malibu seemed to confirm that they were an item. Just a couple months later, Sofia appeared on Disick's Instagram, and the rest was history.
While the couple remained together from 2017 until 2020, their breakup was messy to say the least. As per E! News, Sofia basically gave Disick an ultimatum – her or Kardashian – and the reality star clearly didn't give her the answer she was looking for. Cue the end of Sofia and Disick's romantic affair, and the social media star made it clear that she was ready and eager to move on. Now, she's sharing exciting, romantic news with her fans.
Sofia Richie is engaged to boyfriend of one year, Elliot Grainge
While Sofia Richie and Scott Disick were together, Lionel Richie made it very clear that he was not a fan of the father of three being his daughter's boyfriend. But the soul singer's expectations for Sofia's love life are surely mended these days, and she is now engaged to boyfriend and longtime family friend Elliot Grainge. The newly engaged star shared the happy news on Instagram, captioning the sweet post, "Forever isn't long enough," to a chorus of congratulatory messages.
Sofia and Grainge have known each other for quite some time, and have officially been a couple for about a year as of publication. Lionel and Grainge's father – a music executive – have worked together in the industry for years, and the "Hello" singer is said to be thrilled with his daughter's choice in a partner.
"He thinks they are a perfect match," an inside source told E! News when the couple first went public, adding that Lionel "completely adores" Grainge. Congrats to both families, and of course to the happy couple!