Here's How You Should Apply Liquid Lipstick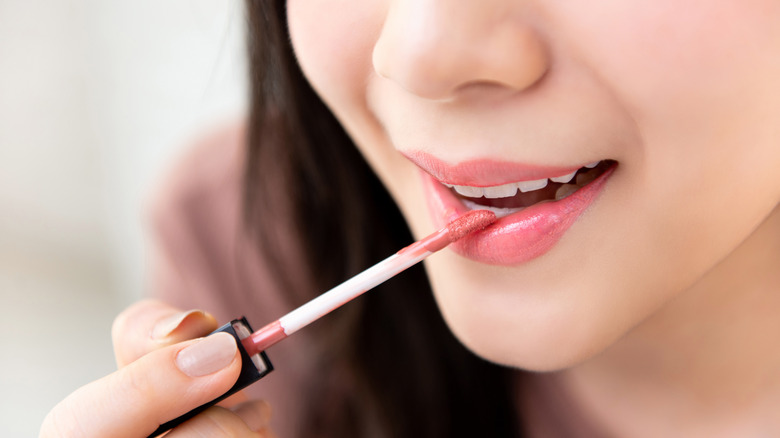 Atstock Productions/Shutterstock
The advent of liquid lipstick was a long-awaited dream for many. It's only been within the last decade that liquid lipstick has reached mainstream popularity. Finally, we were able to apply lip color and have it actually stay on (via Glamour). No more unsightly lipstick remnants on glasses during dinner and after lunch or a gym session, and we didn't have to dip into a bathroom to reapply it.
Although it's a fact that not all liquid lipsticks have quite the staying power we crave, nearly all of them stay on longer than traditional cream lipsticks. Like with any makeup in an oversaturated market, some lipsticks just stand out above the rest.
Though there are makeup trends that take over each year, it's safe to say that liquid lipstick isn't going anywhere. Yet liquid lipstick isn't the easiest product to apply. Here's how to ensure you do it right each time.
Make sure to do some prep work first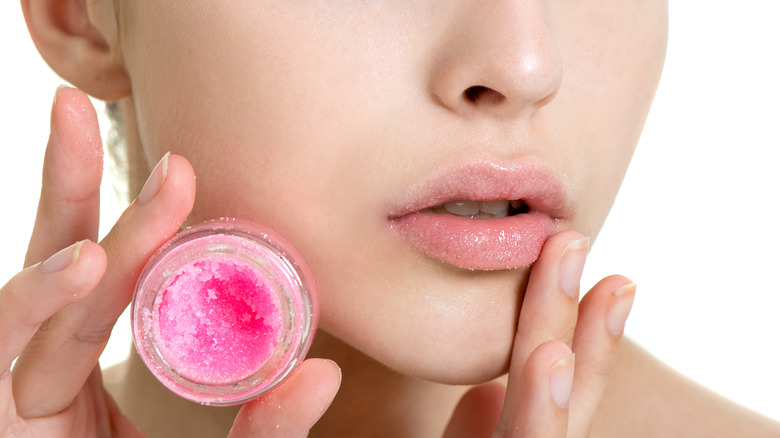 Juta/Shutterstock
Liquid lipstick is typically a matte blend and will show any kind of flaky residue as a result of dry lips. So the first step in applying liquid lipstick is to prep your lips to ensure that the lipstick spreads evenly across the lips, per Maybelline. Another reason to do this is that any hints of dry lips, like peeling or cracking, will look magnified under the matte finish.
It's best to start with exfoliating your lips before you put on any lipstick. Exfoliating is meant to work with gentle movement and you shouldn't exfoliate to the point that your lips hurt. Store-bought exfoliators often contain moisturizing against like shea butter and coconut oil to help rehydrate (via Cosmopolitan). If you don't have any on hand, you can also grab a washcloth and use a circular motion to exfoliate, but remember to go gentle and use a little lip balm afterward.
Make sure to apply color correctly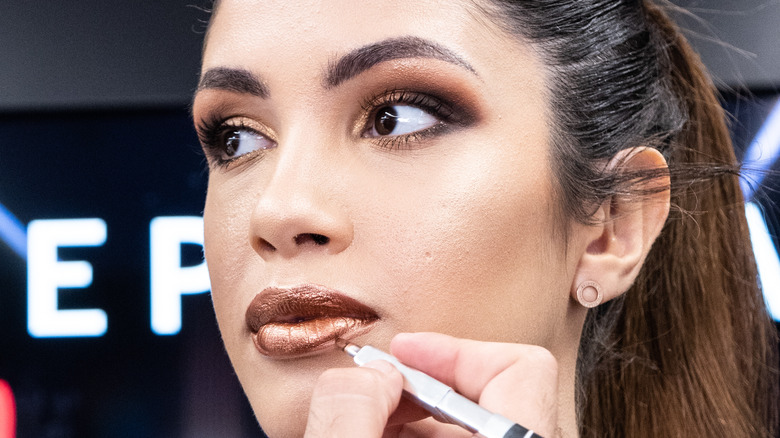 Rosdiana Ciaravolo/Getty Images
Start by outlining your lips. This will help prevent the color from bleeding to the skin outside your lips (via L'Oréal). You can use the applicator tip of your liquid lipstick or a separate matte lip liner. Begin on the top and line according to your natural lip line. Continue to do the same on the bottom. Then apply a thin layer of liquid lipliner across your lips. Any more than that will cause smudges and won't stay on as long as it should.
Throughout the application, whatever you do, don't rub your lips together. Makeup artist Andre Sarmiento tells Refinery 29, "Liquid lipsticks are kind of like paints. You have time to achieve great application, but once they dry, they become harder to blend." If you rub your lips before they've dried, the finish will get messed up and look uneven and grainy.
Liquid lipstick can take a bit of prep time and practice, but once you get the hang of it, the lasting power more than makes up for it.