Did Kim Kardashian Photoshop Pete's Face In Their Latest Pic? An Expert Weighs In - Exclusive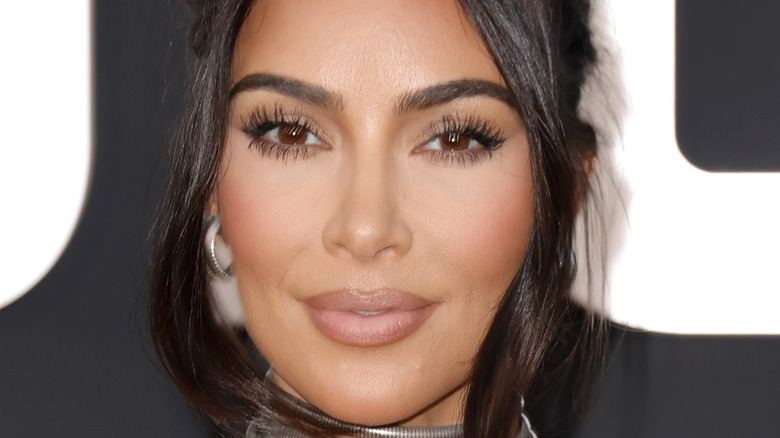 Frazer Harrison/Getty Images
Various members of the Kardashian family have been accused of photoshopping content that they share on social media. A former employee who worked with the company responsible for running their popular phone apps even claimed that images the sisters uploaded there were edited by a professional retoucher (via Vice). The reality TV-famous family has addressed perceptions that they enforce an unhealthy level of beauty standards.
Kim Kardashian cut off a question about the topic during a 2022 interview with Vogue. "There's definitely an influence, both positive and negative, on how a whole group of people view themselves because of social media. I can see that," she said. The story went live a month after a photo that some thought was doctored disappeared from her Instagram account (via Cosmopolitan).
Critics have claimed that the family doesn't only photoshop themselves. Khloé Kardashian was recently accused of filtering an Easter-time photo of her daughter True (via The U.S. Sun). Meanwhile, Kim found herself in the hot seat earlier this month after sharing what initially appeared to be an innocent photo of herself and her boyfriend Pete Davidson enjoying dinner (via Instagram). However, some critics thought she might have edited her man's appearance.
The photo raised several questions as people shared their opinion on if it was photoshopped. Alec Whitmore, a photographer and graphic designer, weighed in on the topic in an exclusive statement shared with The List.
Alec Whitmore questioned claims Kim Kardashian photoshopped Pete Davidson
Kim Kardashian's photos from a "late nite snack" that she shared with Pete Davidson sparked a conversation online. Naysayers claimed that it appeared the celebrity changed the appearance of her boyfriend's face and profile in the second of two pics that appeared on Instagram (via Page Six). However, Alec Whitmore called those claims into question.
"I just think the human body can basically look an infinite amount of ways under an infinite amount of visual circumstances," the Seattle-based photographer and graphic designer said. "It's not out of the realm of possibilities, but I think the whole appeal of Pete and Kim is the extreme juxtaposition of her clean elegance and his scrappiness." Whitmore added that it would arguably be possible to passably photoshop the grainy photo because of the lower lighting. "You're just working with less detail," he explained.
However, the expert noted that refining the comedian's appearance would signify a new era in the couple's relationship. "If the Kim media machine has started to clean up Pete's features, this might just be the beginning of the Kardashification of Pete," he said. Davidson and Kardashian have been romantically linked since October 2021 (via Elle). 
Interestingly, the controversy speaks to several larger questions about the Kardashian family.
It is unclear why the Kardashians seem to photoshop some of their social media content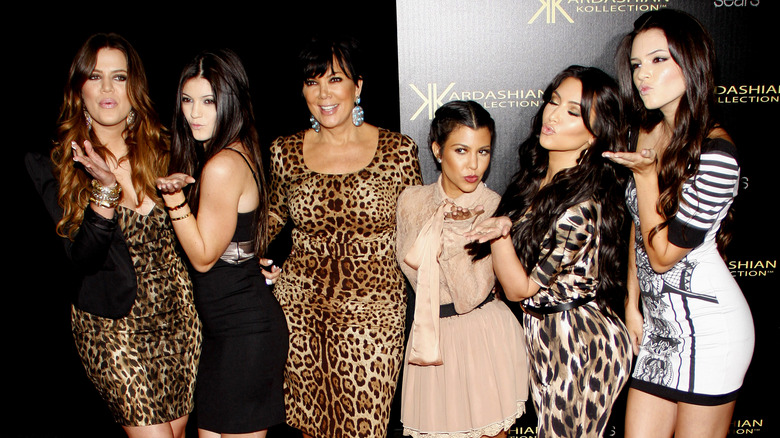 Tinseltown/Shutterstock
Although Alec Whitmore questioned if Kim Kardashian's latest photo was a failed edit, he raised several other points about it. Notably, the controversy about this photo clearly attracted more attention for the Kardashians. "No matter what ... we're talking about it. So photoshopped or not, it's working," he said.
Kim appeared to take issue with the concept that the Kardashians were "famous for being famous" during a 2022 interview with Variety. However, this is yet more evidence that they are one of the most renowned families in American entertainment and that their every move is closely examined by fans and critics alike.
The graphic designer also raised a point about the Kardashians' fairly frequent photoshop accusations. "I actually don't think there's any digital manipulation to change Pete's face, but I think the bigger question is trying to understand the psychology behind the Kardashians and why they photoshop others in photos," he said. "Like that photo with True at Disneyland[sic]. Or WHO makes these decisions, and WHY they make them for the larger Kardashian media empire."
The photos of True were another recent photoshop fail for the Kardashian family. An online discussion came after Khloé Kardashian seemingly confirmed previous speculation that her daughter was edited into photos from a trip to Disney. "Welllppp I [messed] this one up," she wrote on Twitter after fans called her on it.