Kim Kardashian's Loved-Up Snap With Pete Davidson Might Not Be All That It Seems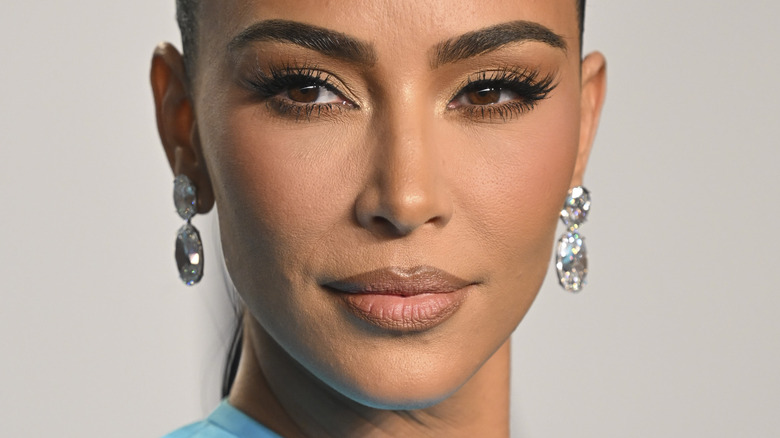 Karwai Tang/Getty Images
Despite the public's push for magazines, celebrities, and social media stars to stop photoshopping their images and instead share unedited images with their fans, some struggle to separate themselves from the picture-perfect images they have crafted online. While various celebrities, including Ariana Grande, Mariah Carey, and Rihanna, have faced backlash for retouching their pictures, the KarJenners remain the biggest offenders — by a landslide, according to Cosmopolitan.
After years of photoshopping her figure, her friends, and hotel room floors, Kim Kardashian's taking her editing skills where they have never gone before — her boyfriend's jawline. Following the premiere of her new Hulu show, "The Kardashians," the SKIMS founder shared a suspicious snap with "Saturday Night Live" star Pete Davidson. At first glance, the Instagram photo seems to showcase a sweet moment between the couple as they enjoyed a "late nite snack" at Los Angeles hotspot Jon & Vinny's. However, upon closer inspection, the image indicates that the reality TV star may have altered Davidson's appearance.
Kim Kardashian is innocent
After inspecting Kim Kardashian and Pete Davidson's latest photo, Instagram account @ProblematicFame zoomed in on the latter and compared his side profile to another close-up of the "Saturday Night Live" comedian, via Page Six. A follower of the popular account, which aims to "[spread] awareness on how Instagram can impact beauty standards," shared the side-by-side image on Twitter and wrote, "I would cry if someone gave me a photoshopped nose job and jawline sculpting." While many other commenters echoed the opinion that Kardashian photoshopped her new man, a few felt other factors were at play.
One observer tweeted, "As someone with a 'distinctive' nose I can definitely say that a slight angle change can make a huge difference in a photo. This feels like reaching," while another blamed the changes on "Lighting in the restaurant and angles." Despite the different theories, a source told Page Six that Kardashian didn't retouch the photo. They declared, "Pete's nose and neck appearance were not altered in any way. The image shown in the side-by-side shows his face at a different angle, and he is smiling larger so it cannot be an apples-to-apples comparison."