Jenny McCarthy's Behavior On The Masked Singer Has Twitter Seeing Red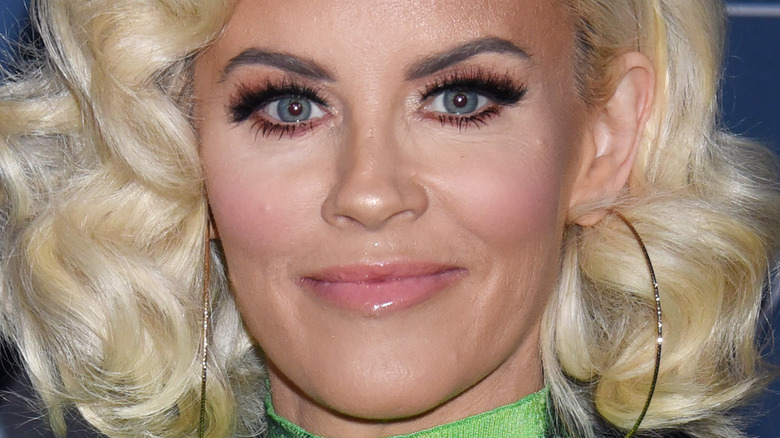 Ga Fullner/Shutterstock
As Batman and Spider-Man could tell you, it's not easy being anonymous — and not everyone appreciates the man behind the mask. That truth was quite evident on the April 20 episode of "The Masked Singer." As seen here on Entertainment Tonight's YouTube channel, the five finalists that night included a mysterious Jack-in-the-Box figure who sang a rendition of "Bad to the Bone." His singing was spirited, but, let's just say it wasn't quite up to par, and he was voted out of the competition. 
As always, no one knew the identity of the singer until the unmasking. Another secret of "The Masked Singer" is that most of the audience is sent away before the unmasking as well, to help avoid any spoilers slipping before the show's air date. So, as the panel of judges tried to figure out Jack-in-the-Box's identity, they guessed it might be Al Roker, Joe Pesci, Robert Duvall, or even billionaire Elon Musk. They realized they were all wrong. Nick Cannon pulled off the giant head to reveal Rudy Giuliani, the former NYC mayor and attorney to Donald Trump. The judges' reactions were varied, to say the least. While Jenny McCarthy excitedly yelled, "No way," Ken Jeong couldn't hide his disgust. 
What happened next caused a furor on Twitter. As seen in this tweeted clip, the unmasked Giuliani was allowed to sing a few more bars of his song for the crowd. While McCarthy jumped and danced behind the judges' table, Jeong quietly said, "I'm done," and walked off the set. What's enraging the Twitterverse, though, isn't Jeong's actions, but McCarthy's.
Twitter followers didn't think Rudy Giuliani belonged on 'The Masked Singer'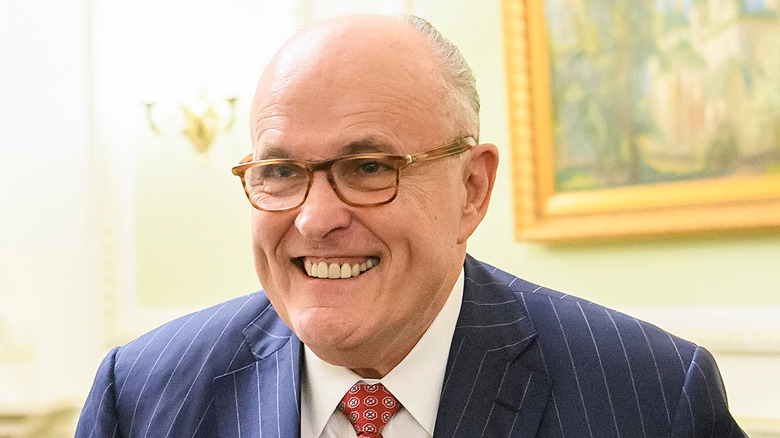 paparazzza/Shutterstock
Rudy Giuliani is one of the least likely people you'd expect to see on a celebrity singing competition. Not only is he not a professional singer (as his performance on "The Masked Singer" proved), he's also something of a persona non grata these days. Giuliani's New York law license was suspended in June 2021 as a consequence of the false statements he made about the results of the 2020 presidential election. Fox News even cooled its enthusiasm for having him on as a commentator, per Deadline. 
With that in mind, Twitter users were outraged not only to see Giuliani on "The Masked Singer," but to witness Jenny McCarthy's obvious delight at having him there. She and fellow judge Nicole Scherzinger danced as the former mayor continued to sing. Many recalled that the "Two and a Half Men" star has also been an outspoken critic of early childhood vaccine schedules. For years, she has asserted that her son Evan developed autism shortly after getting inoculated against measles (via Insider). 
As one commenter wrote, "As horrendous as it is to see a traitor like Rudy Giuliani being soft peddled as entertainment, it's even worse that Jenny McCarthy — a woman who pushed the 'vaccines cause autism' bull**** — is allowed any sort of platform let alone paid for it." Another agreed, "how f*n out of touch with society do you have to be to 1) cast Rudy f***ing Giuliani on 'masked singer' and 2) not leave when Ken did. Jenny McCarthy and Nicole are gross af for that."