Michelle And Barack Obama Make A Big Decision About Their Future With Spotify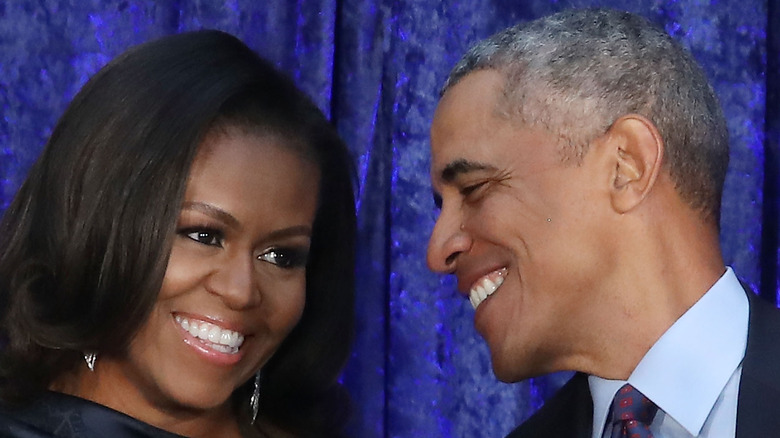 Mark Wilson/Getty Images
Barack and Michelle Obama's net worth before the presidency stands in stark contrast to the considerable amount they're banking now. Much of their wealth is a result of hugely lucrative deals the beloved couple signed upon leaving the White House. In particular, as CNBC reported, the Obamas partnered with Spotify through their production company Higher Ground in 2019. The goal of the partnership was to create content spotlighting underrepresented voices and causes close to their hearts. 
"Podcasts offer an extraordinary opportunity to foster productive dialogue, make people smile and make people think, and, hopefully, bring us all a little closer together," Barack enthused in a press release shared with the publication. The Obamas stood to reach a massive amount of people via the partnership as Spotify had approximately 217 million users at the time. Spotify's content officer Dawn Ostroff noted, "President Barack Obama and Michelle Obama are two of the world's most important voices, and it is a privilege to be working with them to identify and share stories that will inspire our global audience." 
Today confirmed Barack was actually the very first guest on Michelle's self-titled podcast. The lovable duo shared stories about their childhoods and reminisced on raising a family in Washington. Michelle was slated to interview several other family members, including her brother Craig Robinson, and various celebrities. 
Although the Obamas' partnership with Spotify seemed like a match made in heaven, just a few years later, it could all be over.
The Obamas are searching for a new podcasting home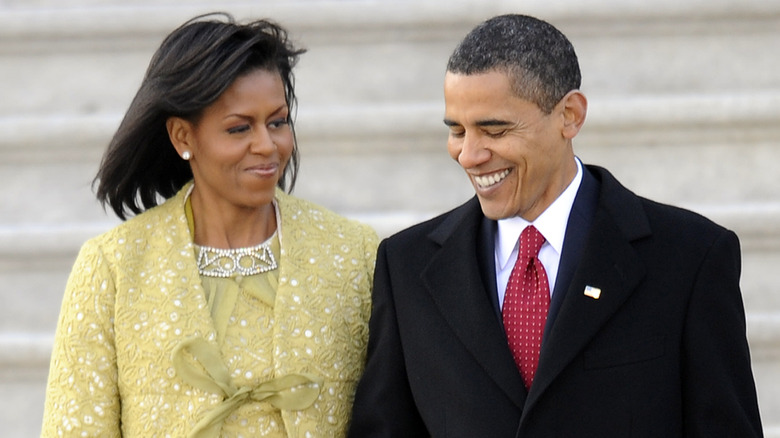 Pool/Getty Images
Spotify and the Obamas are parting ways. Bloomberg confirms Higher Ground will not be inking a new deal with the platform. Instead, the former first couple is said to be seeking a distribution deal elsewhere, with such an agreement purported to be worth "tens of millions of dollars." Audible and iHeartMedia Inc. are reportedly in the running to be the new home of Higher Ground's content, which aims to produce multiple shows and release them simultaneously on various platforms.
Complicating matters, both Michelle and Barack Obama seem fond of limited series, which typically run for eight episodes. Podcasting services are used to releasing personality-driven content more regularly, so this might not be a big enough commitment for them. Additionally, Spotify notably got exclusive deals on "The Michelle Obama Podcast" and "Renegades: Born in the USA," featuring Barack and legendary musician Bruce Springsteen, which Higher Ground claimed hurt their reach. 
The two groups repeatedly fought because Spotify wanted more Obama-based content, but the couple was more interested in using their names to showcase content from other worthy creators, per Vanity Fair. As The Guardian notes, they also signed lucrative deals with Netflix, Penguin Random House, and Live Nation. Although Spotify will continue to distribute their podcasts, the Obamas' decision to leave will have a major impact on the company, particularly since they spent over $1 billion snapping up various celebrities during a major podcasting push.