New Footage Of Vladimir Putin Raises Even More Questions About His Health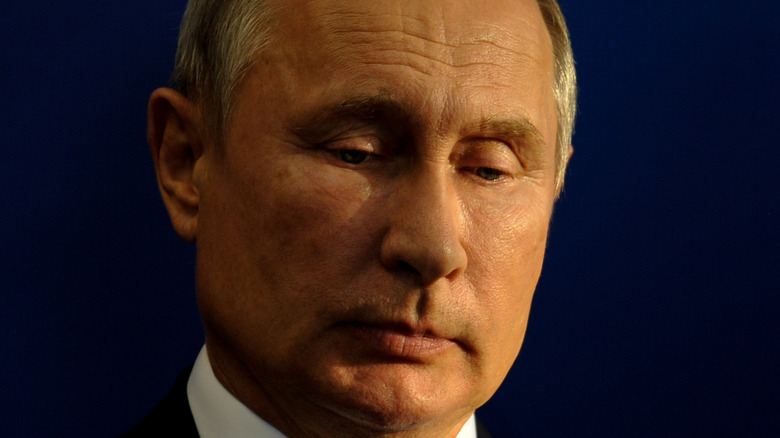 Asatur Yesayants/Shutterstock
All eyes have been on Ukraine since Russia invaded the country in February 2022. According to The New York Times, Russian President Vladimir Putin's excuse for the unprovoked invasion was that it was a "special military operation." Since then, the United States' response to the war on Ukraine has been to impose sanctions on Russia. One of the latest sanctions imposed by the U.S. has targeted Putin's adult daughters, Maria Vorontsova and Katerina Tikhonova, according to The Guardian. 
It's been previously reported that Putin is very secretive about his family life. Not much is known about his daughters as Putin has kept his family life very private. A CNN analyst reported that to Putin, "Family in many ways is weakness." Putin has a reputation of wanting to appear strong. He even famously was once photographed shirtless on the back of a horse to maintain that image (via ABC News). As strong as he would like to appear, Putin's health has been put into question lately. 
Putin can be seen gripping the table in front of him
In a recent video posted to the Kremlin website, Vladimir Putin can be seen meeting with Russian Defense Minister Sergei Shoigu to discuss the current situation in Ukraine. Knowing how much effort Putin puts into appearing strong and healthy, the new footage is raising some eyebrows. The video is even having some people question Putin's health as the Russian leader appears bloated and holding a firm grip on the table in front of him throughout the interview. 
Rumors of Putin's declining health have been circulating for months. One TikToker even posted a video in March 2022, which has now been deleted, showing a clip of Putin, which he claims shows signs of Parkinson's disease and a stroke. The TikToker even admitted, "Vladimir Putin is mentally unstable." According to WebMD, two of the symptoms of Parkinson's disease include muscle rigidity and a loss of balance. This could explain the Russian president's firm grip on the table. However, this all speculation. 
Regardless, for someone who puts so much effort into their image, this new footage from the Kremlin doesn't shine a good light on Putin's health.